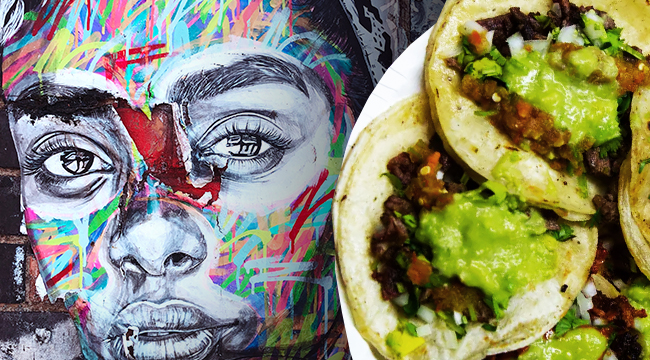 There's something pretty magical about being in Los Angeles at this exact moment in history. Sure, there's always been the beach, the access to great entertainment, and, of course, the company of millions of people who wanted to escape their small towns to live where the sun never stops shining. But what's special right now, is that Los Angeles is in the thick of an artistic and culinary Renaissance.
As a birthplace for street art, Downtown L.A. (and its surrounding neighborhoods) are becoming exponentially more vibrant and captivating — filled with moments to make you stop and marvel, then whip out your phone. Yes, there have been street and graffiti artists in the area for a long time. But over the past two decades, the medium — once dismissed as vandalism — has gained respect as a bona fide art form. The neighborhoods of downtown and East LA have exploded as a canvas for artists of all styles — from the guerilla street artists of the '80's and 90's to globally renowned muralists to the young paste up stars, following the footsteps of Banksy and Shepard Fairey.
Walking the streets downtown will give you more Instagram worthy shots than you'll probably know what to do with, but also the sense of being dropped right into the middle of a scene that is in full bloom. Of course, no good Renaissance (or Instagram) story is complete without the new wave of creativity affecting all sectors of life. So in addition to upping your artistic IQ, we thought we'd help you expand your palate by adding a food recommendation for each stop on your tour.
N. Figueroa St & Ave 50, Highland Park
The Arts: Defer
The Eats: Chico's
One of LA's hottest neighborhoods east of Downtown is Highland Park. Filled with cool, intimate music venues and hip new restaurants (see the likes of Nancy Silverton's Triple Beam Pizza or breakfast taco phenomenon, Homestate), it's also a fantastic place to see street art, and the main drag, N. Figueroa St, plays host to some pretty impressive works. Heading towards the end of this mega hipster block, tucked away in a modest corner, is Avenue 50 Studio Gallery, home of the stunning mural by Boyle Heights native, Defer. Characterized as one of the most era defining street artists in LA, and founder of graffiti crews K2S and STN, Defer's work is wild and vibrant. His signature color palette of deep blues, greens, and infinite white swirls and lines spans the wall of this completely unexpected find.
Though N. Figueroa has a plethora of restaurants to choose from (and likely, you won't go wrong), right across from Ave 50 Studio Gallery is Chico's – a family owned, colorful hole in the wall Mexican joint for you to indulge in authentic, no-frills tacos and (of course) delicious chips and guac.