Trader Joe's on a Saturday afternoon is a melee. Bodies crush and jockey for space in front of the beer section and people side-eye one another over the last remaining box of cookie-butter cookies. It leaves me searching for an exit. But I can't bail. I'm on a mission of the utmost importance.
You see, recently I told some of my coworkers that I don't eat frozen food. "I don't like it," I said. "It's always so bland." The overwhelming response was to ignore me (as one should when I'm being a contrarian), but a few individuals stood up to say, "What is wrong with you? Have you had Trader Joe's frozen food?"
They collectively pitched a Trader Joe's frozen food ranking and demanded that I write it. I accepted; if only to shut them all up. The next week, I headed to Trader Joe's — where literally everyone in the Uproxx/Food Slack channel insists that they sell the best frozen food in the game.* What I found were a few duds and some absolute miracles of the genre.
*Scored on a scale of 1-10 frozen pizzas. Spoiler, no one gets close to a 10. I still maintain that a 10 is impossible.
9. Coconut shrimp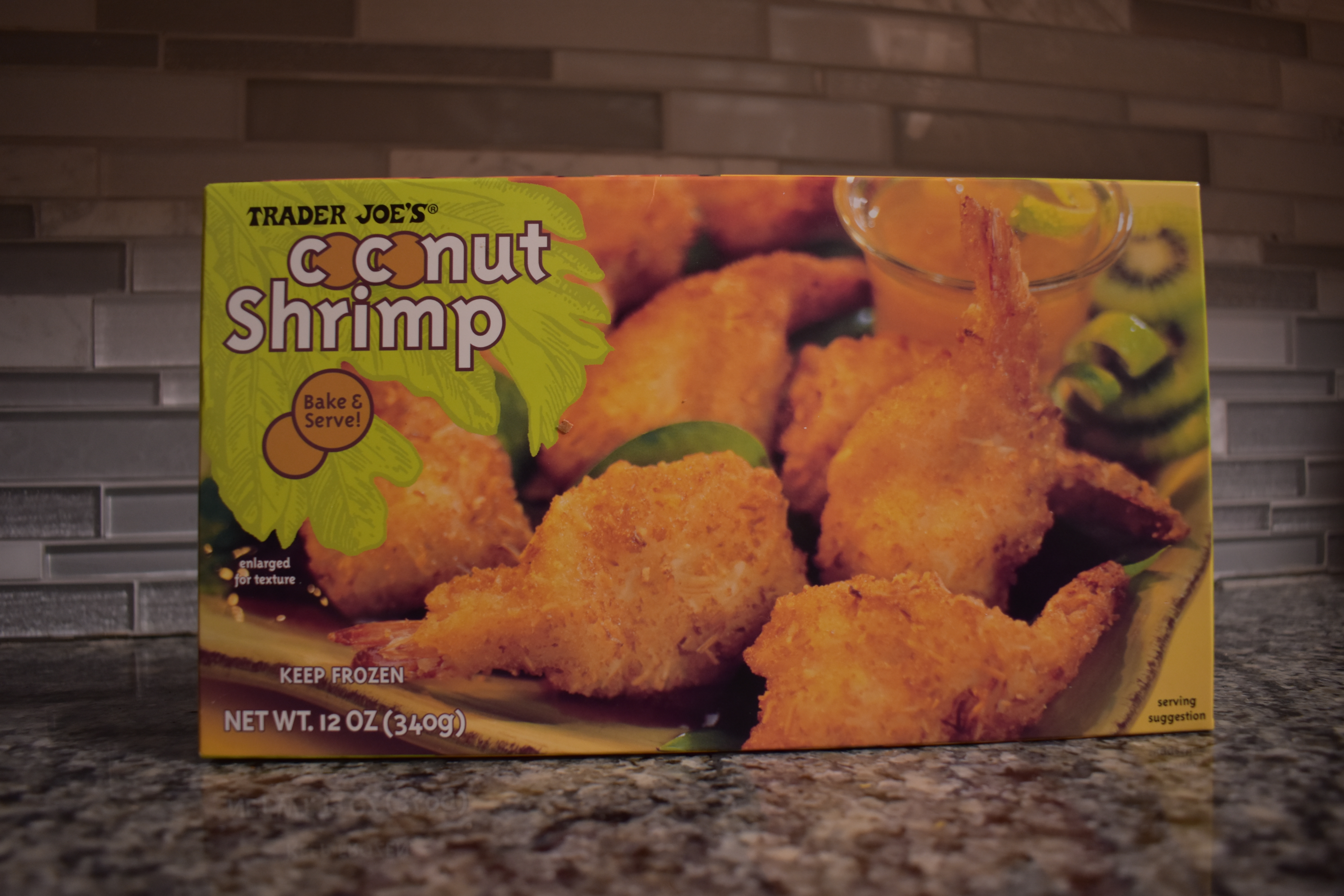 It was at Trader Joe's that I learned that not everybody has experienced the delight that is coconut shrimp. "Coconut shrimp?" my friend asked. "You don't mean popcorn?"
"No, coconut," I insisted. "It's mostly panko, with just a hint of sweetness. This'll be good!"
Oh, how naive I was. The box it comes in is deceptively cheerful. Bake & serve! it insists. Easy enough. And yet… when I opened the box and poured the bag of shrimp onto the baking sheet, there was a veritable cascade of shredded coconut. So much coconut. Like a perfectly normal human being, I started scooping up the shreds with my hands and putting them back in the box. It was too much freakin' coconut, and I figured that removing the excess would solve the problem. Then I baked and served. I followed directions to a T.
Somehow, these are crunchy on the outside and extremely mushy on the inside. That is the technical term, I believe. Just fall-apart mush. And the coconut was overwhelming, despite my best scooping efforts. Where was the mostly-panko-light-hint-of-coconut playfulness I've come to know and love? Not a single one of us could finish even a single shrimp, and it sat there, sadly, on its own plate in the corner of my kitchen. Cursed and alone.
Rating: 1/2 a pizza. Not even an entire 'za. Avoid at all costs, or you'll have a bad time. This is the food equivalent of the woman gesturing no emoji ?‍♀️.

8. Tamales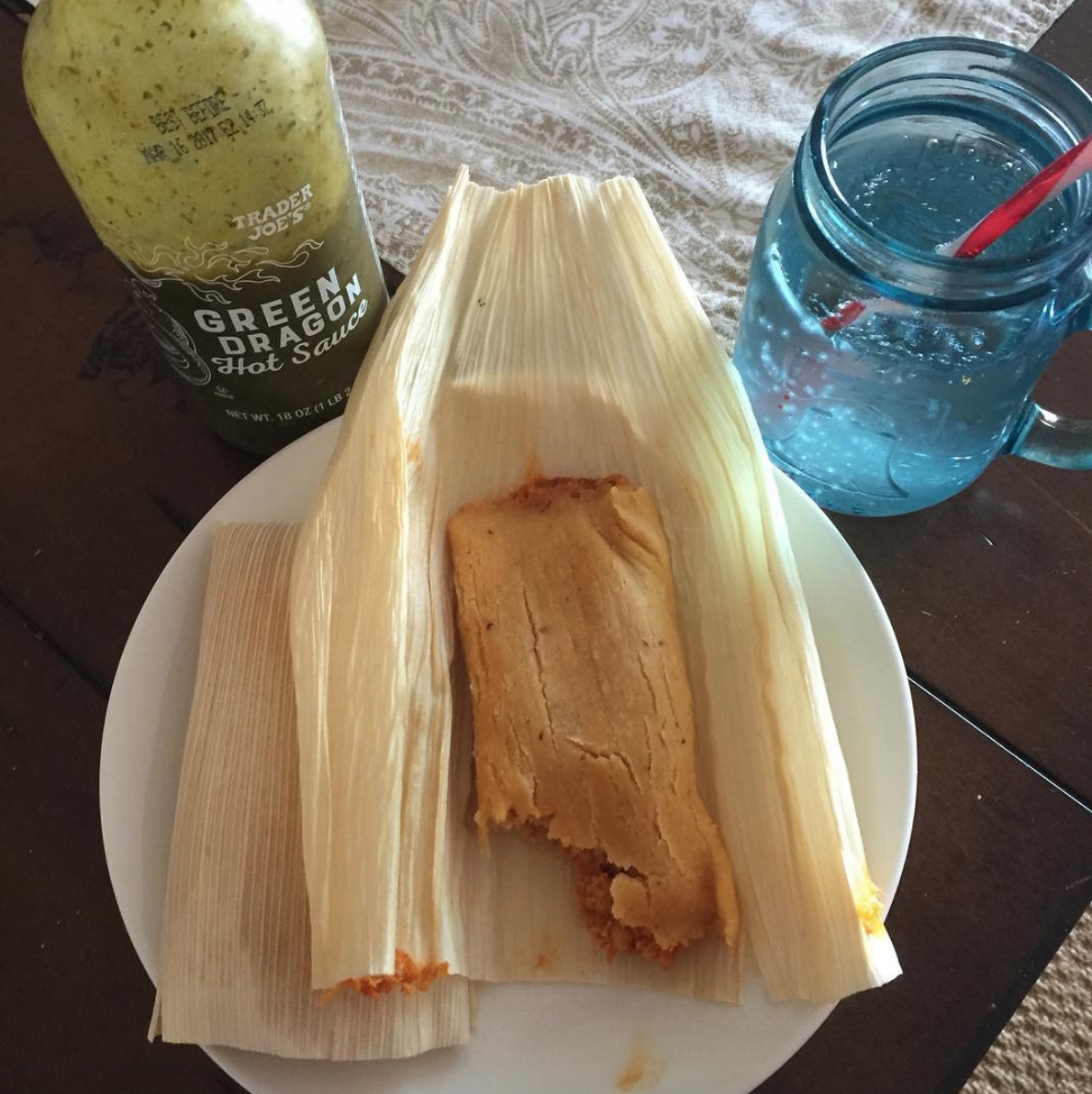 I would do anything for a good tamal. When I lived in Portland and I saw the tamale lady, I would cross multiple lanes of traffic to get to her, cars be damned. I'd scream, "Espera, por favor! ESPERAAAA!"To me, there's nothing better than a well-executed tamal.
So when I heard that TJs tamales were pretty good, I was excited. And I thought, "How dope would it be to just have an entire-ass platter of tamales that you didn't have to spend hours making?" Invite your friends over, have a party, pretend you spent an entire day making magic with masa.
We tried both the sweet corn and chicken & cheese tamales. And let me tell you: the sweet corn was overly sweet, completely dominating the flavor. The chicken & cheese filling presented similar problems, though the filling was admittedly a bit more enjoyable than the sweet corn. To say nothing of the fact that the integrity of the tamal was compromised: no matter whether we steamed them on the stove or in the microwave, the dough fell apart.
That said: they're still tamales, and there's something comforting about the taste of masa dough in your mouth. The chicken & cheese were quickly destroyed by ravenous testers, and someone snuck back into the kitchen and polished off the sweet corn.
Rating: 1 pizza. I'm gonna level with you here: I understand why people like them, but if you're going to get frozen tamales instead of either hunting down the tamale lady in your town or making your own, go for Goya. The texture is better, and the filling is more harmonious.

7. Burrata, Arugula, and Prosciutto Flatbread
Pizza. It's the best. The gluten-rich dough, the tang of the sauce, the creaminess of the cheese. And the toppings. Oh lord, the toppings. So when I saw a burrata! arugula! and prosciutto!!! flatbread in the frozen section, I was ready to get my gourmet on.
The truth of the matter is: to make this work, they need to freeze the prosciutto. You thaw it while the pizza it in the oven, and you put it on top of the pizza after it's been baked. And that gives what should be a smooth, creamy, fatty ham a bit of a grainy texture. But all is not lost: it's still an umami bomb which gives the neutral cream of the burrata and the slight pepper of the arugula a much-needed punch.
One thing I will say: if you're going to go for TJs flatbread, do yourself a favor and bake at a higher temperature for 14 minutes instead of 12. When we followed directions, the dough was soft in the middle—not a pleasant 'za experience unless you're, like, a five-year-old at Chuck E. Cheese. But once we did the next flatbread for a little longer, it was, you know, typical frozen pizza: a classic, and great in a pinch.
Rating: 2 pizzas. Sometimes you gotta sacrifice technical execution when it means you get to enjoy prosciutto. Sometimes, however, even the prosciutto won't save you. Next time, I'd go for pepperoni flatbread or skip altogether.

6. Mac 'n Cheese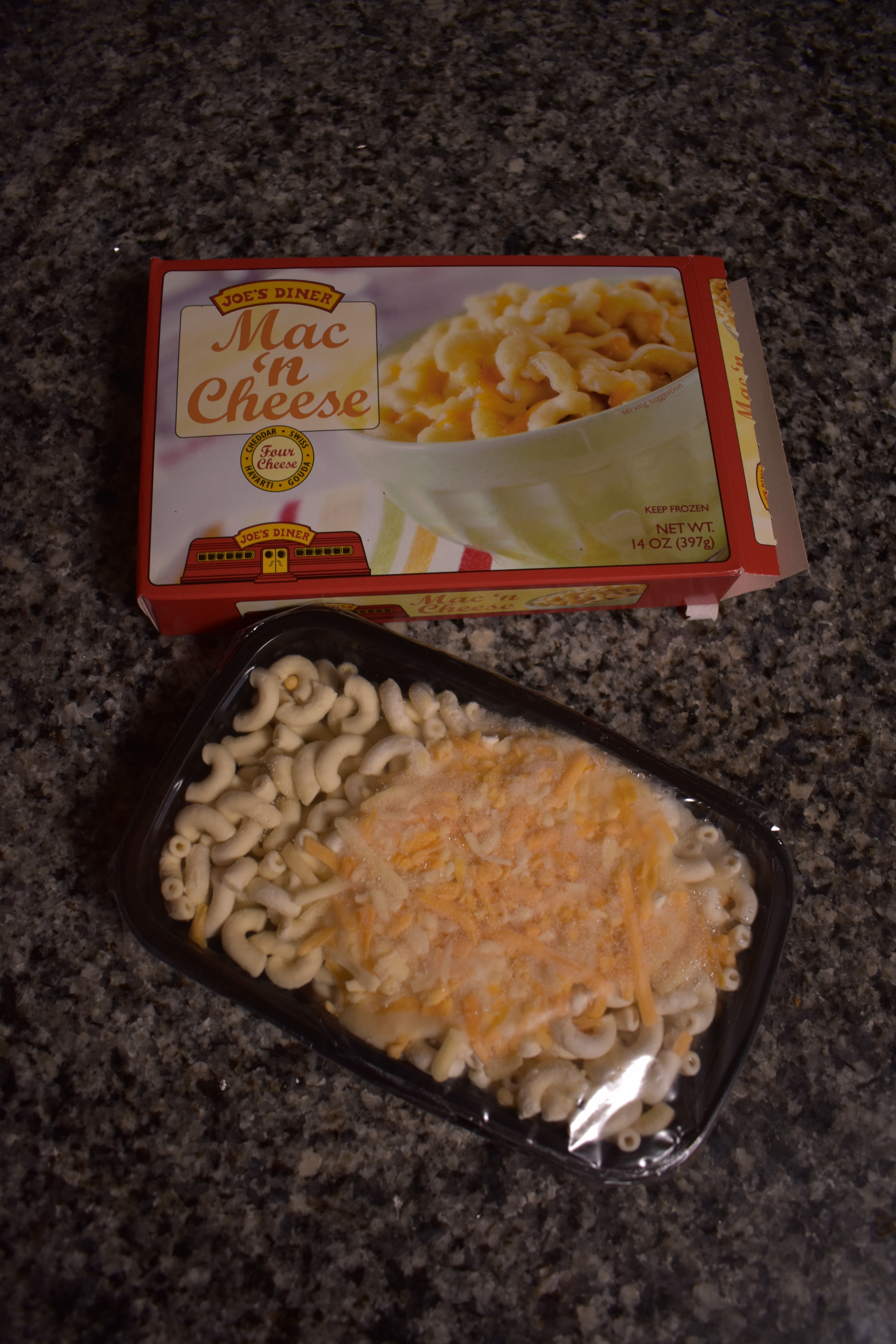 I love mac 'n cheese so much. You're probably saying to yourself: duh, everyone does, you're not special. But first of all, I AM special. And second of all, I say that to preface the fact that I have a serious issue with frozen mac 'n' cheese.
Frozen pasta, in general, often comes out overcooked, and mac 'n' cheese is especially susceptible to limp noodles. Add to that the technical issues presented by trying to make a cheesy sauce from frozen goods, and you end up with a person (me, difficult) who would rather just make it from scratch.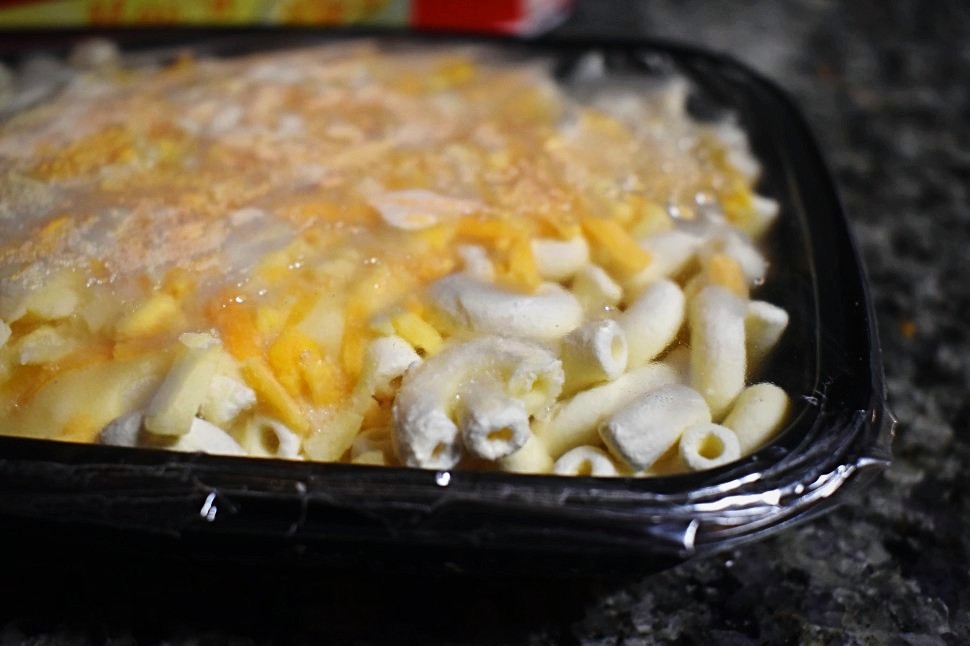 "Gross," I told my friend, who had insisted that I buy this for our power-ranking. I couldn't stop staring at the frozen shreds of cheese.
"Lisa, you are going to eat your words," he said with a smirk.
And you know what? I would get down on this mac again. When we cooked it in the microwave, the cheese turned out weirdly grainy. Which had me thinking, What is with Trader Joe's and grainy cheese products? But when we baked it in the oven, the payoff for the longer wait time was well worth it. Creamy with just enough flavor (and well-received when doctored with Valentina), the only consistent complaint was that the pasta was slightly overcooked—something which could have been avoided were we not too busy fighting over whether or not we were going to actually like the mac to notice that the oven timer had gone off.
Rating: 3 pizza. These come in individual serving size, which is a minus. Should you buy and make seven of these to guarantee everyone in your family has enough? Probably. But from scratch or even boxed mac with a few kinds of cheese added are both better and easier.
5. Mini Chicken Tacos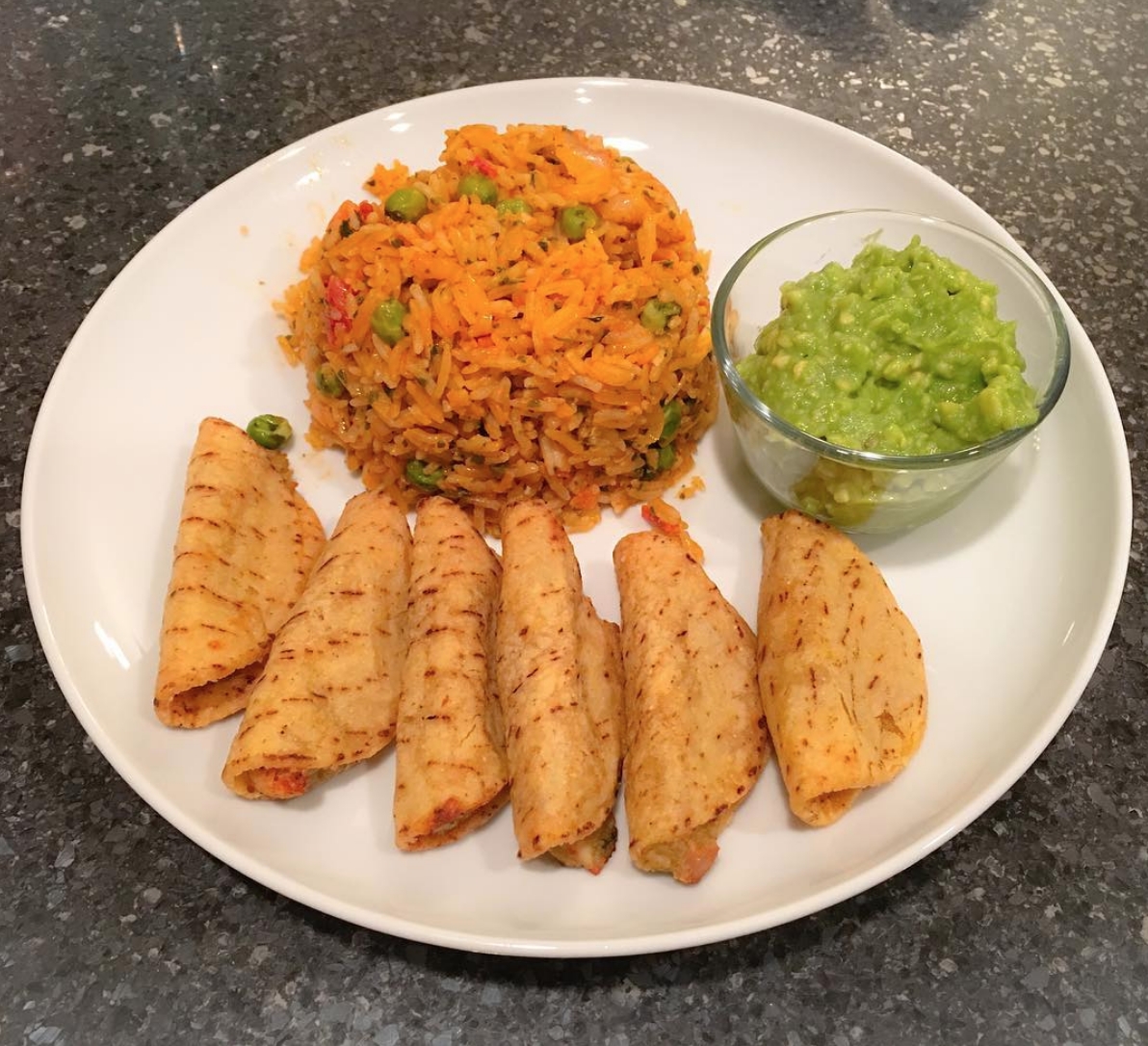 I love tiny things. Puppies, crop tops, and tiny little tea sets meant for dolls. So I admit it: I squealed when I saw mini-tacos. Obviously, my love of small things paid off. Not only is it a pure visual delight to have a plate of mini tacos, but it's a party in your mouth. The tortilla has a nice crunch, and the chicken filling is pretty juicy. We ended up eating the entire box over the course of a couple of days
Best part? Pretending I was a giant human eating a regular-sized taco. My preferred vehicle of consumption: with lots of extra-hot Valentina.
Rating: 3 pizzas (again). I could eat a lot of these, but several of my testers bring up a good point: they really need assistance from pico de gallo or sour cream and hot sauce. And it's true: they're even shown with salsa and cheese on the box.
4. Spanakopíta
Color me surprised: puff pastry with savory spinach-and-cheese filling is delicious. I mean, duh. Everyone who tested these little hand-pies went back for seconds. They're ever so slightly pungent, thanks to the feta, but that's a good thing, despite how gross the word pungent is.
Okay, let's try this again: they've got a tang. They've got a little kick. They've got the goods.
Look, just buy the spinach pies. Like, multiple boxes and everyone will be happy. Just don't mention the word "pungent" when eating.
Rating: 4 pizzas. The only reason they didn't receive 5 pizzas is that they're flaky and therefore messy. Or maybe that's just a problem for me, a known sloppy baby.

3. Gone Bananas Chocolate-Covered Frozen Bananas
There's a lot of savory food up in here, and if I learned anything from being an absolute pig, it's that the people demand sweets! But also, eating is a marathon, not a sprint, so not everything you buy from the frozen section should be super-heavy. Enter dark chocolate-covered banana slices.
I could eat an entire box of these in one sitting. I keep sneaking back to the freezer to steal slices when I should be, you know, working. BUT IT'S RESEARCH. I JUST NEED TO MAKE SURE THEY'RE STILL DELICIOUS.
A touch of sweetness! Slightly bitter dark chocolate! The sensation of freezing cold fruit confections melting on your tongue!
Rating: 5 pizzas. Give me more. Give me all of the bananas. I want them. They're perfect.

2. Mozzarella Sticks
As a born-and-bred New Jersey scumbag, I take mozzarella sticks very seriously. I spent a lot of time in diners throughout my mopey high school years. And when I wasn't trying to do a black-coffee-emo thing, I was destroying plate after plate of mozzarella sticks. They have to have a certain texture, a nice crunch to the coating, the cheese just hot enough to give in beautiful strings. The integrity of the stick must remain intact through multiple marinara dippings. A good mozzarella stick is magical.
These sticks held up pretty well, though they weren't as structurally sound as I'm used to. That said: I would eat an entire bag of them. They don't taste exactly like diner mozza sticks, but their coating is akin in flavor to ultra-garlicky garlic bread, and I'm here for it.
Rating: 5 pizzas (again!) I can't wait for you to eat a bunch of these mozza sticks and then scream in your friends' faces with garlic breath that would wake the dead.

1. Mandarin Orange Chicken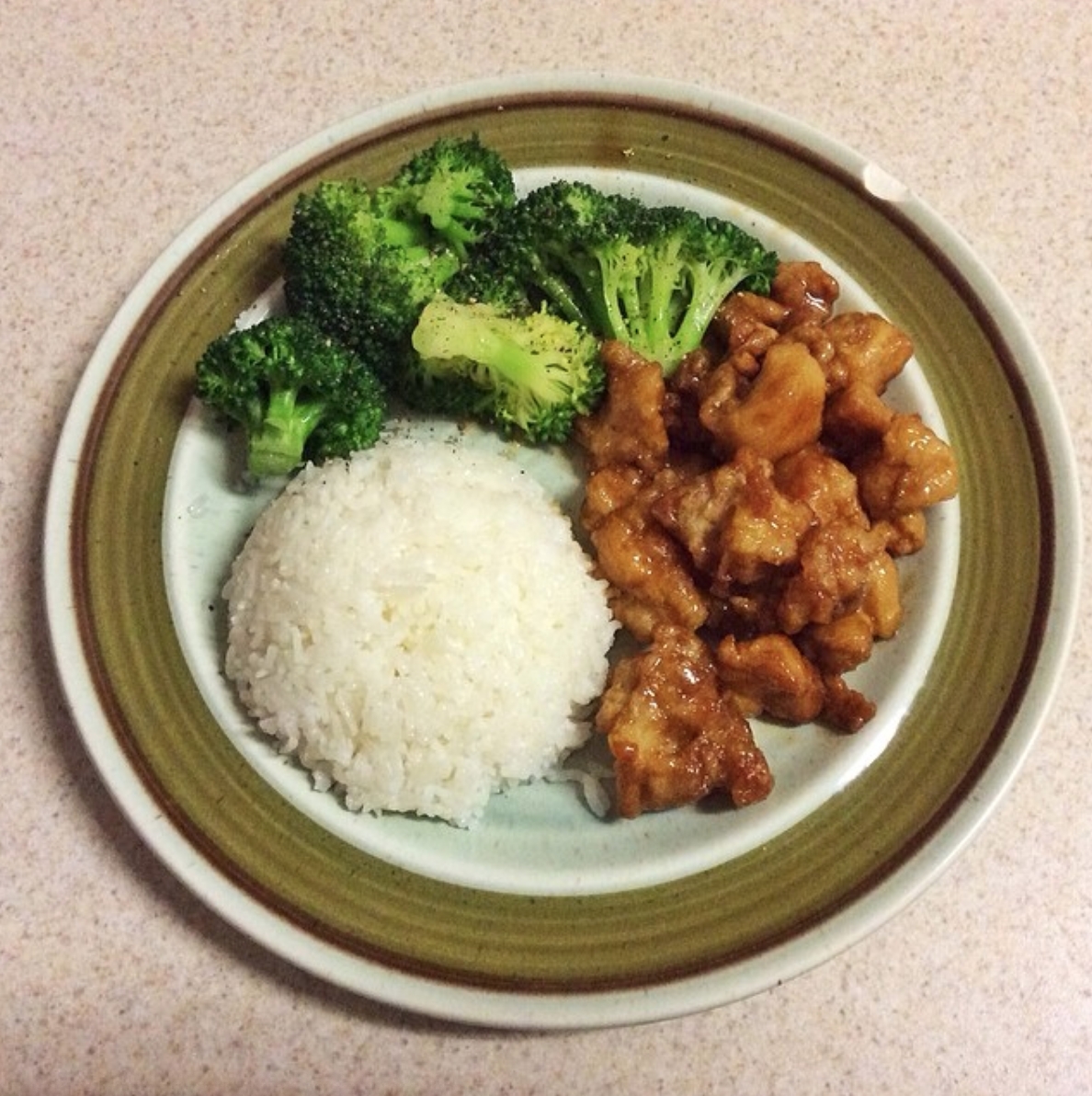 To me, the pinnacle of the junk food experience is a hot plate of sugary, spicy, Americanized Chinese food. Give me sesame or General Tso's chicken, breaded and fried and dipped in what is essentially corn syrup. I'll eat it all, and then I'll eat some more when I'm hungry again, two hours later.
I bought the Mandarin Orange Chicken because several people got weirdly aggressive about how good it was. I felt like I would be in harm's way if I didn't at least try it.
Well, I am now an aggressive Mandarin Orange Chicken evangelist. We baked the chicken in the oven, heated the sauce on the stove top, and mixed them together, expecting the sauce to not only be the only source of flavor, but to compromise the crunch of the baked chicken. Wrong on both counts. The chicken itself was lightly seasoned and held up on its own, and the texture of the chicken held up to the thick sauce.
To boot, I finished my plate in one sitting and didn't feel like I needed a nap. That was a new experience. It was like, I was satisfied without feeling bad. I don't understand this sensation yet, but I like it. My testers and I fought over who got seconds.
Rating: 6 pizzas. Honest to god, I am going to start stocking my freezer with bags of this stuff. Cheaper and easier than ordering take-out, and seriously hits the spot without being greasy. Is it a perfect 10? Clearly not. But it's closer than any frozen food I've ever tasted has come.