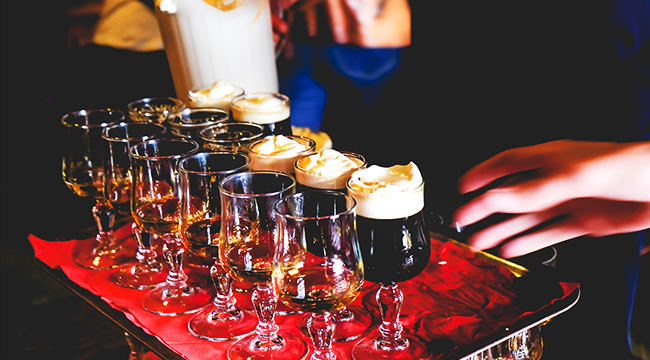 Today is National Irish Coffee Day. It's perfectly situated in January because, for many of us, the weather is fairly bleak as of late. There's blizzard-like conditions in some parts of the country and unseasonably cold temperatures in others. North Carolina got so cold that a gator froze with his nose out of the water in a pond (he was fine). All in all, we all need a boozy pick me up. Irish coffee might be the best way to get a jolt of caffeine with just enough whiskey to add an extra warming element into the whole mix.
The recipe is quite simple. All you need is coffee, brown sugar, heavy cream, and Irish whiskey. Pour your coffee into your mug or glass, stir in brown sugar, add a shot of your favorite Irish whiskey, and top it all off with whipped heavy cream.
So, you've got the coffee all set but you're not sure what whiskey (or whiskey) to add? That's why we asked some of our favorite bartenders to tell us which whiskeys they add to their Irish coffees (not all are even Irish whiskey). Check out all of their answers below.
Teeling Small Batch
Nahm Kim, head mixologist at Sunda New Asian in Chicago
"Teeling Small Batch. A rum cask-finished whiskey with a big, fruity mouthfeel and a ton of baking spices and toffee notes. Whiskey is oftentimes muted in Irish coffee. This one is bold enough to still shine through."

Bushmills
Jillian Vose, bar director at The Dead Rabbit in New York City
"Using a blended Irish whiskey works best because it doesn't overtake the other ingredients of the drink. We've experimented with single malts and single pot still Irish whiskey and they're just too rich. We find that Bushmills works really well because it's a lighter style of blend, but still has the malt component that gives a beautiful dried fruit which compliments the coffee well."
Slane
Will Benedetto, Director of Bars at In Good Company Hospitality in New York City
"Of course, you want to go with an Irish whiskey here and for my coffee I like to enhance it with a touch of Slane. Slane is a gorgeous Irish whiskey that has the uncanny ability to work with virtually anything."
High West Campfire
Adam Peabody, bartender at LH Rooftop in Chicago
"I generally stay true to the name and use Irish whiskey, however, I've found Irish coffee to be delicious with pretty much any whiskey. If you really want to go crazy, try using High West Campfire. It's a blend of bourbon, rye, and scotch that adds some smokiness to the drink and an entirely new depth of flavor."
Red Breast
H. Joseph Ehrmann, owner of Elixir in San Francisco
"I prefer a Single Pot Still style Irish whiskey for the richness found in that style. The combination of malted and unmalted barley creates a great flavor and the richness of a pot-distilled whiskey uncut by lighter column distilled whiskey (Jameson, Tullamore Dew, etc.) punches through the coffee and compliments it. I recommend Red Breast 12 year, Powers Johns Lane, or Green Spot. They are a bit more expensive, but really do make the best Irish Coffees."
Jameson
Josh Cameron, Head Bartender at Boulton & Watt in New York City
"Irish coffee demands good old Jameson. It's probably the main cocktail I think of with Jameson. The Irish process delivers smooth, very drinkable whiskey-and that lets the spices shine through without overwhelming."
Teeling Single Grain
Hope Ewing, beverage director at Rappahannock Oyster Bar at ROW DTLA in Los Angeles
"What's the best whiskey to add to Irish coffee? I have a special place in my heart for Irish whiskey, so it's got to be traditional. Teeling is my #1."

Tullamore D.E.W.
Eryn Reece, head bartender at BANZARBAR in New York City
"An old reliable is Tullamore Dew. The combination of caramel, vanilla, and spice is a perfect pairing for coffee, cream, and a rich demerara syrup."