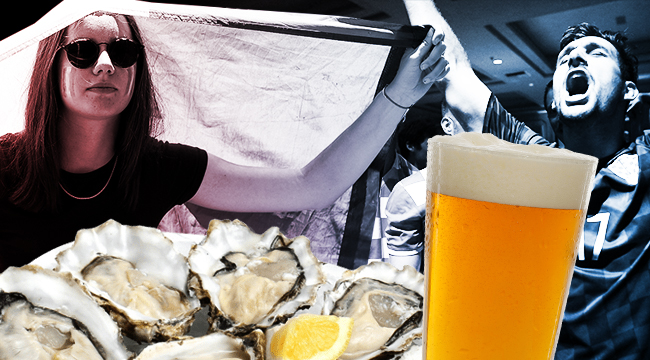 The World Cup is wrapping up this weekend. England and Belgium will face each other for a third-place finish on Saturday. On Sunday, underdog Croatia takes on France for all that FIFA football glory.
Soccer gets a pretty big slight in the US. Still, 22 million Americans (about a fifth of the Super Bowl's viewers) are going to watch the World Cup Final this weekend. Granted, that's a pretty small drop in the bucket compared to the over three-and-a-half billion people who watch worldwide. Basically, half the planet is going to tune in to see if Croatia can make history against the French. That means there's going to be a party or two happening and those parties need booze and food to keep them going.
We thought we'd take a note from FIFA's global approach and put together a drink and food menu for a great World Cup party this weekend. We're focusing in on French and Croatian food and drink to celebrate those teams' advancing to the final. It's a little culture, some great food, plenty of booze, and 90 minutes of intense soccer.
DRINKS FOR THE FRENCH SUPPORTERS
BORDEAUX RED
A nice bottle of red from Bordeaux is an essential wine to have on hand for most occasions. For a World Cup final, it's crucial. The earthy wines are some of the best in the world, certainly some of the most coveted.
Choosing a label is a rough prospect. Bordeaux has 7,375 chateaus releasing over 10,000 wines every year. So, yeah, where to begin? Look for Cabernet Sauvignon, Cabernet Franc, Merlot, Petit Verdot, and Malbec to dominate the scene with an emphasis on Merlot.
Blends are pretty common from the region (and likely more of what you'll come across stateside). The best chateau blends from the Left Bank of Gironde estuary — Château Latour, Château Margaux, Graves, etc. — are 70 percent Cabernet Sauvignon, 15 percent Cabernet Franc, and 15 percent Merlot. The Right Bank — Château Fongaban, Château Le Conseiller, Château Fleur Haut, etc. — blends flip the script and are 70 percent Merlot, 15 percent Cabernet Franc, and 15 percent Cabernet Sauvignon.
Preference really comes down to what you dig — that, and where your price point lands when you get to the wine shop.
HARD CIDER
Hey! We're in the middle of baking hot summer heatwave. You know what's superduper refreshing, crisp, and will still get you nice and tipsy? Cider.
French ciders are fantastic. They tend to lean more into the drier champagne-like elements of wine with nice echoes of apple orchards under the bubbles. An ice-cold cider is a perfect beverage to serve a bunch of friends looking to escape the heat and enjoy a little championship footie.
If you can find a bottle of Le Père Jules Brut Cidre de Normandie, buy a case. This French cider from Normandie has a gorgeous crispness to it that quenches a mid-summer thirst, feels light, and just a little apple-sweet.
CHAMPAGNE
We mean, is there any better way to celebrate anything than with a bottle of French bubbly? You don't necessarily have to break the bank here. A standard bottle of Veuve Clicquot should only set you back about $30. That's not bad for three glasses of fizzy white wine all the way from Champagne.
Alternately, break that bank and drop a C-note on a bottle of Dom P (also known as Dom Perignon if you want to get snotty about it). Just, please, don't buy some sparkling white wine from Napa or the Hudson and call it "champagne." It has to actually come from Champagne, in France, to be called "champagne."
DRINKS FOR THE CROATIAN SUPPORTERS
CROATIAN WHITE WINE
Leaning into the summer heat and fun, an ice cold white wine is always a great option. Croatia just so happens to be an amazing country for wines and having a few bottles of their whites on hand is a big win.
Malvazija and Grasevina (amongst so many others) are great wine regions in Croatia. You should be able to score a perfectly decent dry white from either region in the $10-$20 range at wine shops.
Croatian dry whites tend to have a little sweeter edge that leans towards a fruit orchard. They're designed to be lovingly consumed with salty cheeses, fatty cured meats (more on those later), acid and olive oil-drenched octopus, oily fish, ripe tomatoes — basically all those sun-drenched Mediterranean foods. These are easy drinking whites that are crowd pleasers.
LAGER
Europeans drink a lot of beer. Croats (and the French) certainly aren't outliers when it comes to drinking copious amounts of easy lager. Moreover, cold beer + sports is a no-brainer.
Karlovacko is one of the most ubiquitous lagers from Croatia and you might be able to find at specialty shops in the U.S. But, you know, a standard lager is a standard lager. You may as well upgrade a bit and stock a local lager in the fridge for the match. Just switch up your cheers game to saying, "živjeli!"
RAKIJA
Rakija is an intense plum (or any fruit really) brandy that'll light a fire in anyone brave enough to start downing shots. You'll have to hit the specialty liquor store to find a bottle of Rakija. If you do, maybe don't start with shots right away. Try mixing it with a little soda water, ice, and lime to draw out the fruity notes.
It's also heated like a mulled wine (called kuhana) with honey and spices. Given that it's summer, you can actually cool that down and use it as a base for a white wine sangria with some of that Croatian white wine you already procured.
Or just take shots and brace for impact.
FOOD FOR THE FRENCH SUPPORTERS
OYSTERS
Eating a platter of oysters with a nice glass of chilled champagne is a great way to spend any day — soccer or no soccer. Oysters are also the perfect appetizer to get a viewing party started. France's Fin de Claires are wonderful mid-sized oysters that rival any grown in the U.S. But, don't buy imports. Buy local.
Oysters are pretty easy to serve. Buy. Shuck. Eat. Done. Sure you can make a mignonette or slice some lemons for spritzing but that's often unnecessary if you're eating fresh oysters purchased nearby and still quivering. Find an oyster seller near you and go nuts.
CASSOULET
https://www.instagram.com/p/BfF-ls5BA_N/
If you're looking to fill some bellies, a cassoulet is the way to go. The simple stew of white beans, bone broth, onions, garlic, fresh sausage, cured pork belly, and often either chicken, duck, or rabbit legs is a fantastic way to put smiles on everyone's face while watching the match.
The great thing about any cassoulet is that it's a slow-simmering dish. Throw everything is a braiser or crockpot in the AM and let it cook all day. Serve. Done. Well, maybe give it a stir every now-and-then, but you get the point. It's an easy and delicious way to feed your crew with something resoundingly French.
MACARONS
Macarons are about as French as you can get when it comes to sweets. They're also very light, which is something you'll want after a heavy cassoulet and lots of wine.
Look, we're not asking you to make macarons. Find a dope (local) bakery that does all the heavy lifting and buy a batch. The crunchy meringue, the creme filling, the motley colors all work when celebrating France. Hell, order red, white, and blue ones — they work for both France and Croatia … and America.

FOOD FOR THE CROATIAN SUPPORTERS
ISTRIAN CHEESE AND CURED MEATS
Istrian ham and cheeses are low-key some of the best in Europe. The cured hams from Istria rank right up there with Iberico from Spain and Proscuitto from Emilia-Romagna. Again, you'll have to hit a Slavic deli to score some of this stuff, but it's 100 percent worth it.
Hard, Croatian cheeses have a deep saltiness that leads to a creamy, nutty finish that leaves you feeling like the sea isn't too far away. It's the perfect counterpoint to the fat stripped hams with their lush red lean that absorb an umami funk from spending months in a cellar. Break a little bread, sprinkle some (good) olive oil, and enjoy the beauty that is Istrian ham and cheese.
CRNI RIŽOT
Don't be frightened by the words up there. This is just Black Risotto or squid ink risotto. There's a lot of risotto in Croatia. It's creamy, often seafood-centric, and a staple of cuisine.
The squid ink version is a great dish to serve. You can make a lot, add in the squid ink, and maybe add some fresh octopus or calamari to the mix. Or not, let the rice and ink shine if that's how you dig it. Either way, this is a classic Croatian dish that'll easily find a permanent place in your cooking rotation once you master it.
FRITULE
Let's finish with something we all know and love, doughnuts. Fritule are basically just fried balls of dough. Sometimes they're mixed with orange zest or ground almond. Sometimes they're drenched in rum or doused in chocolate sauce or both. Make a big ol' batch of these and we guarantee they'll be gone before the final whistle blows and either Croatia or France walk away champions for the next four years.
Or just make them anyway — because it's fried dough soaked in rum and covered in chocolate and that's better entertainment than any soccer (football!) match could provide.