Black History Month was always a pretty depressing few weeks of school. Learning about the struggle my people faced — and still face — in America and across the world was often agonizingly bleak. Of course, black children need to know where they've come from and what they've overcome to be able to better celebrate where they're headed, and the people of the United States need to remember their treatment of black Americans to ensure we don't have a repeat, but the way we were taught to think of Black History Month in the past left little room for hope of modern-day success. The very nature of condensing the history of an entire people into a month was limiting.
You can see the failure of a confined "month" in the fact that my school's Black History Month left off the history of civilized African nations and trailed off by the 1970s, after the Civil Rights Movement. The kingdom of Kush? The Songhai Empire? There just wasn't time for it all. Now, in 2018, I wonder if history was never the point. Or at least not the whole point. The past is taking a back seat to the present, as people around the nation eagerly celebrate black excellence.
Black. Excellence. Nice ring to it, right? The term is not one of superiority over anyone, rather it is one of pride, change, and relief that black people are finally being recognized and rewarded for their contributions to the United States and to the world, in general. As a mainstream term, it's also relatively new. It's broader than "black history." It fits the culture better. But it's more than just a hashtag or a catchphrase. "Black excellence" is about the current state of black people who are enjoying massive success across business, culture, and politics. Because while obstacles still remain, there's no denying that black people, resilient as ever, are not only persevering (in spite of continued racism), but we are absolutely thriving in the face of persistent adversity.
Let's be real, the last election cycle was a blow to the notion that America was moving forward in their thinking about race relations. While the president may not have blatantly made racist and discriminatory remarks about black people, several of his allies had made very racially-charged statements. Members of his cabinet had discriminatory voting records and/or pasts flecked with racially-charged incidents. Ultimately, it left people wondering whether Trump, himself, co-signed those sentiments.
For many black people in major cities, the Charlottesville riots were more a situation of a girlfriend who suspected she was getting cheated on then finally caught her lover in the act than it was a shock: We figured racism was alive and well; now we had proof. But rather than taking on the victim mentality that is (wrongly) argued to have been prevalent among so many of our ancestors, we mobilized.
Look at Kamala Harris, the Democrat senator from California, who is only the second African American woman in history to be elected to the U.S. Senate, and the first African American and first woman to serve as Attorney General of the state of California. Harris has always been a voice for the voiceless during her political career, but the 2018 cycle delivered her to the forefront of politics and has made her a key player in the fight to hold Trump's regime accountable.
Her stance and her fearlessness have led to her seriously being considered as a presidential candidate in 2020. There's a heaping dose of black excellence for you.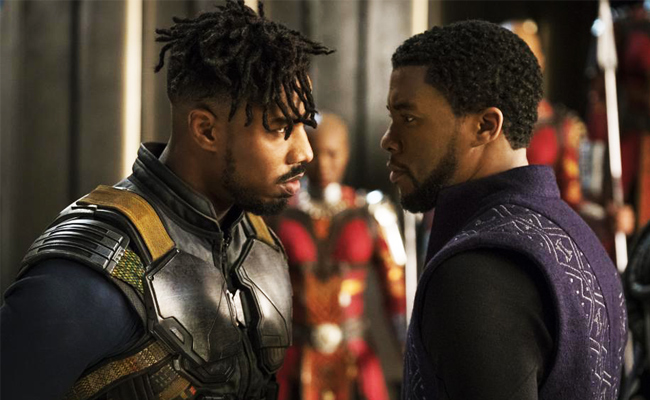 Let's talk entertainment next, cool? Black people have a long history of success in music, TV, and film, and 2018 is no exception to the rule. It's increasingly common to see black representation on the biggest platforms. Most notably, the Ryan Coogler-directed Marvel film Black Panther continues to make history as presale tickets for the movie are the highest-selling of any superhero movie.
The film is slated to break February box office records for sales and attendance in its opening weekend, once again proving the power of representation on the big screen. Jordan Peele's "Get Out," a parody/ documentary of race relations in the United States swept the Oscar nominations in the most prestigious categories. Grammy nominations followed suit. The Golden Globes, as well, were very representative — honoring Oprah Winfrey with the Cecil B. DeMille award for lifetime achievement, for which she gave a groundbreaking speech that addressed not only the honor of being the first black woman to receive the award, but also the historical significance of being a black person winning such a prestigious award, and made reference to the #MeToo and #TimesUp movements.
Black excellence means keeping it real in order to effect real change. These past few years have given black people the platforms to do so and they have not taken it lightly.
Another few words about #MeToo and #TimesUp… Much like the civil rights movement of the 1960s, where black women stood at the forefront and were lauded for their fearless stances against injustice, black women have played key roles in the proliferation of these social movements, too. That was even more evident at the Golden Globes. As in previous years, the fashion upstaged the awards again this year — but for a much different reason. Supporters of the movements to denounce sexual harassment, assault, and general discrimination against women donned all black, as a protest against Hollywood's gender system.
Tracee Ellis Ross and Lena Waithe led the way at the Golden Globes, and Tarana Burke, the initial founder of the #MeToo movement, stood among women of all colors at the awards show to show her support of those who continue to lead the way as more and more women gather the courage to speak out against their attackers.
That fearlessness is deeply embedded in the idea of black excellence.


I could go on. Medicine, ecology, media… Evidence of black excellence is everywhere. You can celebrate that and still be humble. Black people, as a whole, do not possess a sense of entitlement. We simply know what we came from, how we have been perceived and how we have been taught to think of ourselves negatively, and we're ready to change that. No more delays. No waiting around for people to catch up.
Black people were not only oppressed slaves and hirelings, they were kings and queens, and to be black is to be taught that that is the status to which we aspire and the potential we hold. When you see the hashtags #blackgirlmagic, #blackboyjoy, #blackexcellence, #blackwomensmiling, #blackmensmiling, and #WhatBlackPantherMeansToMe, know that they're not there to rally against other races. They are there to remind us that all that we were taught as children during Black History Month is not our only history; it's simply one chapter.
Both our forebearers (taught about in Black History Month units) and their modern counterparts are vital to who we are today, and who we will inevitably become. History is important, but maybe it's time schools start teaching kids about the present day, too.