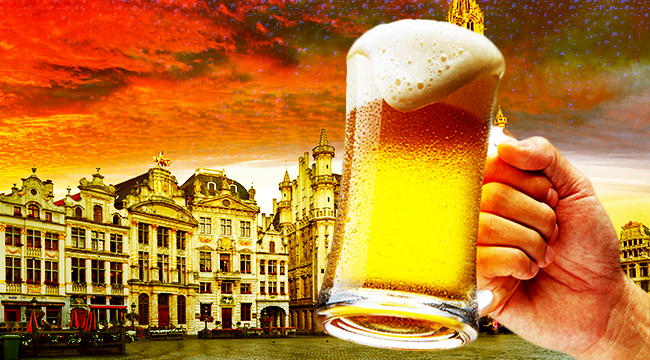 Belgium is a beer lover's paradise. Some of the most sought-after beers in the world — lambics, gueuze, and saisons — hail from the rolling farmlands and dark forests of the small country right in the heart of Europe. The current explosion of sour beers is due, in part, to the traditions that were refined and heralded around Brussels. That's not to say there isn't a vast array of ales and lagers to be had. There are. That's precisely what makes Brussels one of the most important cities for beer in the whole wide world.
We've put in the traveling hours, drunk pint after pint, and searched brewery after brewery for the best of the best. Even with all the years spent researching beer in Belgium, we've only just scratched the surface. Beer culture runs very deep in the region so any list with only ten locations is going to woefully incomplete. If you do want more info, check out the latest edition of Tim Webb's and Joe Stange's Good Beer Guide To Belgium for a truly comprehensive list of the best of best in one convenient book.
In the meantime, look at this list as a chance to hit iconic beer bars, must-see beer institutions, and a few local gems you may otherwise have missed. Sante!
DELIRIUM CAFE
Let's get this out of the way: Yes, Delirium Cafe is a tourist trap (almost literally). The multi-bar temple to beer sits on Rue des Bouchers and a dead end alley called Impasse de la Fidélité. It's really easy to get trapped down that alley with glass after glass of amazing beer. And, you know what? That's totally okay.
Delirium has over 2,500 beers available and an incredible tap list of some of the freshest beers from the region and world. This is the sort of place that attracts casual beer seekers and hardcore beer enthusiasts alike. You just can't deny the power of the beer list. The mix of locals, beer lovers, and tourists makes for a very convivial atmosphere and you're sure to make new friends the minute you step into the place.
Look at it this way, hitting Delirium first is like pressing start on your controller and entering the Brussels beer game at the training level. Get your beer bearings. Meet new people. Then go and dive into the deep end.

POECHENELLEKELDER
https://www.instagram.com/p/BmDsuGtnzOl/
Poechenellekelder is probably the easiest beer bar to find on this list. It's directly across from Brussel's famed Manneken Pis (that little statue of a urinating boy that every tourist takes a photo next to). Don't let the touristy location of this place fool you — this is a must stop for beer lovers.
The beer list is intense here. You'll be able to sample a litany of amazing Belgian heavy-hitters in a classic Belgian beer bar setting. The old wooden walls are filled to the brim with marionettes and country-life related kitsch, giving this place an almost spooky, roadside attraction feel.
The beer list reps Belgium hard with 150 possibilities. Our recommendation is to post up outside, order a nice Orval or Tilquin, and watch the stream of glossy-eyed tourists taking photos next to a pissing statue. It's a hoot.
A LA MORT SUBITE
Over by the central train station, you'll find the quintessential Brussels beer cafe, A La Mort Subite. The 90-year-old cafe feels like a throwback to an era when people dressed in suits and long dresses to go out for a glass of beer or a cup of coffee. The tall, aged mirrors, worn pearl pillars, and rows of well-used wooden tables are the marks of character that make this place shine.
There's an excellent selection of Mort Subite's own beers on tap alongside gorgeous Abbey beers and a few carefully selected local brews. The bottle list is deep and full of hidden gems. The bustling cafe atmosphere and the perfectly poured beers pair wonderfully with a building that feels like a church for drinking. You may well end up spending a whole afternoon in the place after you told yourself "I'll just drop in for a fast pint."
Don't forget to order a plate of local cheese and Ardennes salami to go with your beer. Also, don't sleep on the celery salt and yellow mustard. Yes, celery salt. Sprinkle it on the cheese cubes and thank us later.
LE PETIT PHILOU
For our hole-in-the-wall selection, we're going with a little spot that's easy to miss. Located a stone's throw from the Central Station, Le Petit Philou isn't so much iconic as it's just plainly great. The bar is small — with maybe six tables and a smaller upstairs bit. So you can kind of make your own scene here with your crew or really get to know someone new.
The beer list is seriously well curated, with a long list of great bottles from all over Belgium at the ready. Locals stroll in from their apartments above and around the bar to grab a beer or two after work, during a lazy afternoon, or just because. This is a chill place to hang out in-between sight-seeing and dinner or after a long trip into the countryside.
Le Petit Philou has a nice selection of funky cheese and salamis. Also, they're next door to Tonton Garby, which is probably the best sandwich shop in the whole country. Great beer and great sandwiches side-by-side is a big win for any weary traveler.

RESTOBIÈRES
Speaking of food, Restobieres is the perfect spot to grab a classic beer-centric Belgian meal. The menu is full of classics like Moules Frites (mussels steamed in beer with fries), big chunks of pâté, pork shanks, herb-y sausages, confit duck legs, and all sort of nutty and buttery cheeses and local cured meats. It's perfectly paired beer food.
It goes without saying that Restobieres has a killer bottle list of spontaneously fermented beers (sour lambics and the like), little bottles, big bottles, and a shortlist of draft beer (Hommelbier blonde, Sas Pils, Blanche de Watou, and Lupulus).
Our recommendation? Roll up and get the Brussels Menu for €38 (about $42). That gets you three beer-centric courses. Start with a foie gras with confit shallots and funky Rochefort then move onto the rabbit with prunes and Geuze Girardin. Finish strong with their homemade chocolate mousse with Hercule Stout. You will leave with a very big smile on your face.
MOEDER LAMBIC
If you're looking for one place to call your home while you explore the depths of Belgian and European beers, Moeder Lambic is the spot for you. The genial bar is big but the space is cozy. The crowd is always laidback and the staff knows their shit.
The bar's tap list has deep cuts, classics, and newbies side-by-side along their long tap line. This a great spot to find a few experimental beers and dive into the brewers who are challenging the status quo. But don't worry, the classics are well repped too.
Don't pass up on the beer snacks here. While a lot of the bars have a pretty standard cheese and salamis, Moeder Lambic is a notch above. Their funky cheese, savory country pâtés, crisp bread, and piquant farm-to-table cured meats make this place that little bit more special.
AU SOLEIL
The great thing about Brussels is that you don't need to indulge in trendiness to find gems. The character of the city is straight up Instagrammable and unique as it is. Au Soleil is one of those places that exudes classic Brussels aesthetics that feel unique. It also happens to have a great beer list.
The corner bar is all wood, windows, and beer. There's a sense of age here with a wisened staff pouring delicious suds from the Belgian heartlands. The brilliance of this place is its location. In the summer, you can post up on the street and waste the day away drinking amazing beer and people watching. In the winter, you can hole-up inside and chat with local beer lovers about this and that. It's the best of all worlds.
In the end, yes, there are a hundred other bars like Au Soleil in Brussels. That's kinda the point of the place. But Au Soleil knows what it is and is comfortably confident in being a great place to drink a beer, read a newspaper, or chat up a local — if that's what you're into.

LE CORBEAU
It's hard to separate great food from great beer in Brussels and we're not complaining about that. Le Corbeau is part of the great tradition of full-on brasseries (or restaurants) that also serve as phenomenal beer bars.
The food here is spot on Brussels fare with steaks, fondues, croquettes and the like. No one's reinventing the wheel. It's nourishing comfort food that pairs perfectly with beer. The real reason you'll want to stay to eat here is the beer selection and kicked back aura of the place.
The bar staff cares about the beer they cellar and pour. The selection of local and regional brews dominate the list and lean towards the classics. It's almost too easy to sink into the leather booths that line the walls. It's even easier to order one too many beers, especially after a plate of frites with a nice steak on the side and a little lush bearnaise.
BRASSERIE VERSCHUEREN
Brasserie Verschueren is as local a beer cafe as you can get. It's a little off the tourist path, but still in the center of the city. That means you're really going to get a local experience here.
The bar is a worn wood panel joint with cracked mirrors, rickety tables, faded tiles, and an old-school bar that some of the Lost Generation surely leaned against. The beer list, again, is spectacular here. They have a serious collection of bottles of some of the best and funkiest breweries from the region along with a few taps of easier stuff (think local macro-lager).
Finding Le Verschueren and spending an afternoon drinking there will give you the feeling that you've unlocked an advanced level of the Brussels beer game — and what a fun game it is. The staff knows their shit. The customers are there to gossip, drink, and live that Brussels life. Take the time to find this one and indulge in the slow pace of every day Brussels with an awesome beer in hand.
BRUSSELS MUSEUM OF THE GUEUZE
https://www.instagram.com/p/BmA6a7lAJHb/
It's inevitable. You will end up at Cantillion and their illustrious Brussels Museum of the Gueuze at some point. The blendery and aging rooms are worth the tour alone. Rows and rows of barrels line the walls as they settle and age into funky sour beer perfection. It's a sight to behold and one of the reasons you dropped all that coin to get to Belgium in the first place.
The tasting room/bar is a fun stop on any beer tour of the city. It's a good place to end or start your trip. It'll give a clear sense of the Lambic and Gueuze styles that are setting the world afire right now in a setting that's a cathedral to all things beer.
Here's the play. Tour the place. Post up at the bar and order a big bottle of your favorite flavor of Cantillion. Then grab a cone of frites with a nice squeeze of mayo. If you do that, you can consider the Brussels beer game crushed.