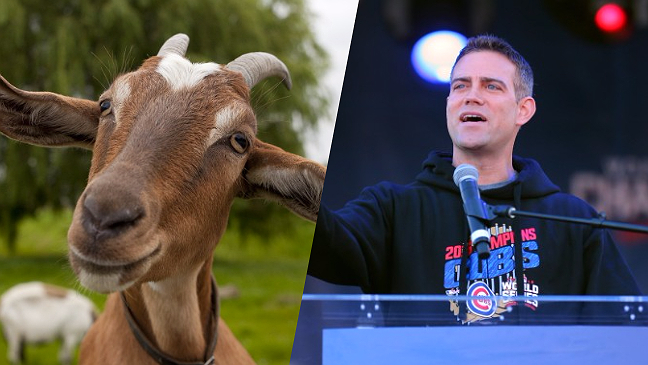 The Chicago Cubs will be riding high off their historic World Series win for quite a while, having touched the lives of thousands of people in ways few sports moments ever could. The sheer length of the Cubs' drought — 108 years — made it seem otherworldly, and like the Red Sox with the Bambino in 2004, the Cubs had their own curse totem: a billy goat.
It wasn't as mystical a figure as Babe Ruth, but it was still the easy eye-catch for any superstitious types. No one on the current Cubs gave much weight to the billy goat figure (And how could they? It's ridiculous), but now that the drought is over, you can bet they'll enjoy every last bit of it, including eating a damn goat in the Wrigley Field bleachers.
Cubs executives, led by Theo Epstein and Jed Hoyer, were debriefing the season when they returned to Chicago, and Hoyer was tasked with the lunch order. While he was on the phone with restaurant owner Kevin Boehm, Epstein yelled out that he wanted to eat a goat. So that's what they did, and it sounds delicious:
Boehm is co-owner of Boka Restaurant Group with Rob Katz. They enlisted chef Stephanie Izard to prepare the goat. It's a specialty at her Girl & the Goat restaurant, which is part of the Boka group.

The restaurant serves goat liver mousse, goat carpaccio, goat empanadas, goat shank and goat legs.

For Epstein's executive team, Izard oven-roasted a 9 1/2 pound goat.

Boehm, Katz, and Boka Vice President Ian Goldberg delivered it to Epstein. "They were all sitting in the left-field bleachers in an empty Wrigley Field. They ate it right there," said Boehm, who described the lunch as one of last week's many moments of wonder. Between them, he and Katz attended 23 post-season games, including the championship.
(Via Chicago Sun-Times)