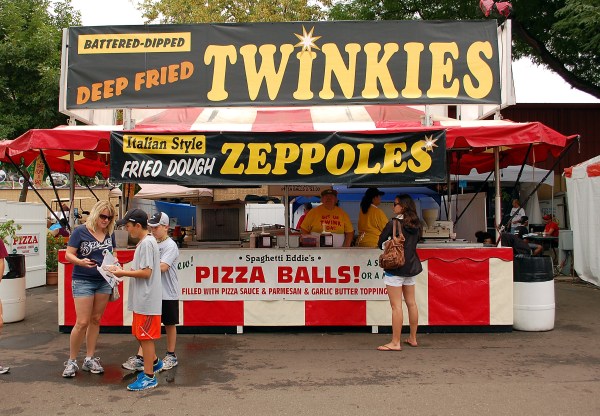 It's no secret that fair food has gotten completely out of hand in recent years. I'm no expert, but I'm going to hazard a guess that Deep Fried Oreos [recipe here!] were the gateway food that led to the scores of batter-fried monstrosities local fairs serve these days.
And yet, I can't deny it, fair food is the absolute best. It's overpriced, greasy, and an absolutely essential part of summer's highlight reel (along with fireworks, barbecues, beer, and bald eagles screaming as they tear through the sky, #MERICA!).
Here are some of the foods that will have you weeping tears of red, white, and blue, while simultaneously reaching for the antacids.
Sriracha Balls
Here in America, we like all things spicy. Which is why some genius food marketer decided to combine chicken, corn, tomatoes, egg and Sriracha (and, as an optional addition, Sriracha cream cheese). They sure sound better than they look. And how do they taste? According to Instagram user @puffkie, who snapped these at the State Fair of Texas last year: "Ehhhhh?"
Fried Mac and Cheese
Mac and cheese is an institution in and of itself here in the land of the free and the home of the brave. Every kid is served the neon boxed stuff at some point in his or her life. So, why not try frying it? Instagram user @buffalovefoodie tried these glorious-looking pockets of pasta and cheese at the Erie County Fair in Buffalo, N.Y. This one tempts me. If I had the means, I would hop on a plane right now.
Donut Sundae
https://instagram.com/p/6li5s-l6Z9
Yes. That is right. It's a sundae… sandwiched between a cinnamon-sugar donut… topped with sundae fixings and whipped cream. And it looks ridiculously delicious. (And, also, definitely replicate-able at home, which is something to keep in mind if you can't make it to the Iowa State Fair in the next few days.)
Pickle Dog
https://instagram.com/p/6k342Zs_lV
This is a hot dog inside a pickle, inside a corn dog. There are no words for this. @stacey_k bought this at the Orange County Fair, which just closed earlier this week. Apparently, she'd been craving it for the past year, but I don't know… this seems like something I'll leave to… anyone but me.
Funnel Cake Burger
Also at the Orange County Fair. Wherein someone decided it would be a great idea to stick a burger between two funnel cake buns. And now we are wondering if there was anything edible at the Orange County Fair…
Fried Starbucks
https://instagram.com/p/371dg7sd7x
Can coffee be fried? It's a time-worn riddle which the Bacon-A-Fair booth at the San Diego County Fair has finally solved. The best part of this whole What-In-God-Bless-America's-Name-Is-That? thing is that it comes fried in oil and bacon fat. Heart attacks, an American tradition since 1776.
FAIR SEASON IS mostly wrapping up now… but not quite. Obviously, the Iowa State Fair (or rather, Donald Trump at the Iowa State Fair) has been making headlines ever since it opened last Thursday. Other fairs have yet to bless us with their food: The New Mexico State Fair will be running in Albuquerque from September 10-20. The State Fair of Texas runs in Dallas from September 25 through October 18. And the Arizona State Fair starts in Phoenix on October 16 and runs until November 8. The good news: There's definitely still time to clog up your arteries with delicious fried freedom before summer ends. The bad news: Pumpkin spice season will be upon us next.
*VISIT HERE FOR A MORE COMPLETE LISTING OF STATE FAIR SCHEDULES.*
**FOR MORE FROM INSTAGRAM'S #FAIRFOOD, CONTINUE DOWN THE PAGE**
https://instagram.com/p/6lJjv_iASn/
https://instagram.com/p/6m0GdXGXqm/
https://instagram.com/p/6m52UUhQVg/