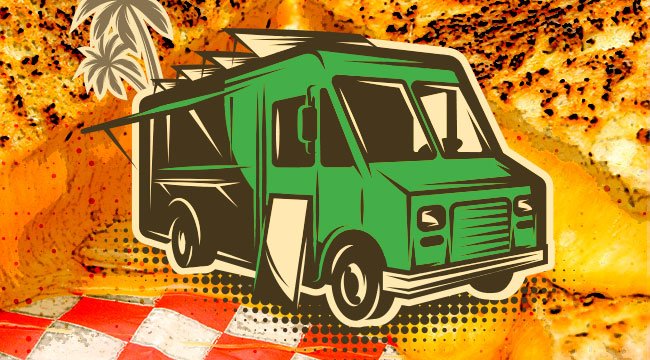 Food trucks are quickly becoming a perfect merger of convenience, food-enthusiast culture, and the entrepreneurial spirit. Sure, the idea of food-on-the-go isn't a new one, but with their popularity steadily rising for the better part of a decade, food trucks have proven they're no passing fad. What was once a niche market limited to bigger cities has quickly become the go-to choice for chefs (low overhead) and diners (low cost), and the ever-increasing competition seems to draw out the best in culinary creativity. These chefs constantly push the boundaries of what they can do to make their food, their service, and their truck itself stand out — which is exactly the sort of atmosphere that brings out customers in droves, making food trucks a distinct culinary culture onto themselves.
But what makes someone opt for a restaurant with wheels instead of walls? Sure, there's a certain nomadic independence that food trucks convey — even if the reality is a lot different from just picking a spot and pulling the parking brake. There's also a lingering assumption that a food truck is a way to dip one's toe in the restaurateur waters before committing to a lease. And while that may still be the case for some, as food truck culture evolves, these mobile eateries aren't necessarily seen as a restaurant's first draft, but rather an endgame unto themselves.
To get a better perspective on this growing phenomenon, we talked to a few food truck owners in a handful of different cities about exactly what goes into making their unique ventures possible.

The Gray Area
Daniel Shemtob, owner of The Lime Truck, based in Los Angeles, explains that running a food truck is a much different endeavor from any other business, including a conventional, brick-and-mortar restaurant. "The biggest challenge is that you're not just doing food service. In a restaurant, you're stable, you know where you are every day, people are going to come to you or not. With a food truck you have to find a site, which means making agreements with, say, the office buildings if you're going to park there for the day. You have to make sure you have all the paperwork, like your insurances, in order, and you have to make sure the city and the county are on board. So there's a lot more organization, and a lot more due diligence outside of just operating the food element."
Shemtob started The Lime Truck back in 2010, and has seen the movement grow over the last few years throughout the Los Angeles area. The same year Shemtob started, the Southern California Mobile Food Vendors Association was formed — helping to provide a resource for aspiring and existing food trucks across the region.
"When we started our food truck, there weren't as many rules and regulations as there are now," Shemtob says, "it was more like going into a gray area, now it's pretty clear what they want you to do and what they don't." Still, even when the rules were less clearly defined, Shemtob always erred on the side of caution. "We weren't trying to be these rebellious food trucks, we were just trying to be small-business entrepreneurs who wanted to do something fun and creative. If you do really good stuff for the community, they'll want you to be there."
While The Lime Truck continues to thrive in and around Los Angeles, other cities where food trucks are just beginning to gain popularity are still in the 'gray area' stages of regulation. Isaiah Renner, who earlier this summer started The Dire Lion Grille and Chippy — a food truck dedicated to changing peoples' pre-conceived notions about British food (namely, that it's terrible).
Based in Omaha, Nebraska, Renner says there were only four or five food trucks operating in the city in the summer of 2015, but that number has increased tenfold. This sudden uptick in food trucks has the local government scrambling to try to regulate these new businesses efficiently and effectively.
"I think [Omaha's] kind of fortunate to have that happening because they're kind of catching up, [but] they don't necessarily know what the rules are for everything," Renner said, who adds that while the city works to figure out its new rules, there have been some inconsistencies. "We did a three-day music festival two weeks ago, which was in Bellevue, Nebraska, maybe 25 minutes southeast of Omaha, so it's in a different county. So we had a state health inspector come up to us and say, 'Okay, we need to do a state inspection,' which costs us 150 bucks."
While Renner understands certain issues like that are bound to come with growing pains, other cities have put together a much more streamlined process.

Pairing With Brick And Mortar Businesses
Earlier this month, Jeff Howard and Eric Muyldermans partnered together to open The Wafel Guys — a food truck specializing in authentic Belgian waffles in downtown Austin, Texas after some success at various farmer's markets in the area.
"The process is really rigorous here in Austin," says Howard. "They give you a checklist, you get everything on the checklist right. You need a commissary kitchen for all the prep work, you have to get a license in order to operate, you have to get a fire inspection, you have to get a grease trap on board, so that process can take a while. And then you need a Food Handler's Permit, well, you need a Food Handler Managers' Permit, because you need at least one on board when you're open, and you have to get your tax-for-use permit. That's not including your two different types of insurance."
He's quick to add that, despite the checklist, insurance was one of those things that "no one tells you about, so you gotta just figure all that out on your own."
Some curveballs aside, (like a couple of million-dollar insurance policies), Howard says part of them being able to get off the ground so quickly is the camaraderie between other food trucks throughout the city. "There isn't competition among food trucks in Austin. There isn't. There's so much real estate, that we have a network here. If I had an event I couldn't cover, I could contact those folks and say 'listen, anyone have a truck that can come out right now, or in an hour, or next week, or whenever.' Everybody here's willing to help you out, and I think that's the best thing for us so far."
Outside of some select catering gigs, The Wafel Guys' truck has spent its short existence parked behind Mort Subite in downtown Austin, a bar specializing in authentic Belgian beer, making for an ideal food and drink pairing. It's also an increasingly common arrangement in Austin, where a bar gets to offer food without needing a kitchen, and the food truck gets a built-in crowd without needing a liquor license. While Mort Subite isn't open to the public just yet, The Wafel Guys have kept busy — opening from 11 a.m. to 2 p.m. on weekdays to help feed the downtown lunch crowd.
"It's gonna get really busy when the bar opens," says Muyldermans. "It's gonna be nighttime hours and all the prepping, it's gonna be a 24/7 job." He also adds that, while they're both optimistic about their future, they're not "telling ourselves any fancy stories or anything."
While The Wafel Guys have a semi-permanent home, The Dire Lion tends to move around a bit throughout the week. "I thought that my biggest problem was going to be actually finding places to bring our food truck that would have steady business and where do we bring it," says Renner. He found his first regular crowd parking outside O'Leavers Pub in midtown Omaha every Thursday night. "That's our most constant place really. We do a farmer's market in Bellevue, and then really it's more of events that we pick up either from people getting in touch with us to do something or something that we see is going on and we get a hold of them."
Renner also adds that in a smaller city like Omaha his choices of location are a bit more limited. He couldn't count on the foot traffic alone in the downtown area, believing "it was a better idea to search out events where we knew people were going to be."

Dealing With Setbacks
As the proprietors of a truck learn to find their crowd, and become a part of their respective communities, there are sure to be teachable moments.
For Renner, the first major learning experience came very early on. "The type of food that we have, fish and chips and stuff like that, we have two fryers that are in our truck. I just completely didn't even think about going down the road, wondering where is all the oil that's in the fryer going to go. For the first couple of weeks, we had oil splashing everywhere, and so I had to get in there and get oil dry and soak it all up and scrub it out. We didn't have any way to really fix it because when you have hot oil, you can't move it out of there unless you have the proper container for it. Now we have a proper metal bucket to get it to drain out."
Their trucks might be almost 1,000 miles apart, but The Wafel Guys' experience echoed Renner's. "Making the transition from a farmer's market to a food truck, you don't realize all the little things you forget," Muyldermans explains. "Stupid stuff like extra knives, or storage containers, things you need a lot more than you expect. We didn't realize that you're running basically an entire restaurant kitchen on wheels, so there was a lot more equipment that we needed…draining your fryer before you start driving is something you learn about as you go."
Shemtob, a six-year veteran of the Los Angeles food truck scene, has had his share of nerve-wracking moments too. In his early days, he once forgot to pick up the all-important propane tank.
Still, while the task of running a food truck might seem hectic (to say the least), Shemtob talks about his business with a very distinct sense of pride. "I still work on my food truck once every week or two, it's one of my favorite things. I enjoy the interactions with the customers, because it's very personal. People allow food trucks to really be a blank canvas in terms of what they create, so I always feel that it's just a really fun process."
Wherever they are, and however the rules may vary, it's clear that the drive within anyone who decides to start their own food truck remains largely the same. While they navigate the rules and regulations and strike a balance between the food preparation and the boring paperwork, it's more than the idea of creating delicious food from a tiny space on wheels. It's finding your niche, learning as you go, and ultimately, becoming a part of the community in the process.