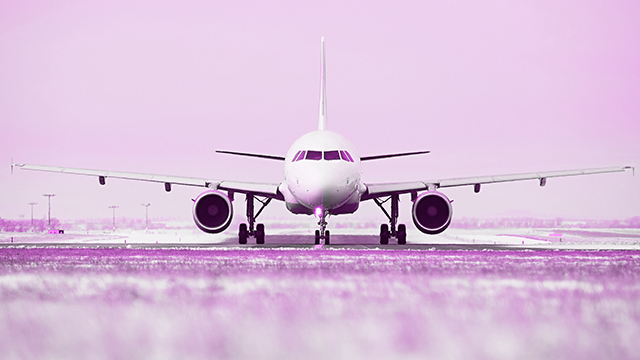 The next couple of weeks are going to be a great time to book travel. The shoulder season is in full swing and two big sales are coming in hot in February: President's Day and Valentine's Day. While you're going to have to wait for Feb 18th for the President's Day sales, most tour companies, hotels, and flights are already heavily discounted for Valentine's Day deals.
There is no exact science here. Basically, you're going to have to search, shop, and be ready to pull that trigger when you find a price that suits your budget. So, be ready, dream big, and travel far.
Below are the best cheap flights, hotel discounts, and travel deals that will make you race to book something right now.
TOP THREE DEALS OF THE WEEK:
FREE FLIGHTS WITH WOWAIR IF YOUR FIRST NAME IS "VALENTINE"
This is a great deal if your name is Valentine or you know someone who's name is. Put simply, you need to send a photo of your passport to Wowair (Valentines@wowair.is) by February 14th, proving your first name is, indeed, Valentine. Then Wowair will give you two tickets to Iceland from cities across the U.S. It's that easy. You'll have to fly between February 10th and 19th.
Take Advantage Of The Deal Here
PANAMA CITY TO BOSTON FOR $349

This one comes from Priceline via Secret Flying and it's pretty wild. Say you're up Boston way, where they are literally telling you not to open your mouth for fear of the cold hand of death crawling inside your lungs, and you need to get away. For a cool $350 you can get to Panama City and be on a beach at a $15/night hostel in a hurry.
This is Spirit, so all the Spirit caveats apply, but still… you won't need more than a carry-on when all you're going to wear is boardies or bikinis.
Take advantage of the deal here.
UP TO $7,000 OFF WINDSTAR CRUISES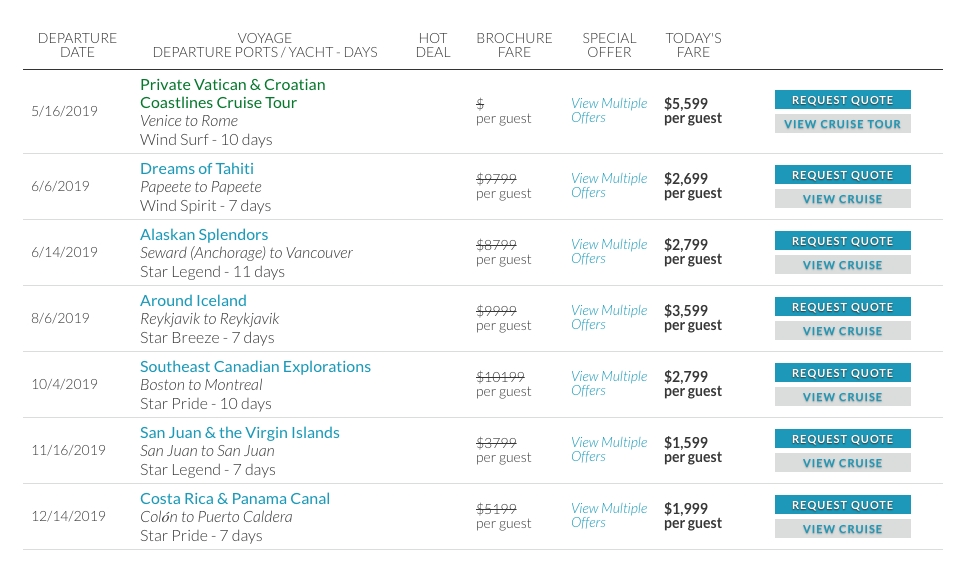 Windstar Cruises is the cruise line that's challenging expectations about what cruising looks like as we near the mid-21st century. They've completely re-thought what onboard dining can be by partnering with James Beard Foundation chefs. They also offer peace of mind, due to their ships burning less fuel by sailing with the wind. In today's era of ever-heightening awareness of climate damage from carbon emissions, that's a big win.
Check Out Windstar Cruise Deals Here
BEST FLIGHTS OF THE WEEK:
$20 ONE-WAY FLIGHTS ON FRONTIER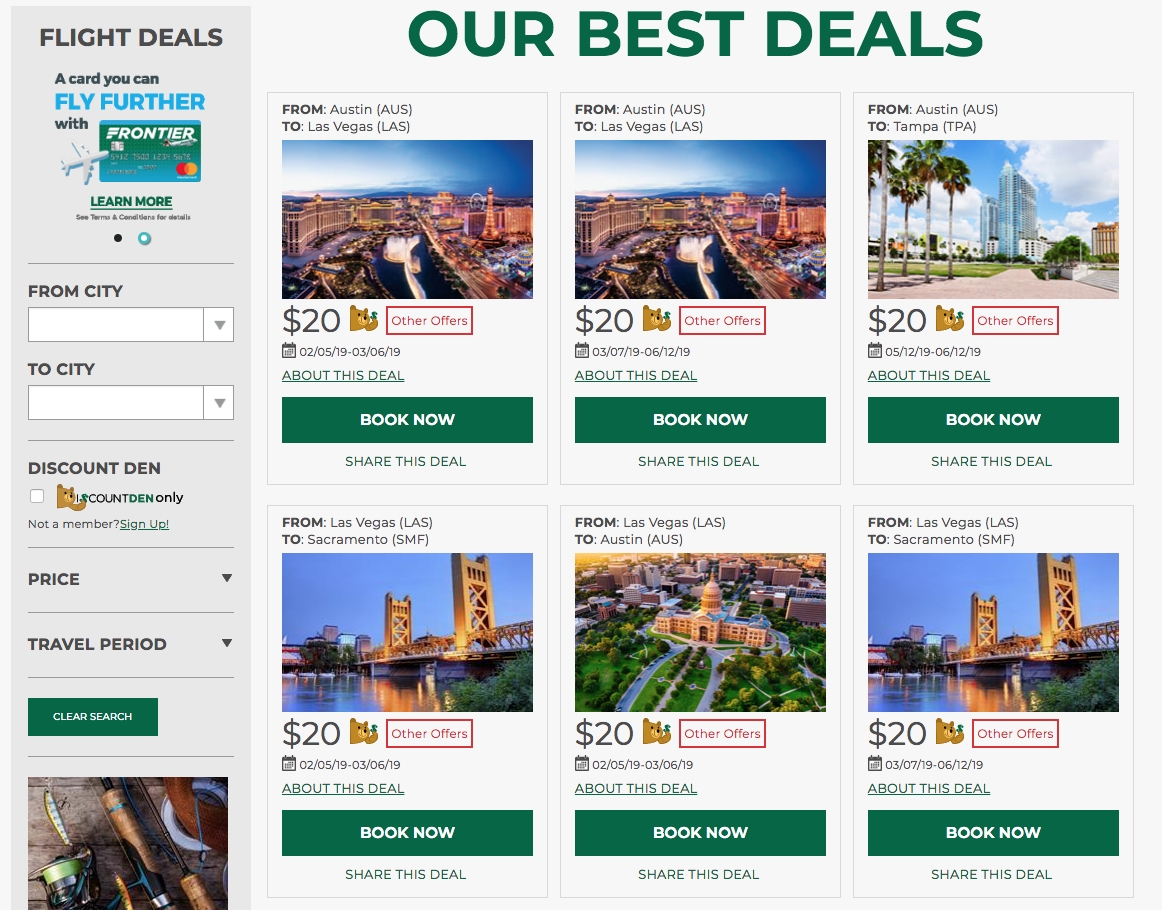 Frontier is offering their classic $20 online deals. There's really no cheaper way to get around American right now. You will have to pay an extra $35 to carry on a bag. So, this really is $55 each way. Still, that's a great bargain.
$79 ONE-WAY FLIGHTS TO THE CARIBBEAN ON NORWEGIAN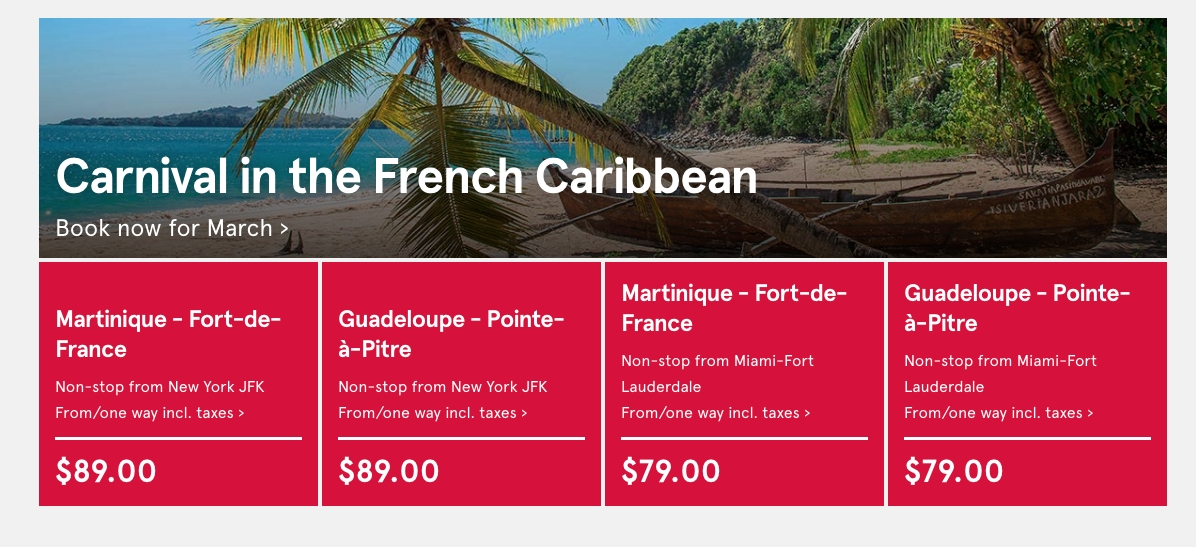 Norwegian is making your escape from the Polar Vortex easy this year. You can jump on a flight right now for around $80 to the Caribbean from New York or Miami. If there ever was a time to escape the cold, it's now.
$671 ROUNDTRIP TO TAHITI FOR VALENTINE'S DAY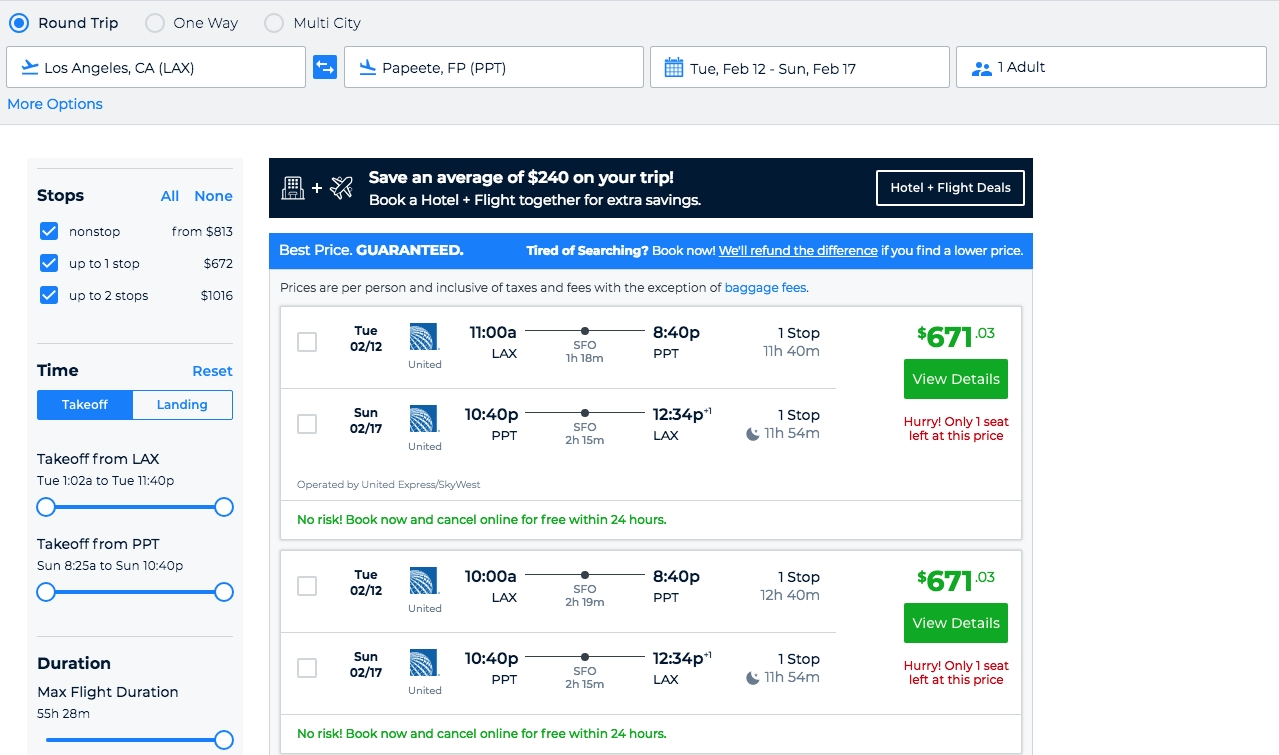 United is offering steep discounts on roundtrip flights to Tahiti from the West Coast. You can book a ticket for Valentine's week for only $671 roundtrip. That's well below the usual $1,000 price tag.
FLY ACROSS THE COUNTRY FOR $150 ON UNITED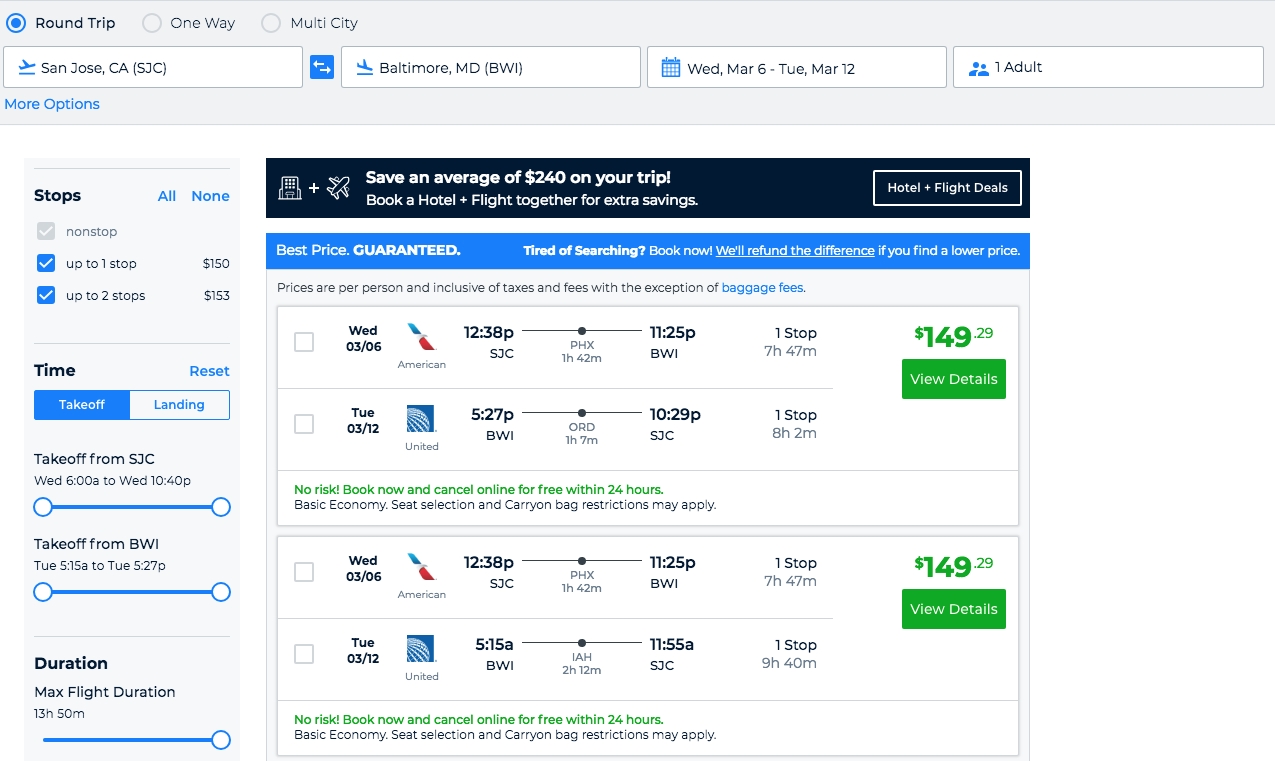 Shoulder season rates are dominating right now. You can get from the Bay Area to the Baltimore/DC area for only $150 roundtrip on United during late winter. That fare also works if you're flying east to west.
FLY TO TBLISI, GEORGIA FOR $600 ROUNDTRIP
Looking to go over the hills and far away for Valentines' week? Qatar Air is offering a roundtrip ticket for $600 from Dulles to Tblisi. That's not a budget airline price either. It includes meals, drinks, seats, and even a checked bag. It might be time to check out Georgia.
FIND THE BEST DEALS ON VALENTINE'S DAY WEEKEND WITH KAYAK EXPLORE
If you don't really know where you want to go but you know you want to go somewhere over Valentine's weekend, then Kayak Explore is your play. Simply enter your home city, some date perimeters, and find the cheapest flights going. It's simple and will save you money.
BEST TOUR AND PACKAGE DEALS OF THE WEEK:
VALENTINE'S GETAWAY AT SPRING CREEK RANCH, JACKSON, WYOMING
Spring Creek Ranch in Jackson is a nature lover's haven. The ranch is a luxe property where you can spend days diving deep into the natural world and wildlife and then go back to the ranch for a hot springs soak and killer dinner. It's the best of all worlds.
Their offering special packages over Valentine's Day weekend this year. The prices range from $320 to $620 per night. You can upgrade to massages, meals, and excursions depending on how active you want to be.
Check Out Spring Creek Ranch Here
TAKE A CURATED JOURNEY WITH NAYA TRAVELER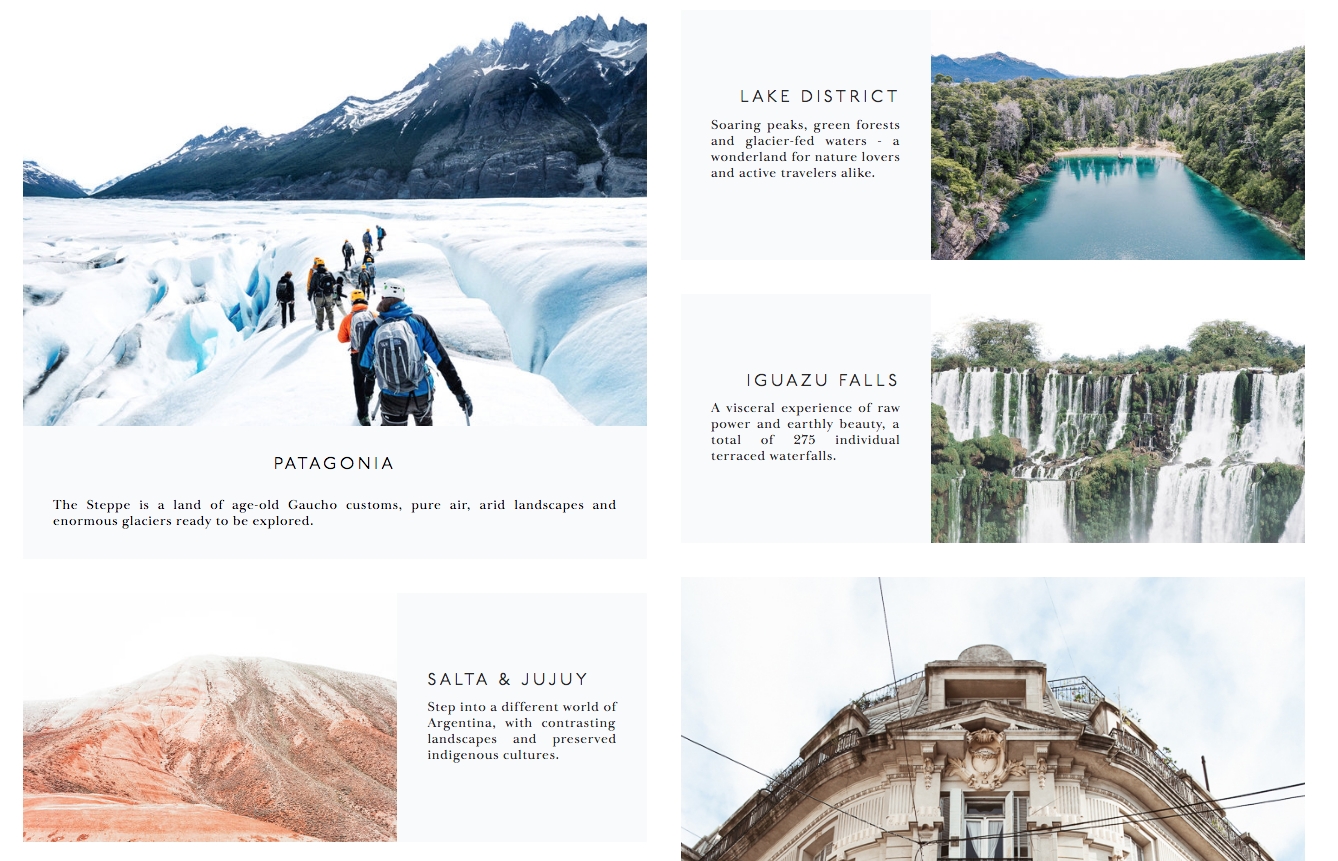 Naya Traveler is the independent traveler's best friend. Each trip is tailor-made to assure you experience a destination in a way that feeds your soul. It's part luxury, part in-depth experience, and fully unforgettable. With flights bottoming out in the next weeks, now's the time to book a trip with Naya Traveler.
20% OFF SURTREK TOURS IN ARGENTINA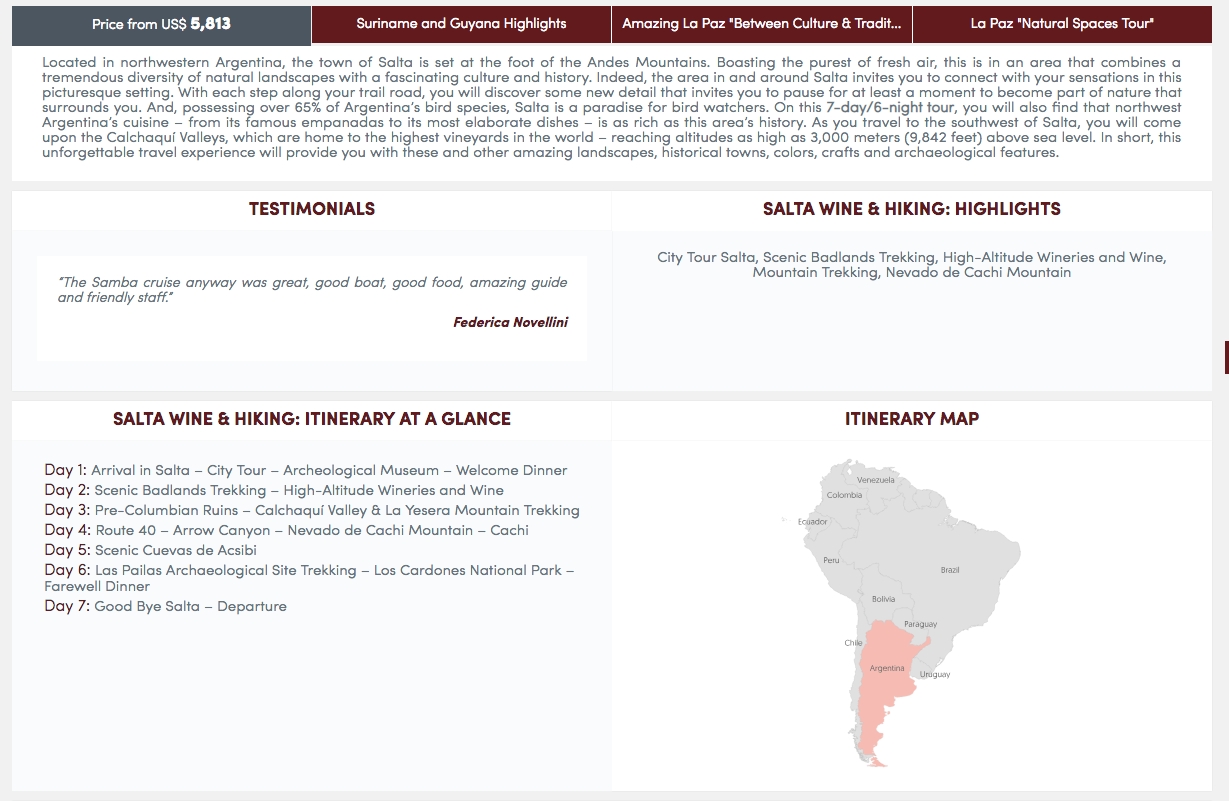 Ever dreamt of wandering around Argentina's wine country and eating all the food while tasting amazing wine? Well, we've got a deal for you. Right now, you can book that dream trip with Surtrek Tours and get 20 percent off the trip (in this case, that's $1,200 off).
That's enough of a discount to cover your flights!
Check Out Surtrek's Deals Here
EAT LIKE A LOCAL IN MEXICO CITY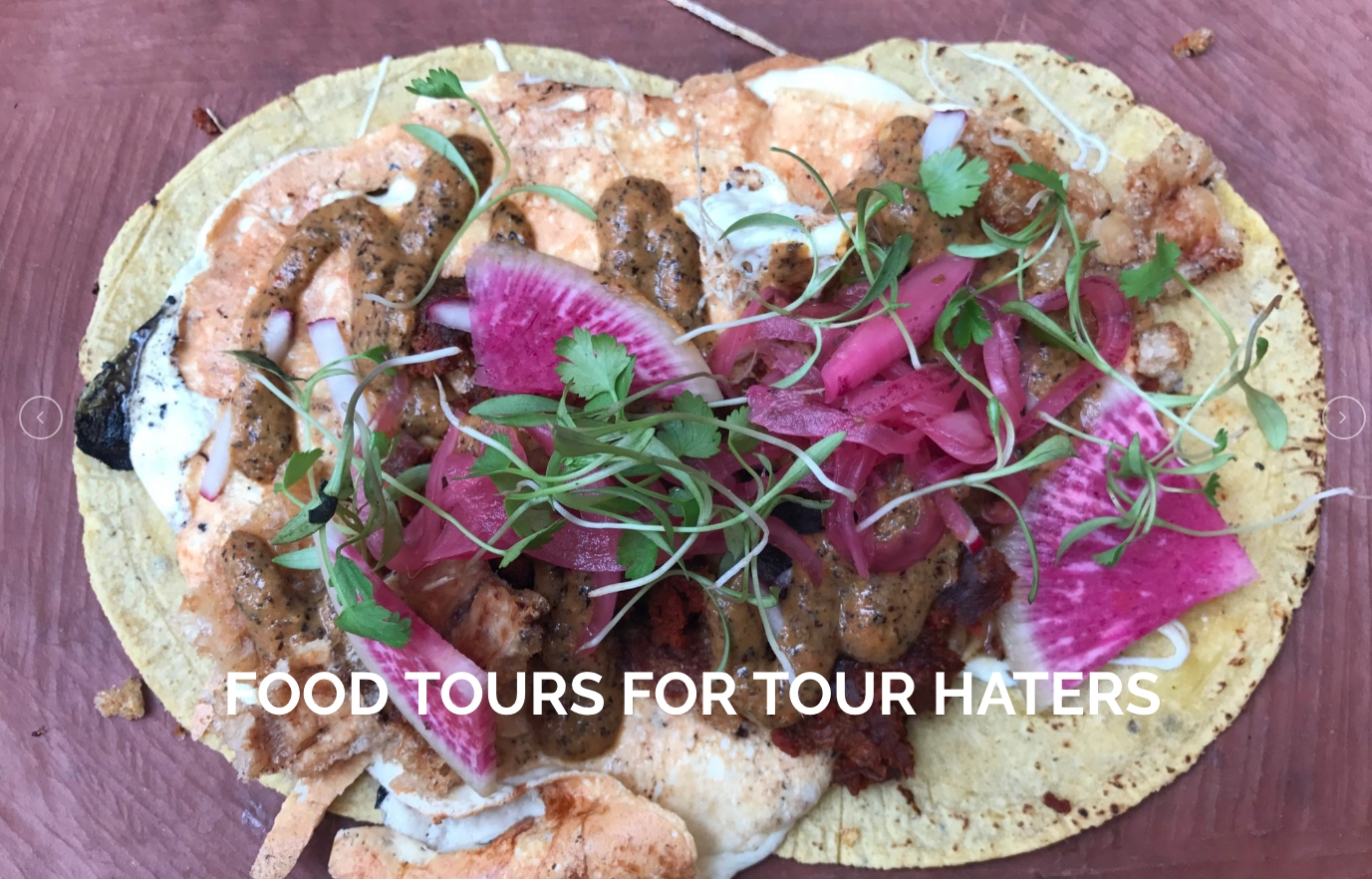 If you find yourself in Mexico City, you're likely there to eat (and drink). CDMX is, after all, one of the great food cities on the planet. So, our recommendation is to take some of the stress out of finding the best spots on your own and jump on a tour with Eat Like A Local.
The tours will take you straight to the people cooking in markets, on the streets, and in the best restaurants through the massive city. This is a great way to support the local economy in both the food and tourism sectors directly.
UP TO 25% OFF LAST MINUTE DEALS WITH CONTIKI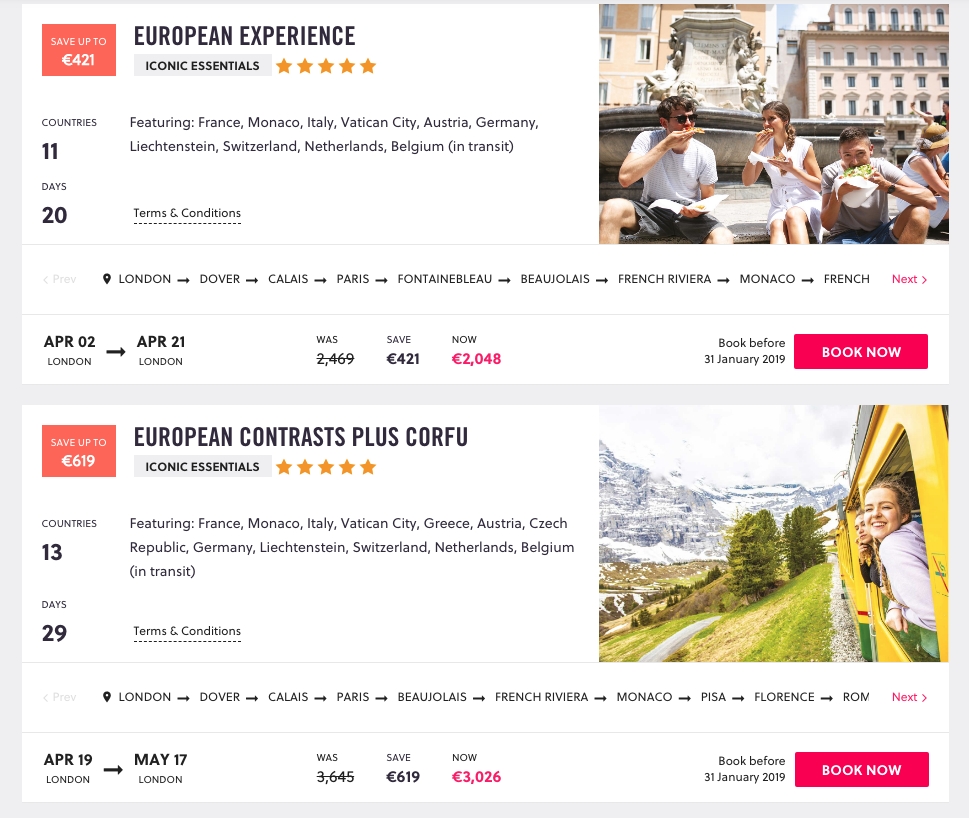 Contiki is the top travel company catering directly to 18 to 35-year-olds. Their tours are top-notch experiences that emphasize good times and expert guidance. You can score up to 25 percent off a long list of last minutes trips, some of which are leaving at the end of the week. That 25 percent can then go towards covering your flight. It's a win-win.
Check Out Contiki's Last Minute Deals Here
G ADVENTURES MUST GO SALE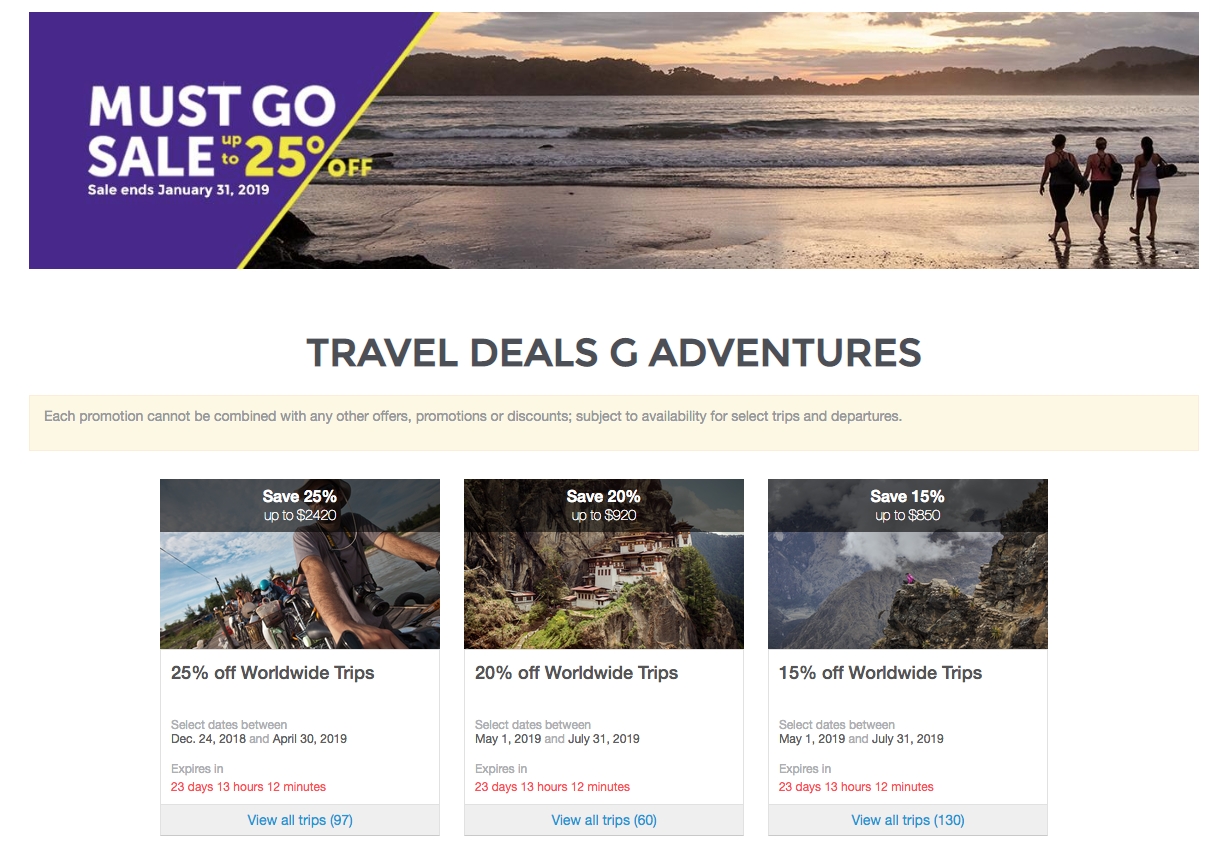 G Adventures offers amazing trips geared towards 19 to 35-year-olds, solo travelers, adventure-seekers, wellness chasers, and so much more.
If you can book before January 31st, you can save up to 25 percent off trips worldwide. That's enough of a discount on some trips to cover your flights to and from the trip — a huge bonus.
BOOK A TRIP WITH A $1 DOWN PAYMENT WITH INTREPID TRAVEL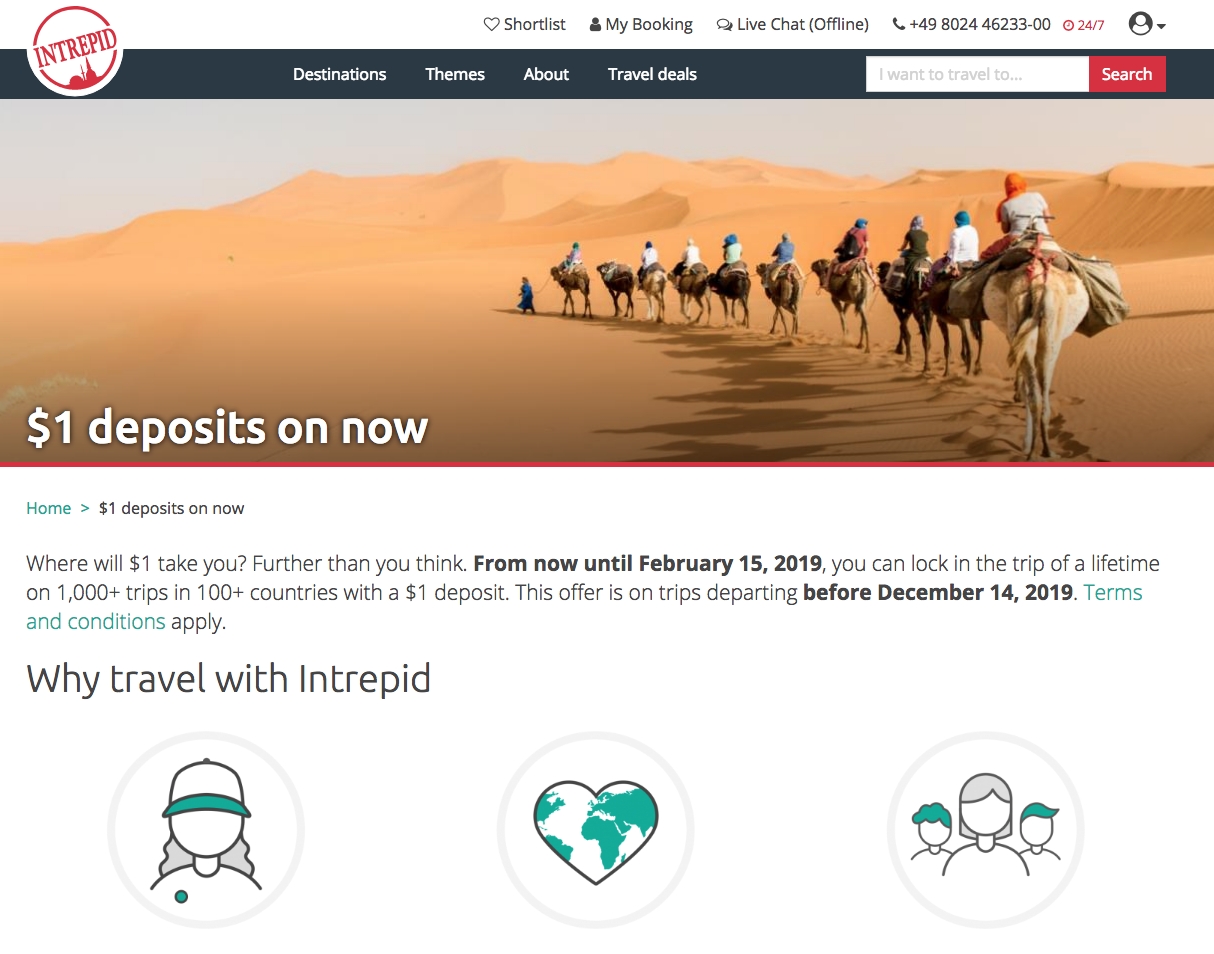 Intrepid Travel is giving you a chance to lock in a trip for 2019 for only one dollar. That's $1 to secure an adventure of a lifetime this year.
You'll have until February 15th to take advantage of this deal and you'll need to travel before December 14th. If your trip falls before July 15th, you'll need to pay the remaining balance with 56 days. If your booking falls after that date, then you'll have until May 15th to come up with the cash.
Take Advantage of Intrepid Travel's $1 Deposit Deal Here
BEST HOTEL DEALS OF THE WEEK:
UP TO 44% OFF HOTELS ON VALENTINE'S DAY WITH HOTEL TONIGHT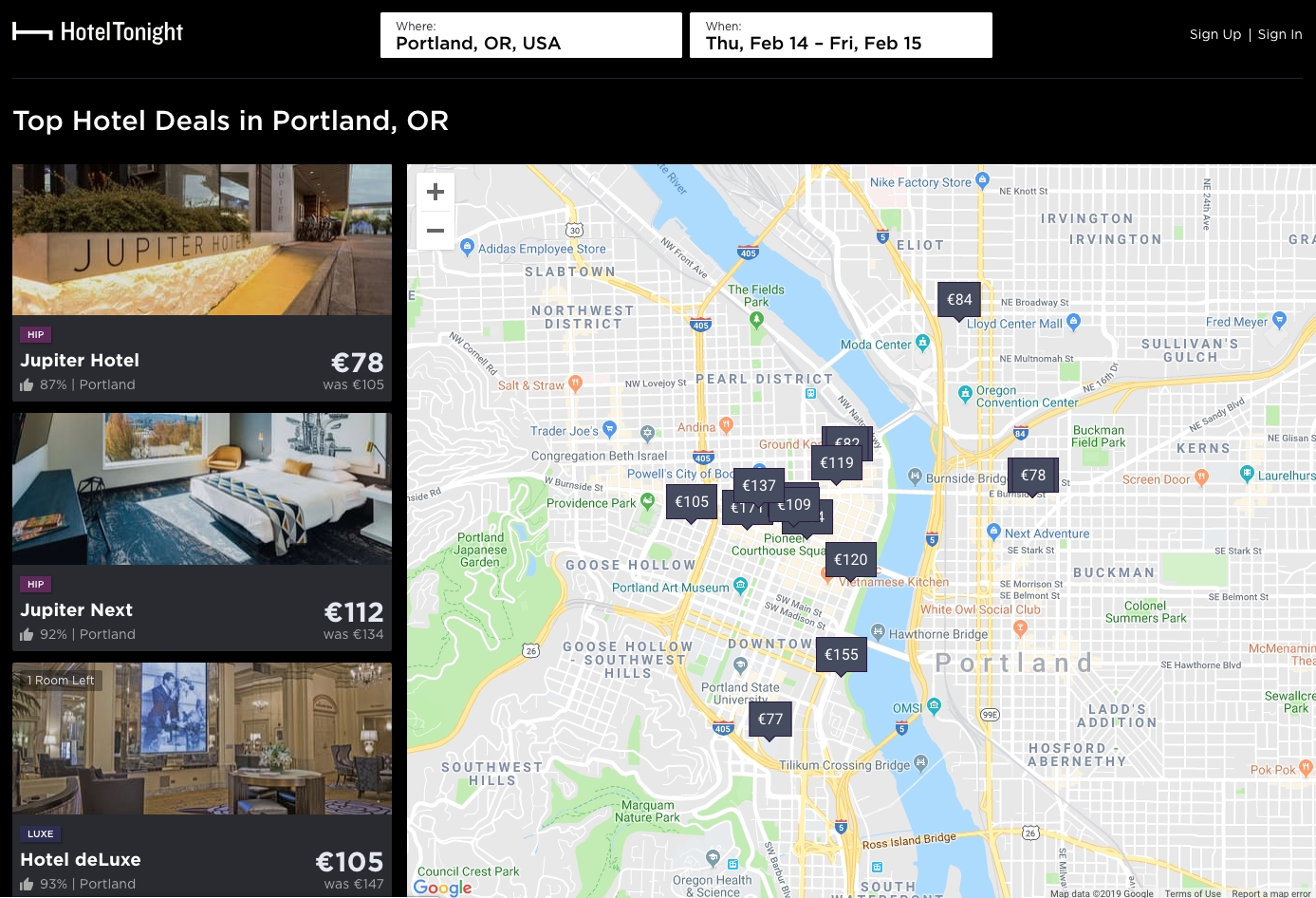 Hotel Tonight (the app and hotel booking site) ran the numbers and has the best deals on Valentine's Day rooms. Over V-Day this year, hotels in Dallas are going to have the steepest discounts with up to 44 percent off. Both Portland (OR) and Fort Lauderdale are clocking in with 30 percent discounts for the night. From there, a long list of cities from Las Vegas to London to Puerto Vallarta will see 20 percent discounts.
Check Out Hotel Tonight Deals Here
SAVE UP TO 25% AT WYNDHAM GRAND CLEARWATER BEACH, FLORIDA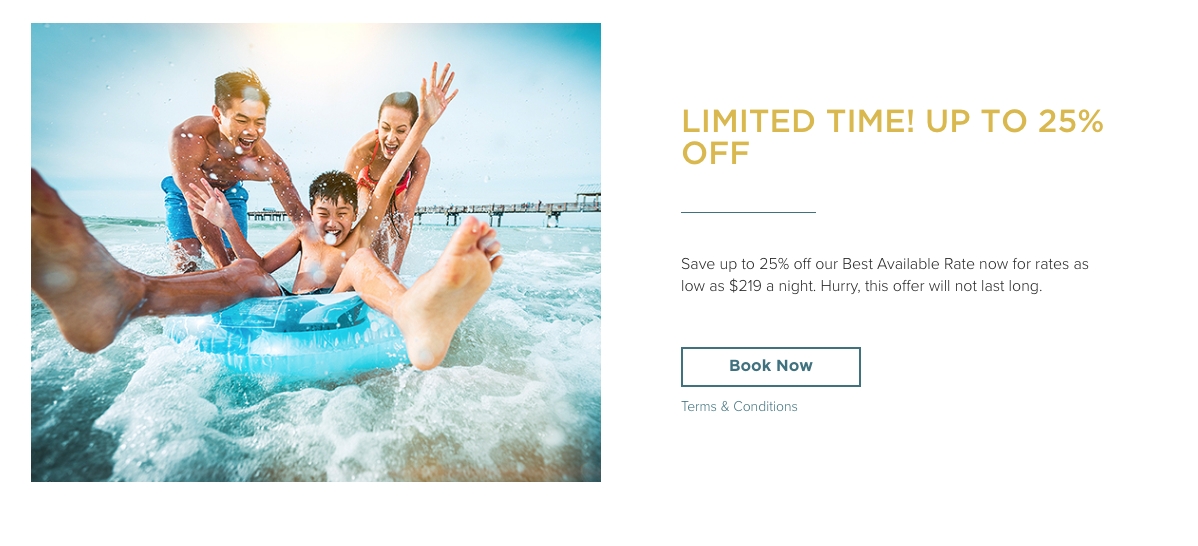 Hitting the beach in Florida is a bit of a no-brainer. It's gonna be dope pretty much year round. The best time, by far, is when a hotel is running a discount.
Wyndham Grand Clearwater Beach (outside Tampa) is offering 25 percent discounts on their rooms, which usually run $219 per night. That's just over 50 bucks off per night. That's an extra 50 bucks that can go towards partying all night or, at least, a good meal each and every day.
SNAG SHOULDER SEASON DEALS AT LES ILETS DE LA PLAGE, SAINT BARTHS
Les Ilets de la Plage in Saint Barths is luxe turned up to eleven. The resort if a postcard-perfect paradise where your every need will be catered to. This is escapism at its best. If you shop the rates, you can score serious discounts. You're looking at up to $500 off rooms and suites by traveling on the fringes of the high season. That's how you travel and save money, folks.
SAVE UP TO 35% BY BOOKING IN ADVANCE AT NIZUC RESORT CANCUN, MEXICO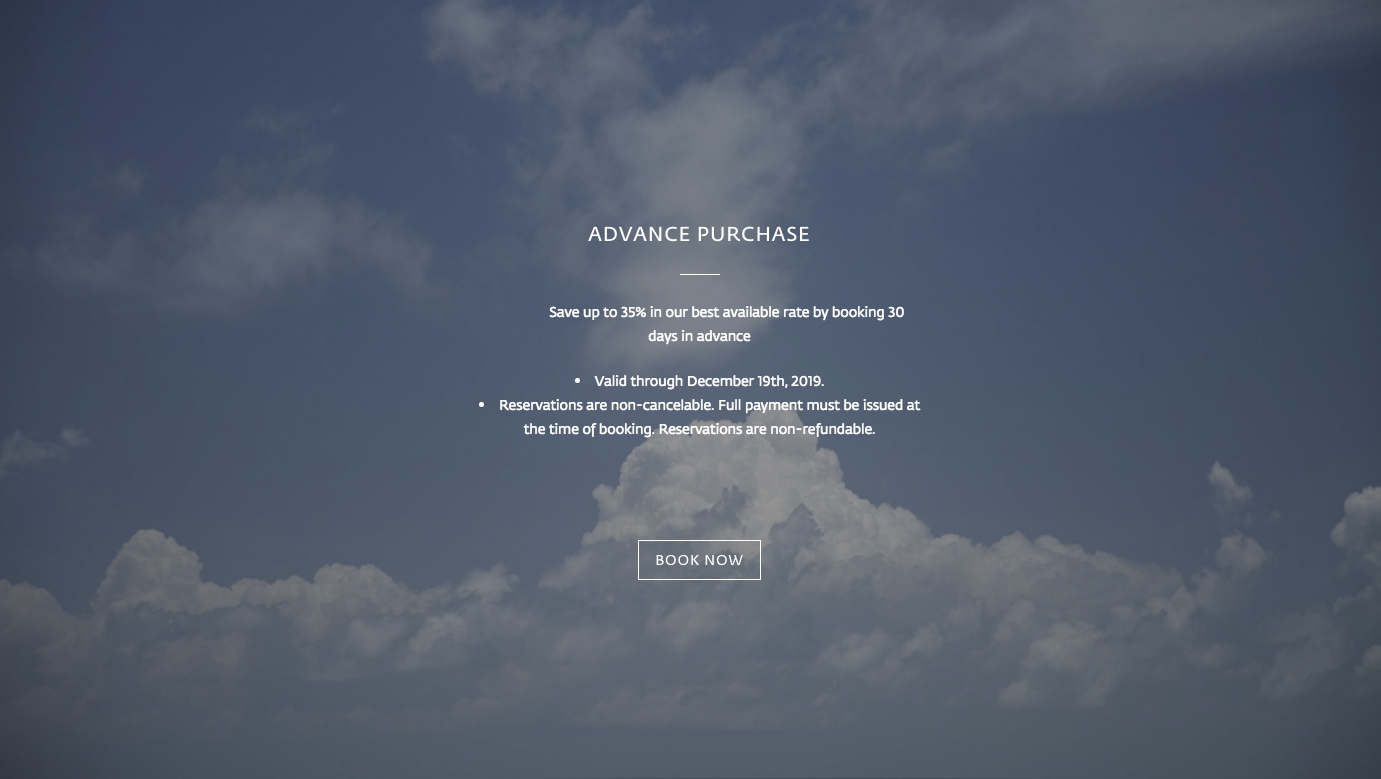 Nizuc Resort and Spa will have you rethinking what a trip to Cancun can be. The hustle of the foam-filled clubs is a distant memory at this plush resort where design meets luxury. If you can book at least 30 days in advance, you can score a 35 percent discount. That's a great deal for a little luxury.
SAVE UP TO 50% AT THE CALABASH COVE RESORT & SPA, SAINT LUCIA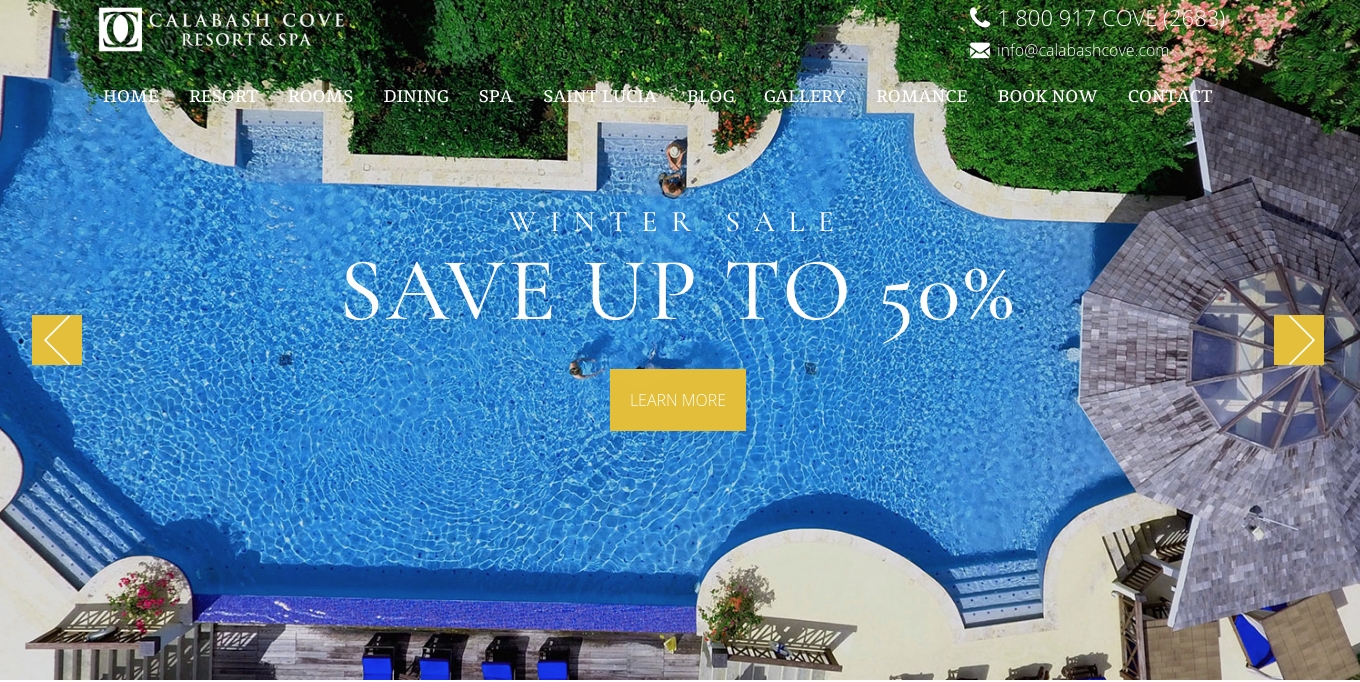 Calabash Cove Resort & Spa in Saint Lucia is the perfect getaway. The secluded resort if everything you want from an escape from beautiful seaside bungalows to an amazing spa experience to beautifully curated food and drink. Their winter sale offers weary and cold winter travelers a 50 percent discount. Look at it his way, you can stay twice as long for the same price. That's always a win.
BEST WILD SPLURGES OF THE WEEK:
SAVE UP TO $12,000 ON EXPEDITIONS WITH ABERCROMBIE & KENT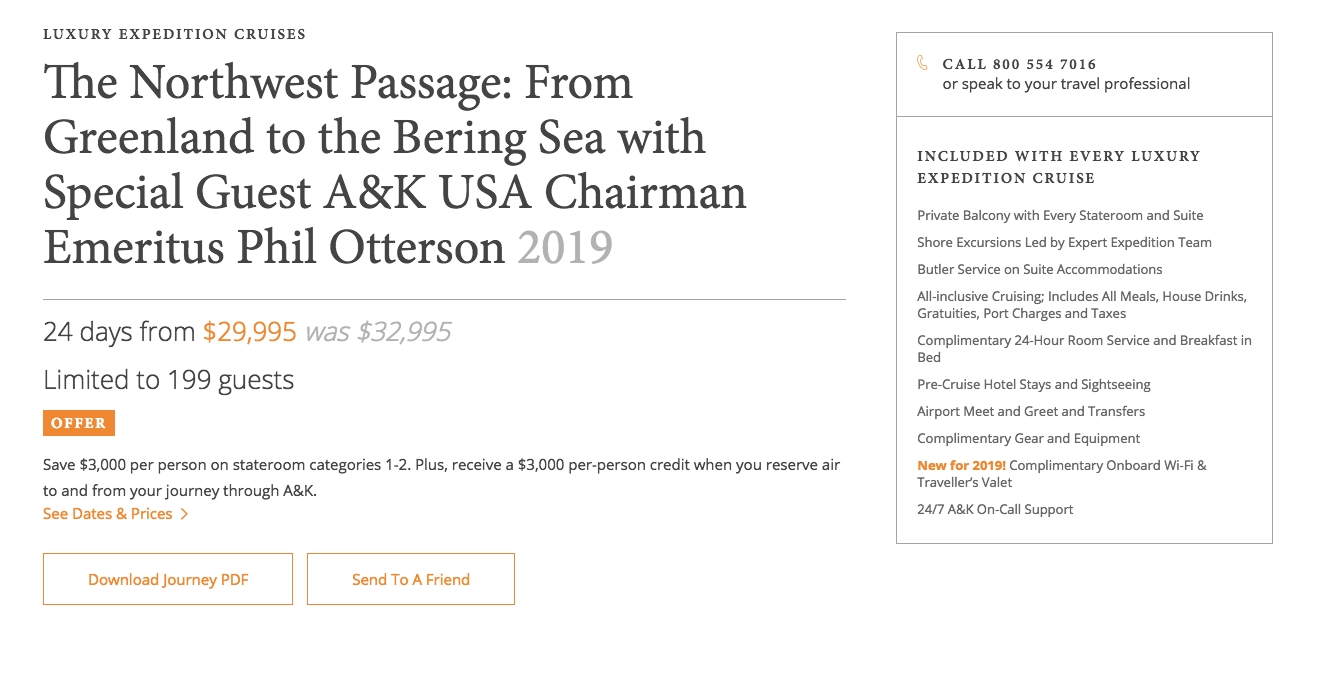 Yes, you read that right. Abercrombie & Kent are shaving up to $12,000 off their expeditions. Part of that is a discount on stateroom rates. You'll also receive a $3,000 flight credit if you book with A&K.
Our recommendation is to take the Northwest Passage Expedition. It's still downpayment-on-a-starter-house-in-the-midwest money, but the experience is full throttle. The trip is a massive journey from Eastern Canada to Greenland, through the entire Arctic, and ends in Alaska on the Bering Sea. There's a deep connection to the life and culture of the Inuit that'll allow you to see and live the Indigenous side of the Arctic firsthand. It's a once-in-a-lifetime experience at a once-in-a-lifetime discount.
BOOK A PRIVATE ISLAND IN ARUBA WITH RENAISSANCE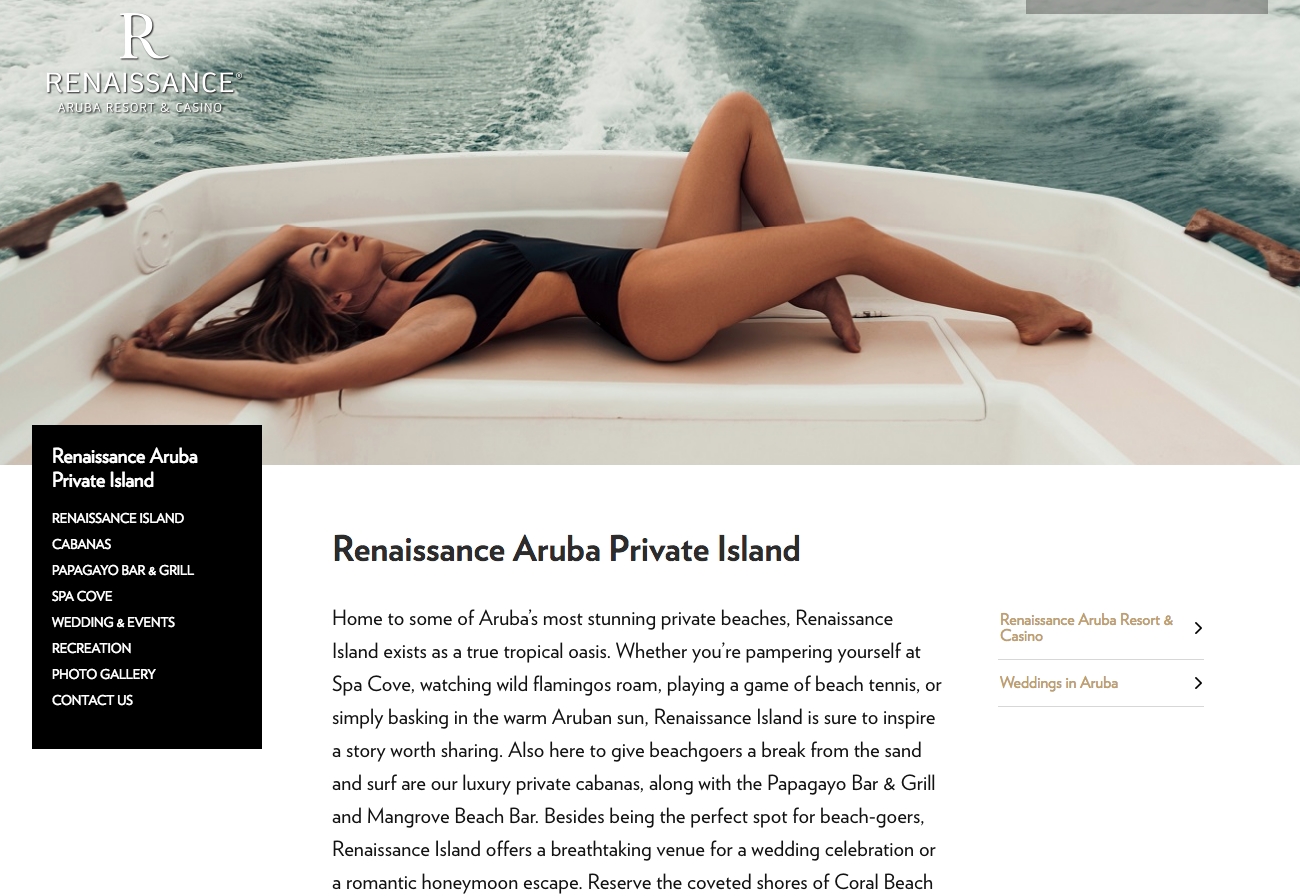 Alright, this is a baller option. It's also one of those options where if you have to ask the price, you can't afford it. The 40-acre private island comes with all the bells and whistles from butlers to champagne service to massages and plenty of beach to enjoy all to yourself. In the end, sometimes you have to treat yourself, so why not do that with a stay on a private island in the Caribbean … if only for a night?
SPEND VALENTINE'S DAY IN THE PRESIDENTIAL SUITE AT THE CONRAD DUBLIN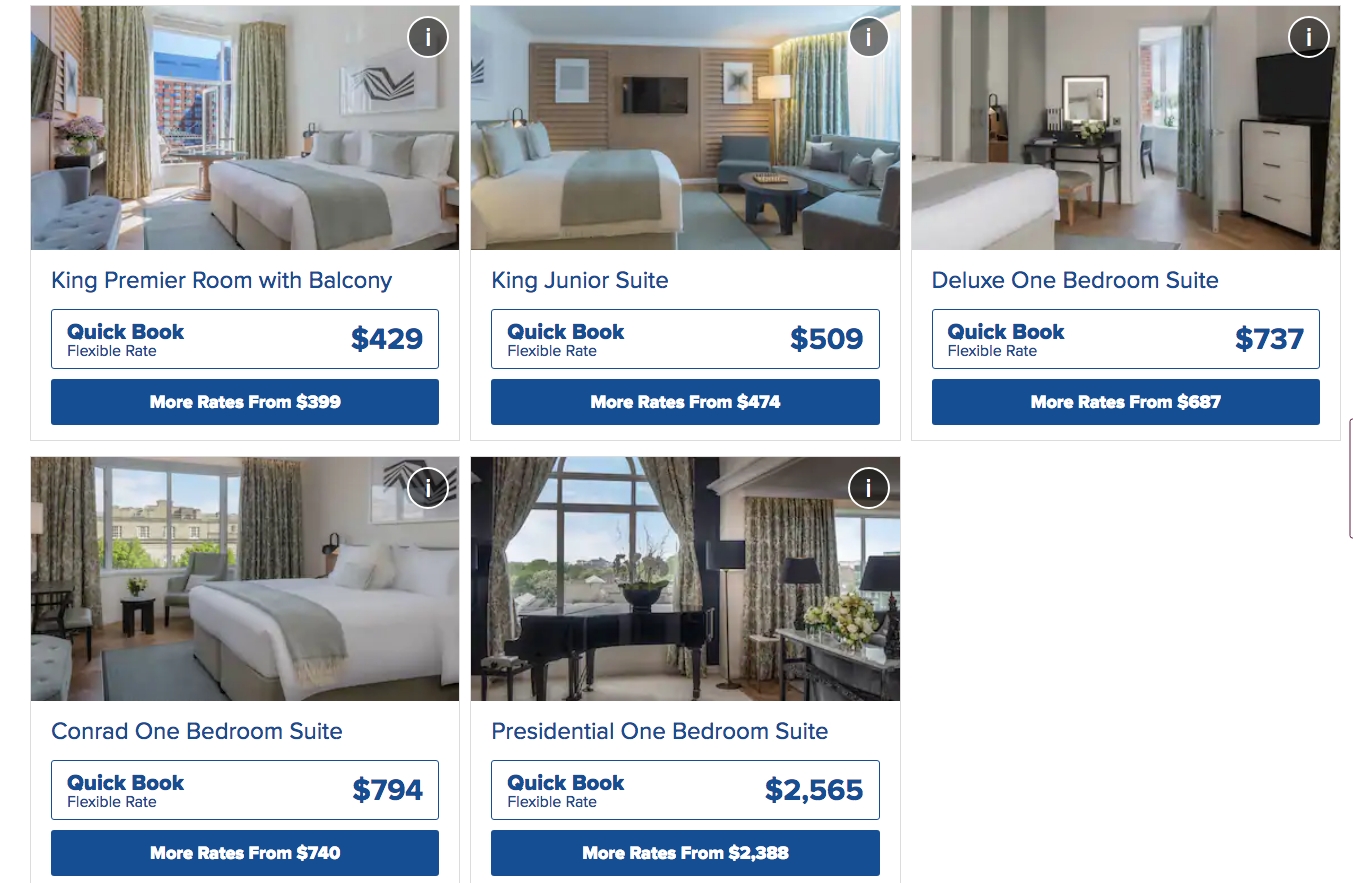 Heading to Dublin this Valentine's Day? Pack a raincoat. Also, hit up the Conrad Dublin for their one-night Valentine's Day deal. You'll get to stay in the presidential suite, take a helicopter tour over the city, drive around Dublin in a private town car, eat luxury meals from the Conrad Dublin culinary team, and the in-house poet of the Conrad will write a poem just for you. Again, treat yo'self.