Thanks to Doja Cat the much-beloved Mexican Pizza is returning to Taco Bell's menu next month. Which begs the question: when are we getting the Meximelt back? When Taco Bell streamlined its menu two years ago they dropped plenty of classics from their menu (shout out to the 7-Layer Burrito) but the Meximelt felt like the cruelest cut. Not only was this dish a favorite of many, it was easy to build and didn't require complicated packaging like the Mexican Pizza. Most frustrating of all, it's a hack away from still existing on the current menu… kind of.
The whole thing just feels so unnecessary, as if someone at the Bell's headquarters had it out for the Meximelt. Or for all of us.
An easy hack for those missing the simple but addicting flavors of the Meximelt is to order a Cheesy Roll-Up and add Pico de Gallo and ground beef. It's essentially the same thing, but it's not quite as substantial. So we figured, why not make it ourselves until Taco Bell wises up — or a huge music personality urges them to bring it back and they cave.
Chance saved Wendy's spicy nuggs back. Doja Cat handled Mexican Pizza. Who will be the Meximelt's champion?
Despite our sadness over the Meximelt's death, it's not exactly — and I know this is hard for Meximelt stans to hear — anything special. It's simply a ground beef soft taco with pico de gallo instead of lettuce, and a melted three-cheese blend instead of Taco Bell's usual grated cheddar. That's not exactly a culinary miracle, but there is something special about the way that the cheese melts and turns this dish into the exact middle point between a soft taco and a quesadilla.
It's strange alchemy but, whew, it works. (Meanwhile, a slightly underdone Meximelt is horrifying. Again… odd.)
Because it's so simple to make, it shouldn't surprise anyone that the internet is full of copycat recipes on how to recreate this dish at home. What is surprising though is that they're all terrible. Not some, not most, all. Seriously, you'll find questionable practices like adding 'taco seasoning' to your meat or worst of all, throwing the whole thing in the microwave to get it all melty.
(People who put tortillas in a microwave hate tortillas. Full stop. The Meximelt was cooked in a timed warmer, not a microwave — as was the Mexican Pizza.)
Today, not only are we going to teach you how to make the Meximelt, we're going to teach you how to make it better than Taco Bell ever could. Let's cook.
The Meximelt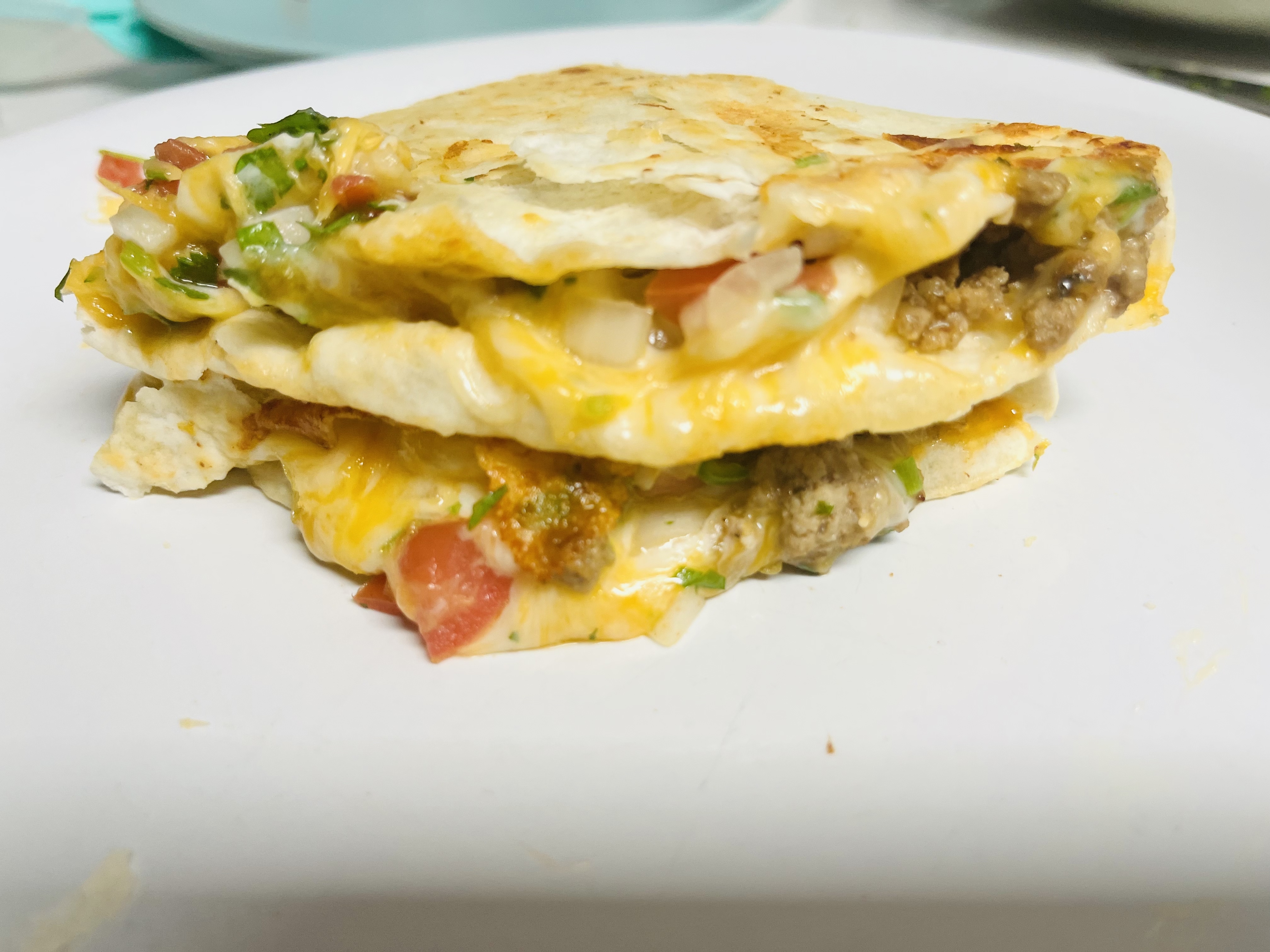 Ingredients:
Makes anywhere between 8-12 Meximelts (depending on tortilla size/meat serving)
1 lb. Ground beef (80/20)
1 lb. Roma Tomatoes
1 Serrano Pepper (or Jalapeño if you want a milder heat)
3/4-1 onion (white, yellow, red, use what you've got)
1 Small Potato
1 tbsp. Paprika
1 tbsp. Garlic Powder
1 tbsp. Dried Oregano
1tbsp. Chipotle Chile Powder
1/2 tbsp. Cumin
1/3 pound Cheddar cheese, Monterey Jack cheese, Oaxaca cheese (Or any three kinds of cheese of your choice)
Kosher Salt (to taste)
Crushed Black Pepper (to taste)
Bundle of Cilantro
Lime
Any salsa of your choice (optional, but it'll make the dish we promise)
Flour Tortilla (king size or bigger).
Pad of butter.
Because the Meximelt is so easy to make, we might as well make everything fresh, including the Pico de Gallo. If the idea of making your own Pico de Gallo causes you to break a sweat, chill out, we've got you, this is one of the easiest salsas to make and once you have it fresh it'll be so satisfying and flavorful that you'll never buy the pre-made stuff again.
We'll make the Pico de Gallo first so the fresh flavors have some time to come together. For the best results make this the night before (you can also totally make the meat the night before too, this is a great dish to make with leftovers) but if you're pressed for time, let it sit at least 30 minutes before serving.
Once our Pico de Gallo is mixed and marinating, we'll grate equal parts cheddar, Monterey jack, and Oaxaca cheese (use mozzarella for authentic Taco Bell, or mix it up and use any three kinds of cheese) and cook our ground taco meat.
For the absolute best results and the most elevated flavor experience, I strongly recommend you take the time to follow Uproxx's own Zach Johnston's recipe for the best-braised taco meat. He uses beef stock resulting in a super juicy result with beautiful color. For the sake of saving time though, I'm going to follow this much simpler recipe. Your meat won't be as juicy, but I think slightly drier meat works better in the Meximelt, plus we're going to hit it with a tablespoon of salsa which is going to add that moistness you crave.
Pico de Gallo:
Method
De-stem four Roma tomatoes (you can also de-seed — no seeds will give a prettier end result)
Dice tomatoes into even cubes, if you'd like to get granular about how to chop a tomato and pick up some good technique in the process, definitely check out Vince Mancini's Best Pico de Gallo Recipe Of All Time. But I'm going to assume you know how to dice.
Throw diced tomatoes into a bowl with a pinch of salt. You could salt at the end, but salting early will help draw out some moisture.
Dice 1/3 to 1/2 of a whole onion. You're more than welcome to use more onions here, it kind of depends on how onion-heavy you want your Pico de Gallo. I like less onion, so we're going to use the remaining onion for the ground beef. Once onions are chopped, throw them in the bowl with the tomato.
Halve a Serrano pepper (deseed and remove membrane if you want a milder heat) and dice both halves into uniform cubes (keep these smaller than you diced the tomato and onion). Once chopped, throw them into the bowl with the tomato and onion.
Grab a bundle of cilantro, finely chop it, and throw it into the bowl.
Now that we have all the key ingredients it's time for the lime. Roll your lime on your countertop, cut it in half, and squeeze both halves over your mix. Once the ingredients are combined, start mixing.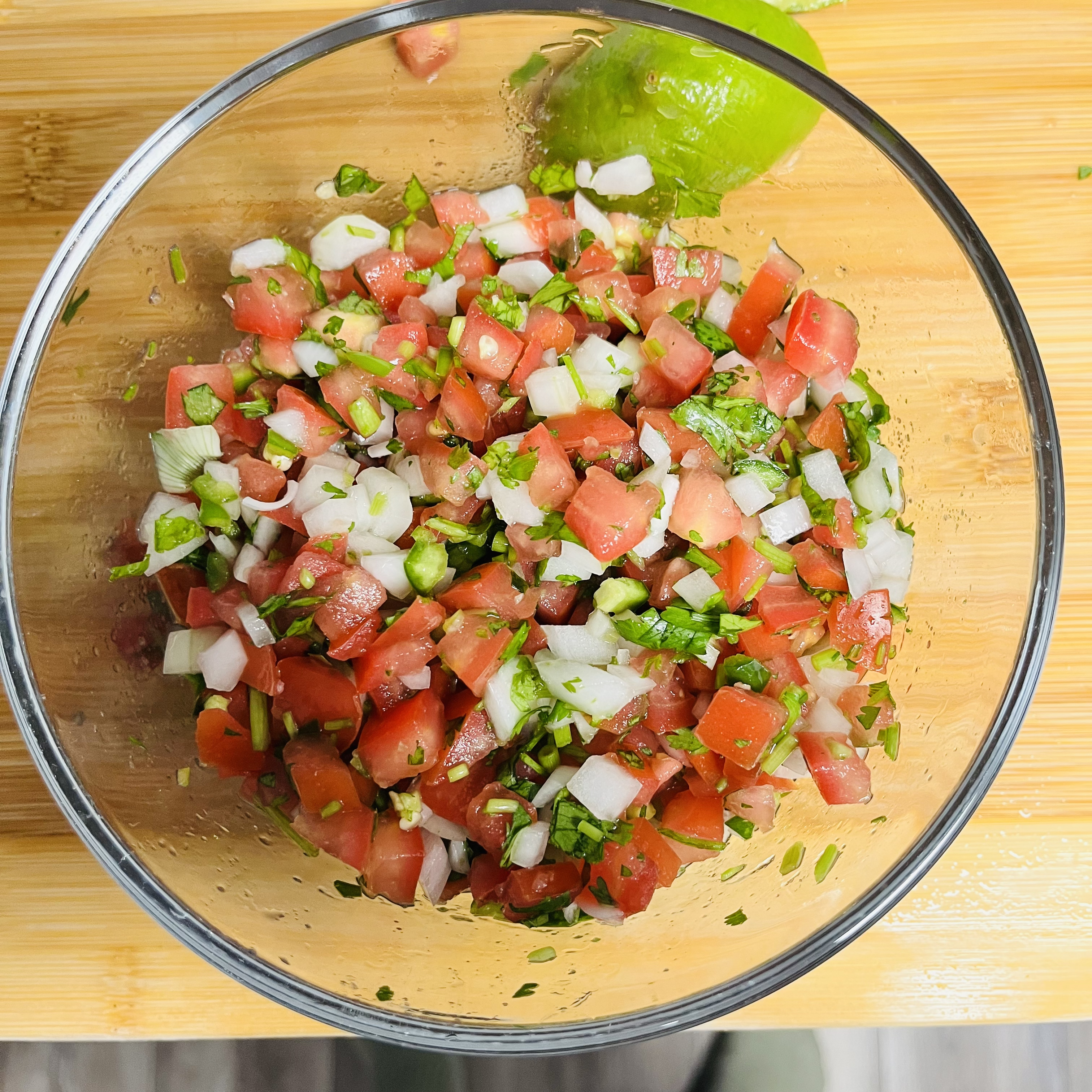 Now let it sit and work its magic, onto the meat!
Taco Meat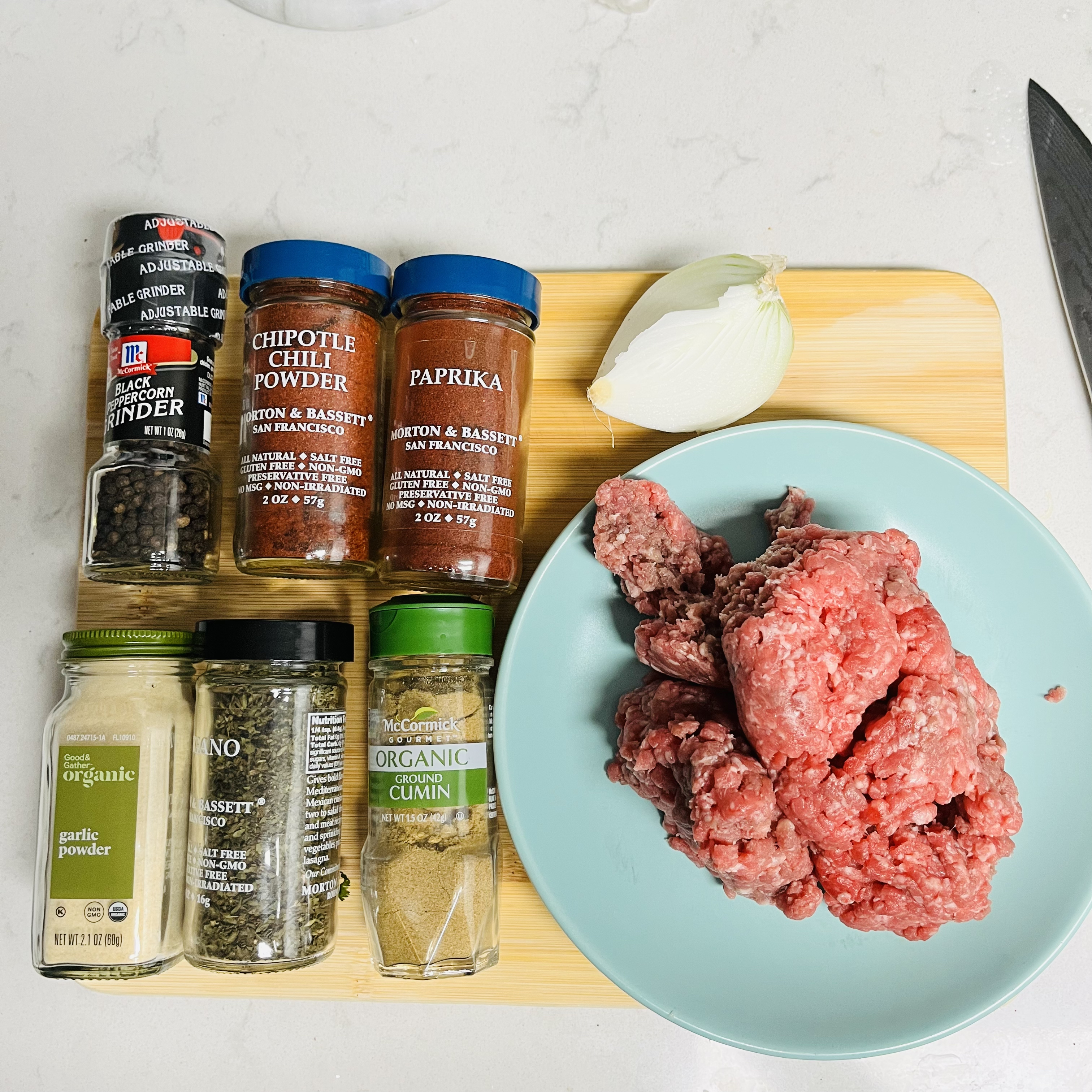 Method:
The measurements on the spices in the ingredients list are really more of a ballpark, not gospel. I really encourage you to season this dish with feeling, you should be tasting the meat while you cook it, but if you're afraid to eat while you cook, if it smells like a fragrant earthy bouquet of spices and flavors, you're doing it right.
Roughly chop your remaining onion, set aside.
Dice a small potato (red preferably, I used Russet, use what you have) into small uniform cubes, set aside. You don't want to give this a rustic chop, be as precise as possible.
Place the pan of your choice (I use cast iron, use what you're comfortable with) on medium-high heat with a touch of oil. Once the oil is rippling, add your chopped onion and cook until translucent and fragrant.
Once the onions smell so good you think 'mmm', add your ground beef. Break up the meat into chunks, and season with a pinch or two of kosher salt, crushed black pepper, cumin, dried oregano, chili powder, paprika, and garlic powder. In the words of Marky Mark, "Feel it, feel it."
Once the meat is browned on one side, turn it over and continue cooking, breaking up the meat more as you cook.
Once browned, create an open space in the middle of the pan and add your chopped potato to the rendered fat. Let it simmer a bit and then give it a good mix until the potato is evenly spread throughout the meat.
Drain any excess fat and cover the beef with a lid over medium-low heat until the potato fully cooks.
Once the potato is cooked through, the meat is done, unto the main event!
The Final Step:
Method:
Now it's time for the melt.
Grate cheese into equal portions, if you're planning on eating this all in one serving, grate about 1/3 of a block of each and mix together. Why did I choose Oaxaca over Mozzarella? I think the creamier queso fresco-esque flavors of Oaxaca are a better compliment than the saltier flavors of mozzarella. But really any cheese blend of meltable cheeses will do. Monterey Check adds round nuttiness to Cheddar's sharpness, with the Oaxaca bringing the fresh creamy flavor. All three melt excellently.
On a flat pan over medium-low heat, warm your tortilla on both sides until soft. Do this while spitting at your microwave.
Turn the heat down to low and leave the tortilla on the pan.
Spoon salsa across the entire surface of the tortilla like you're making a pizza. I used habanero from my local carniceria, you can use anything, or skip this step, but it's better that you don't.
Cover exactly half of the tortilla with cheese blend, and then add a generous column of meat down the middle followed by a column of Pico de Gallo. I think Taco Bell built this thing stupidly, but for authenticity's sake, I won't evenly spread the ingredients around (but I totally think you should, why wouldn't you?).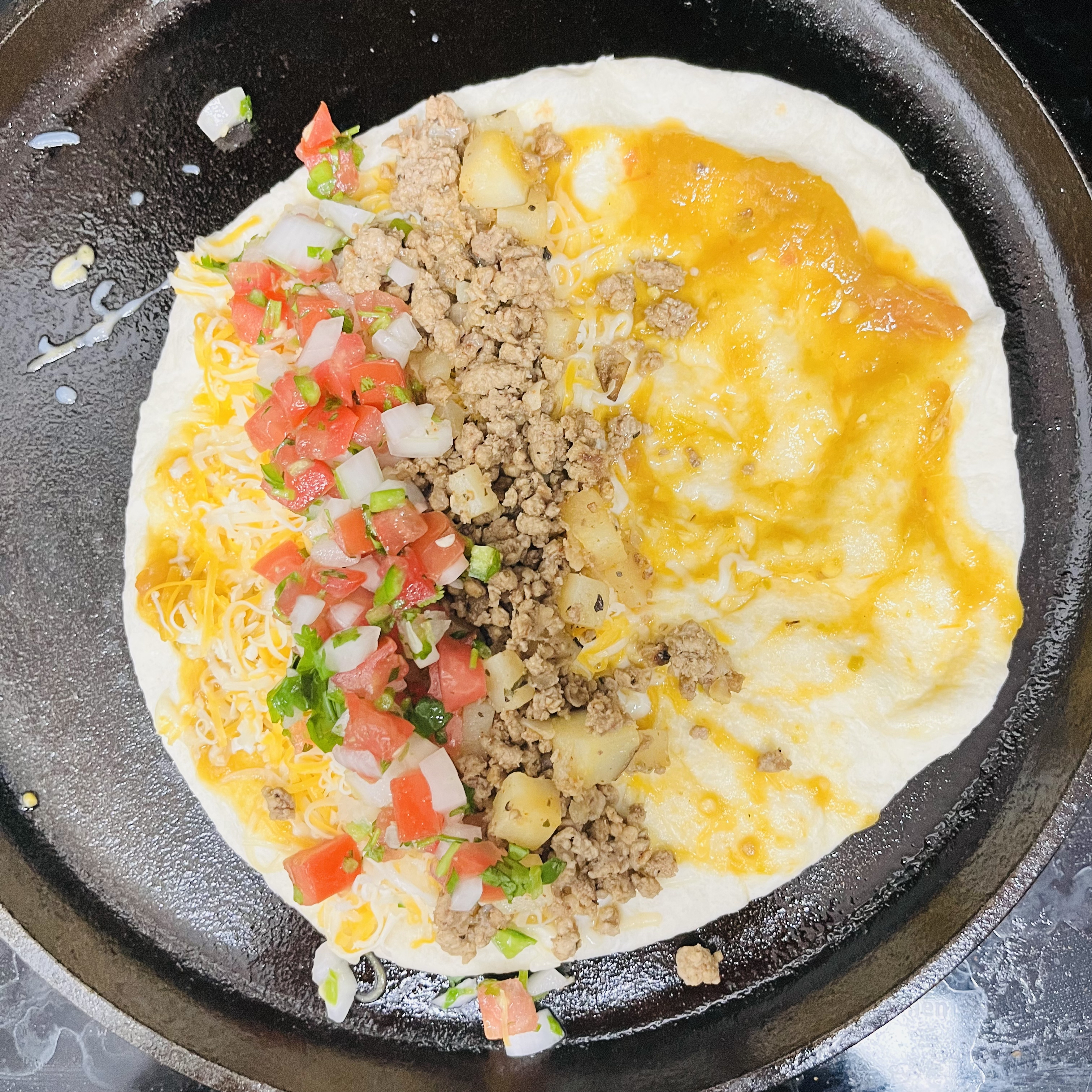 Once combined, add another layer of cheese, fold your tortilla in half, flip it over and cover with a lid until cheese melts.
Once the cheese has melted a bit, flip it over again, cover it, and let it melt for a bit longer until gooey cheese starts to spill from the opening.
For a final and completely optional step, remove the Meximelt, add a pad of butter to the pan and spread it around, kick up the heat, place your Meximelt back on the pan, and brown until crispy.
This is a step Taco Bell didn't do and I think it's a massive misstep to not. Giving this thing some extra time on the grill will help to crispify the tortilla, adding a crispy mouthfeel to the whole thing which makes it even more appetizing.
Bam. You just won your Cinco de Mayo cookout.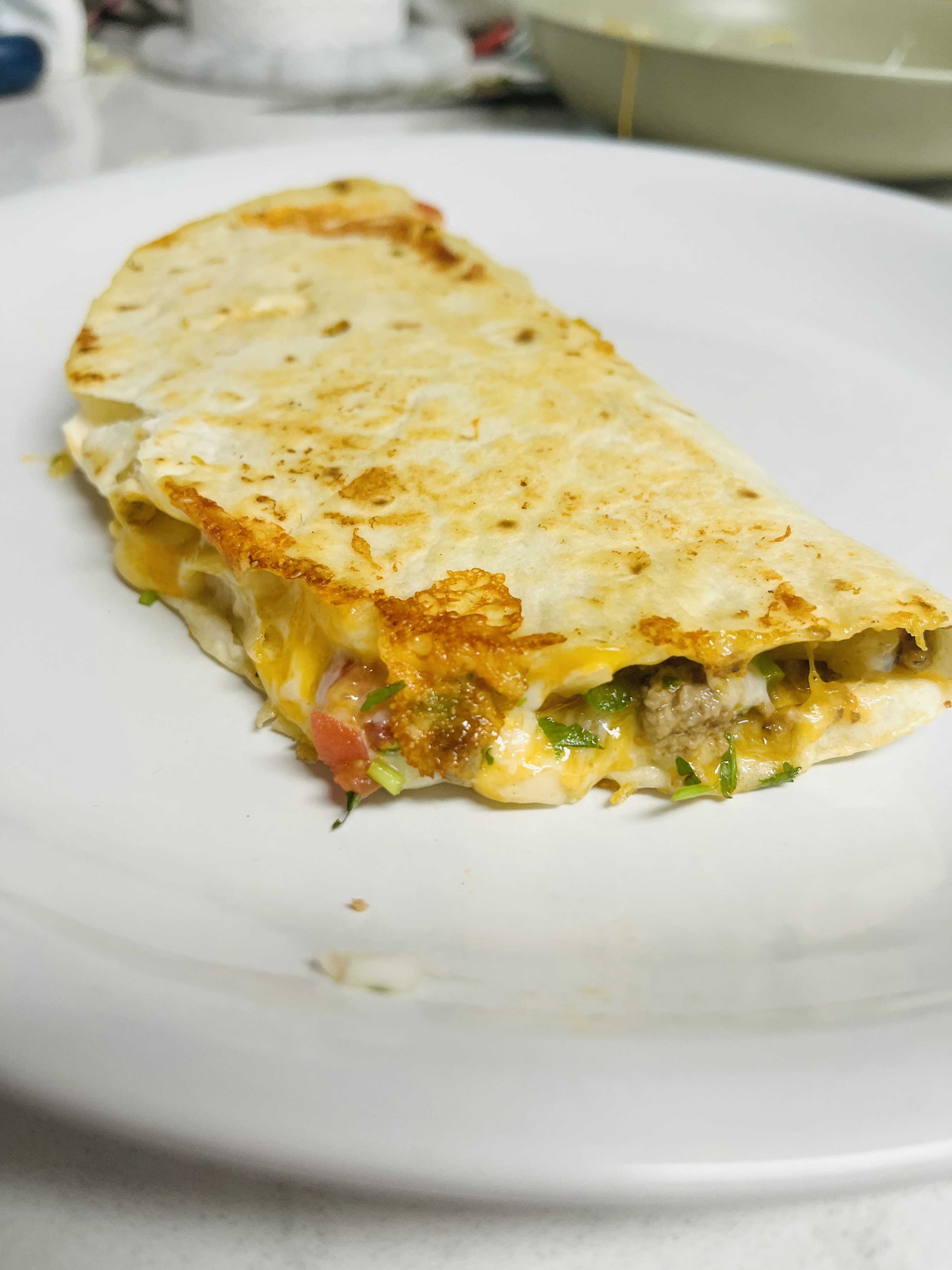 The Bottom Line:
You know what Taco Bell? Don't bother bringing the Meximelt back, we've got this.
Tell me that isn't the best version you've ever eaten. And even without the best presentation, it still looks mouthwatering, whereas Taco Bell's looks like it's made of Play-Doh. Biting into this thing ignites the senses — its auditory and oral ecstasy. The flavors hit you in waves of earthy, spicy, and supremely fresh notes with a crispy mouthfeel, and a sizzling aftertaste after each gooey cheesy bite.
Now you can choose to enjoy these in one of two ways. As the centerpiece item on your Cinco de Mayo food spread or throw the rest of the meat into the fridge and eat Mexi-Melt's for every meal for the next three days. Your choice!