KFC is one of those fast food brands that stands out. Pressure-cooker deep-fried Original Recipe chicken, savory biscuits, mashed potatoes and brown gravy, maybe a little mac 'n cheese, and coleslaw were the cornerstone of many of our childhoods. It was cheap, fast, and just good enough to to create a sense of nostalgia. But Kentucky Fried Chicken never really dipped its toes into the chicken nugget game. They had Popcorn Chicken, sure, and there are tenders galore. But the chicken nugg was always strangely absent…
Until now. Duh-duh-dunnnnn.
Yes, KFC has finally added a Nugget to its iconic menu. And it's not just any chicken nugget, KFC Nuggets are a cut above the rest of the nuggets that crowd the fast food market. Spoiler alert: KFC has eschewed the standard ground chicken nuggets and is using real-deal white chicken meat. It's a clear swipe at Chick-Fil-A's and Popeyes' nuggs, which makes this whole affair a little more exciting than expected.
I was lucky enough to get to try some KFC Nuggets directly from the source at their test kitchen in Louisville, Kentucky — a perk of living nearby, I suppose, and a reminder that KFC does have its roots in KY. I got to make some and even try them with every KFC dipping sauce. It was a fun and very filling day of fast food fantasy camp (Double Downs were eaten, folks). So let's cut the preamble short and dive right into my full, in-depth review of the brand-new KFC Nuggets!
Also Read: The Top 5 UPROXX Food Posts From The Last 6 Months
How Are KFC Nuggets Made?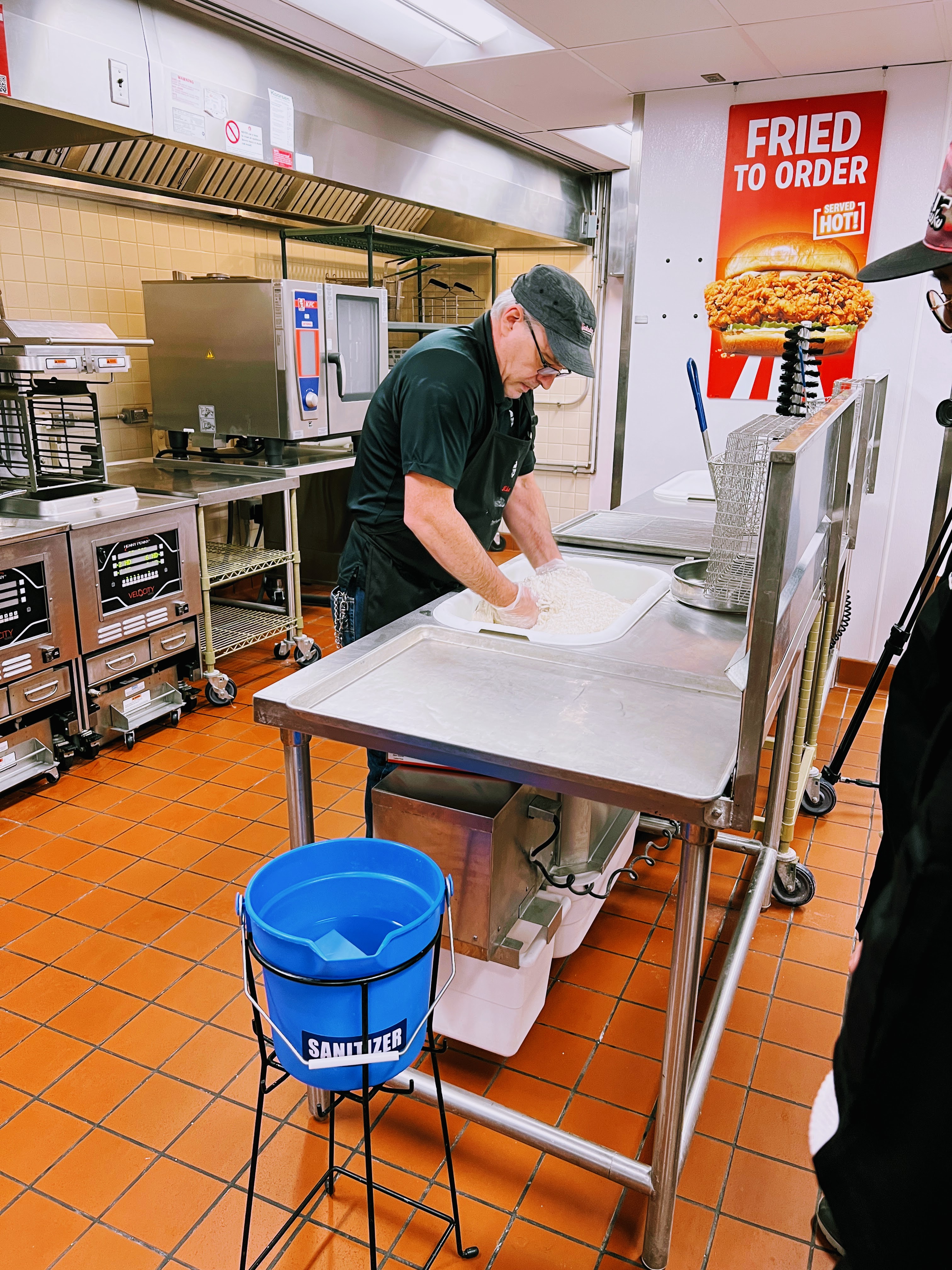 The key to the new KFC Nuggets is that they're made with brined chicken breast meat. The morsels are brined in a proprietary brine off-site and shipped to stores ready for breading and frying.
The raw brined chicken pieces are then dredged in Original Recipe breading (literally from the exact same bag that's used for the fried chicken). This is a game-changer and a wisely intuitive move — Original Recipe breading has stood the test of time for a reason. It's great.
After dredging and sifting, the breaded nuggets go into hot oil for about four minutes of frying. Those hot nuggets then rest in a serving tray until ordered by you.
According to early reports from the test regions that already had the nuggets on the menu, they were so popular that a fresh batch is almost always ready. If not, the nuggets will be removed from the serving trays at the two-hour mark and a fresh batch will be made. But given the general fast turnover at KFC with its food, that's probably not going to be an issue.
How Do KFC Nuggets Taste?
In a word, delicious. I'm a huge Original Recipe fan and these deliver that old-school nostalgic factor in bite-sized morsels. The white chicken meat is well-seasoned and very juicy. It's about a million miles away from bland — like some other nuggets out there. (It would be fire if they eventually did dark meat, too!)
Moreover, since this is a small-format bite of food, the outer layer is very crispy. I'll readily admit that Original Recipe chicken at KFC is less crispy than people like sometimes. That's just not the case here. The breading really holds together and gives you a nice crunch even after 15 or so minutes of resting in a serving tray and box.
For me, the use of Original Recipe breading puts these far above Chick-Fil-A's chicken breast nuggets, based on the depth of flavor alone. The crispiness of KFC Nuggets pushes it even further over the top.
What's The Best KFC Nuggets Dipping Sauce?
I'm going to cut to the quick here. Buffalo Ranch and Honey BBQ are the standouts. I just cannot get behind the KFC Sauce — it tastes too much like Miracle Whip to me. The Classic Ranch was fine. The Honey Mustard had a nice tang to it and would be a solid third choice for me.
All of that said, the Honey BBQ had the perfect sweet counterpoint to the crispy Original Recipe breading and soft seasoned white chicken meat beneath. It was kind of like adding a honey drizzle with a hint of sweet chili to the whole bite.
Final Thoughts On KFC's Nuggets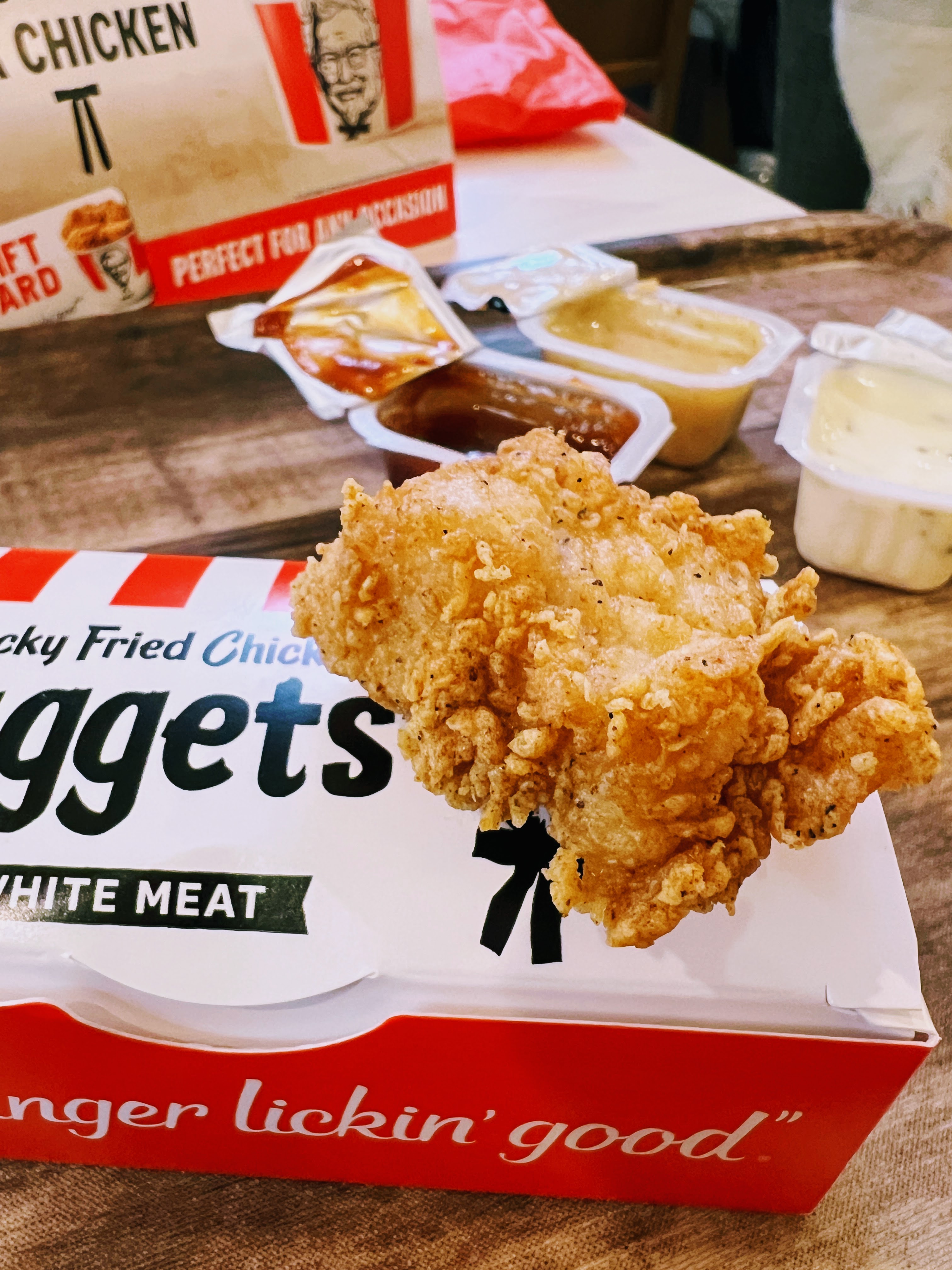 While I'm a dark meat Original Recipe stan, I can see ordering these in real life. Obviously, these are geared towards parents getting something easy and off-the-bone for their kids that still tastes like classic KFC. In that case, they hit it out of the park.
I'd also much rather have these than the ground chicken meat versions at Burger King, McDonald's, or Wendy's. They each have their place, don't get me wrong. But this is an actual piece of moist, well-seasoned chicken covered in crispy Original Recipe. That's a hard combo to beat. I'm excited to see where my dude Dane Rivera puts it in his forthcoming nugget re-ranking.