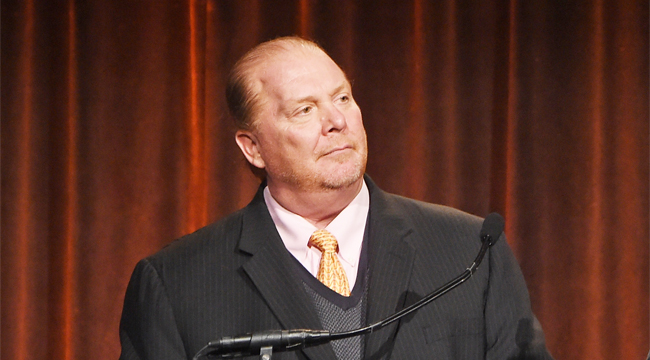 In late 2017, celebrity chef Mario Batali was fired from his co-hosting duties on The Chew after sexual misconduct allegations from several women. He also took a leave of absence from his restaurants and attempted to apologize in a newsletter that included a cinnamon-roll recipe. According to a New York Times report, Batali has now realized that he cannot continue participating in his Batali & Bastianich Hospitality Group.
He first considered simply stepping away, but such a move would have allowed Batali to continue making money from the group. So, Batali is now severing all ties by divesting from the group, from which he'll no longer profit:
"The process of his divestiture is going really well considering how complex it is," Mr. Bastianich said last week. "The real point of beginning will be when he departs from the company. That's ground zero. It's about creating a post-Mario world."

When Mr. Batali's name comes up among groups of food professionals over drinks or between sessions at conferences, some say that if any of the men caught in the current wave of sexual harassment scandals can forge a path back, it might be Mr. Batali.
According to the Times, Batali (who didn't comment to the publication) is also discussing his future with those close to him. He's apparently tossing around several options, including launching a new company, for which he'd hire a woman CEO, but he's also reportedly considering a fresh start on Italy's Amalfi Coast. His name still carries plenty of clout with customers, but fellow chef Anthony Bourdain (who has had it with the food industry's "bro culture") thinks that Batali should simply "retire and count [him]self lucky."
(Via New York Times)