One day, there will be books written about the intersection of travel and Instagram. On one hand, the movements of Instagram influencers around the globe have led to over-tourism in places like Phi Phi Don in Thailand and Boracay in the Philippines. On the other hand, the photo-sharing app has inspired scores of people to leave their comfort zones and see the world. That's a good thing, right? Then again, if they're only seeing the world in order to post pics on their phones, is that really travel at all? And on the…*counts silently* fourth hand, it would be interesting to see if the huge number of people wearing the "Influencer Trail" thin might somehow leave other travel destinations less trod for the more intrepid among us.
Point being, it's an interesting collision. And while there are times when we dread would-be models putting their photog friends through the whole Insta-rigamarole — lonely hikes and empty beaches come to mind — hotels feel like 100% fair game. Meanwhile, design teams recognize how important the app is to travel and they seem to be building spaces specifically around the idea of getting hash or geo-tagged.
With all this in mind, we asked our favorite travel writers for the best Insta-worthy hotels on the planet. Add your own favorites down below!
QT Bondi: Bondi Beach, Australia
QT Bondi feels like a property that was specifically designed with Instagram in mind (that and sex — it's an insanely sexy hotel where the bathtub construction seems to be sending a very overt message). The interiors, exteriors, shared spaces, and the lobby all lend themselves to photographers snapping pics. Even the bikes — free for guests! — have the mid-century vibe that the Insta-masses adore.
Of course, you don't have to love a certain aesthetic to love this property. Its sense of cool is on display just about everywhere you go — even at the front desk. Besides all that, the hotel is right smack in the middle of Bondi Beach, another beloved destination of the Instagram jet set. This is the Bohemian paradise where you can surf in the dawn hours, eat avocado toast and sip a latte at breakfast, tour street art, go for a run, and feast on refined cuisine all in the same day. When its time to party, Bondi delivers big time. And no need for an Uber, whenever the night ends you'll be safe to wander back to QT — where sexy bathtubs and zillion-thread-count sheets await.
Room prices start at $550 AUS.
Amangiri: Canyon Point, Utah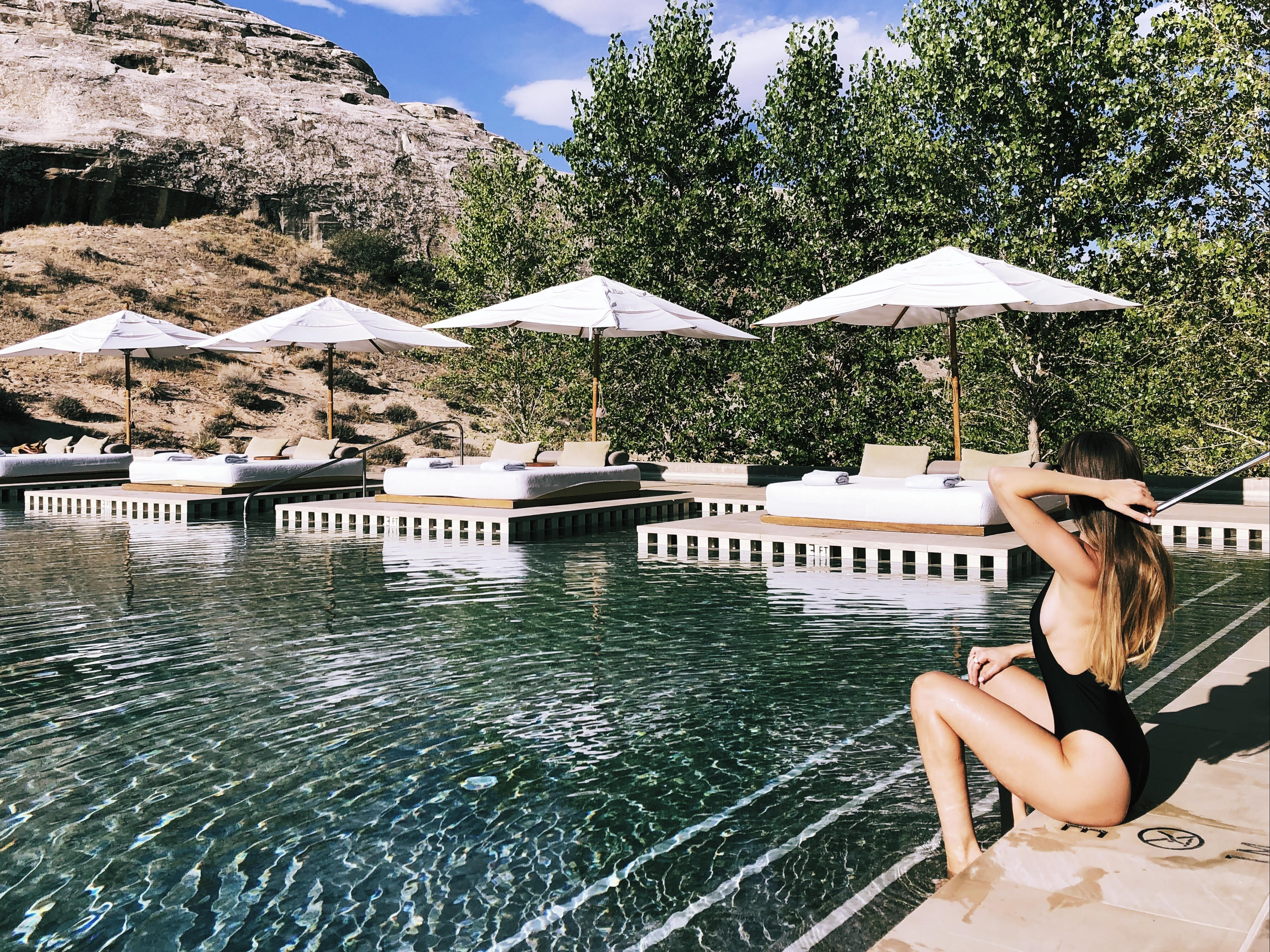 Amangiri is that rare find — an exclusive hotel in the middle of nowhere. From the entrance gate, it takes about 15 minutes to actually reach the hotel proper. Along the way, a winding road wraps around mesas and mountains. Once arrived, the building looks like a futuristic bunker (except with green apple trees growing everywhere).
Each detail at this hotel is well thought out by its architects — Wendelle brunette, Rick Joy, and Marwan Al-Sayed. The pool looks like it's been there for ages, built right into the side of a small mountain. Every corner you turn is picturesque, natural for an Instagram post. The presentation of the food is artful and sleek. The spa is sexy and chic. Even the bathrooms are beautiful locations, ready for you to try your hand at photography.
While everything man made at Amangiri is absolutely stunning, the true beauty of the property lies in the nature surrounding it. This magnificent place does not take away or try to compete with the wild world around it, instead the two enhance one another and your vacation is all the better for it.
Room prices start at $1550.
Crazy Bear Beaconsfield: Beaconsfield, England
https://www.instagram.com/p/BaRmHuiHpmA/?taken-by=crazybearhotel
"Opulence" is the watchword at Crazy Bear. But arguments could be made for "eccentricity," as well. Between the luxe fabrics, crystal chandeliers, black leather walls, and copper roll-tops baths filled via taps in the ceiling, there is a wow factor most hotels don't manage. It's a trippy rock n' roll bordello aimed at people who appreciate both bling and raunch. Not exactly what you might expect from a hotel housed in a fifteenth-century coaching inn, right? But the unique approach certainly works for the Crazy Bear squad and for their guests — who come looking for a one-of-a-kind experience and a ton of Instagram-friendly backdrops to choose from.
The hotel is home to 45 individually designed rooms that beg to be documented. Voted one of the sexiest hotels in the world by multiple outlets, this is for sure your chance to get your feed a little filthy with boudoir and bath shots. But don't overlook the visual appeal of the Thai and English restaurants on the property or events like the Vampire Ball, a Halloween party that guests are welcome to attend. Even if you can't get a good shot of the aerial acrobatics or the snakes, costumed guests are sure to be a wonderful alternative.
Room prices start at $225.
https://www.instagram.com/p/Bi_lSI5gvRJ/?taken-by=crazybearhotel
Palacio De Sal: Potosi, Bolivia
The Salar de Uyuni in Bolivia is home to the world's largest salt flat — so big it's used to calibrate the distance measuring equipment on satellites. Naturally, there's a lot of salt. In 1998, in the middle of the "lake," a hotel made entirely of salt was constructed. Yes, the walls, roof, chairs, and the building itself were made from conditioned salt bricks. In 2004, they built a new hotel on the banks, using the same principles, and the old one became a stopover for the Dakar Rally.
We've been a lot of places on this little planet of ours, but there aren't too many places more photographable than the Salar de Uyuni. It is pure magic. The hotel is steps away from the flats. At night, without the light pollution of major cities, one can see nearly every star in the sky. Add to that a simple aesthetic, charming rooms and open white hallways, you'll have Throwback Thursday/Flashback Friday stock for a couple years.
Rooms prices start at $140.
Pantone Hotel: Brussels, Belgium
Yes, black and white images can be absolutely gorgeous, but creating a consistently eye-catching Instagram feed relies on the thoughtful use of color. And who knows better about color than the fine people at Pantone? The Pantone Hotel perks up both guests' senses and their photography opportunities. Designed by Olivier Hannaert and Michel Penneman, the property ranges from vivid to subdued use of hues, relying on a white canvas that helps the saturated colors to truly shine. It's not just a few throw pillows doing the heavy lifting, either. Even the toilet paper is color coordinated.
The 59-room boutique hotel paradise is a renovated 1970s low-rise that opened in 2010. Each floor is dedicated to a different color and walls are awash in color swatches from the trend forecasting visionaries at Pantone. It doesn't end there, either. Any accent items that can be brightly colored are. That means mugs and table mats and bikes and seating all come rainbow ready. It's genuinely exciting (and affordable).
Room prices start at $64.
Ace Hotel: New Orleans, Louisiana
New Orleans is already an incredible corner of the world to grab snaps for the 'gram. By staying at the Ace, you won't need to leave your hotel to fill up your inventory and backlog. The Ace is the ideal boutique hotel for such purposes. There's a stellar bar with world class cocktails. The connected restaurant elegantly matches the Art Deco theme of the hotel and its ninth floor pavilion and bar, Alto. Also nestled in that area is the pool, which can also be visited with a day pass. Escaping the summer heat (or any heat, it's the tropics after all) with a poolside drink in hand is hard to beat.
Down in the lobby, Stumptown set up shop in the adjacent building and a passthrough next to the lobby bar and music venue, Three Keys. This gives you access to blessed West Coast lattes and the accompanying designs (though we know coffee pics are passé, we still partake from time to time). Finally, coffee in hand you're ready to explore the city.
Rooms prices start at $134.
Monaci delle Terre Nere: Sicily, Italy
A stunning boutique hotel on the slopes of Mount Etna, Monaci delle Terre Nere is a restored palmento building (a wine press and estate house combo). It smacks of eco-chic in the best way, which is hardly surprising as it is one of only three Eco-Bio certified hotels in Sicily. Expect attention to detail and a clear love of traditional materials like floors made from cocciopesto (lime mortar constellated with crushed terracotta) and Etna chestnut.
There are only 12 rooms, but they each provide the perfect set for impromptu Instagram shoots. The Double Superior Frutatto room has floor to ceiling windows that provide garden views as a lush background, while allowing in a ton of natural light for photographing against the Aegean blue walls accented by exposed wooden beams. And the Dependence Queen Fiore has a divine four poster for all of those breakfast in bed shots people love. Be sure to grab a few frames at the outdoor black lava stone pool as well. The infinity edge that overlooks the Sicilian countryside is not to be missed.
Room prices start at $157.
Conrad Maldives: Rangali Island, Maldives
The Maldives is one of those places that's so damn beautiful it's almost too much. The white sand atolls with swaying palms and bathwater-warm crystal clear waters are idyllic, to say the least. It's photogenic on its own is what we're saying. So when Conrad — Hilton's high-end brand — opened up their getaway on Rangali, the deck was already stacked in their favor.
The Conrad Maldives Rangali is built to be enjoyed as much as it's meant to be photographed. The beach, the bungalows, the underwater restaurants, the amazingly well-fitted rooms all add up to one of the most beautiful hotel experiences on the planet.
Point being: If you're hot on the influencer trail you already know about this spot and have it high on your #TravelGoals list.
Room prices start at $551.
Hotel Adriatic: Rovinj, Croatia
https://www.instagram.com/p/Bnn2LDBHsqM/?taken-by=hotel_adriatic
The Hotel Adriatic is the oldest in Rovinj with a pedigree that dates back to its original construction in 1892. A renovation in 2015 left the property exuding retro-chic cred in a big way. With walls adorned in the work of 14 international contemporary artists, there are a ton of paintings, photographs and installations to act as subjects and backgrounds. But the original façade and interior spaces have also been maintained — giving plenty of options for achieving a mood. The palette is predominantly whites and greys with occasional pops of color, and materials like wood, mosaic tiles, and marble add a textural appeal that rounds things out.
The 18 rooms boast high ceilings with the original cornicing, pillow-laden beds, subtle lighting, white-washed walls, zany artwork, and wooden parquet floors. If you opt to stay in the Adriatic Suite, you can add in three windows and two balconies that overlook the harbor, as well as a freestanding bathtub, to maximize Instagram possibilities.
Room prices start at $102.
Amangani: Jackson Hole, Wyoming
The Aman hotels are some of the most stunning in the world (no wonder there's already one on this very list). From Vietnam to Morocco to Wyoming, these properties shine like sparkling gems of escapism. They truly are a cut above almost all other hotels in the world. So while we're definitely hyped on highlighting Amangiri, we also wanted to give love to Amangani, in Jackson Hole.
The property is amazingly well decorated with a mix of Indigenous art and western craftsmanship. The rooms, food, and spa are experiences worth every cent of the nearly $1,000 per night. Then there's the surrounding nature. The Grand Tetons rise from the Snake River to create a jaw-dropping backdrop that'll set a great scene for you insta-feed.
Room prices start at $800.
Ammos Hotel: Crete, Greece
There's no arguing that the boxy, whitewashed exteriors of most Greek resorts make for good photos. Everyone looks amazing juxtaposed with the bright whites and turquoises that make up the primary color palette of the area. What makes the Ammos Hotel special is that the interior is just as photo friendly as the exterior. The property's dedication to contemporary design is exemplified in the storm of mismatched museum quality chairs in the restaurant, the glorious yellow bathrooms, and the clashing cushions sporting naughty prints. The visual references span the spectrum from Scandinavian to filthy French.
The 33 rooms are super fun thanks to the splashes of color that mark the basic, open planned spaces. Hot pink and aquamarine statement walls make the perfect backdrop for Instagram images, accented by stools upholstered in African prints and Marimekko cushions. Don't expect a television or a clock radio in your room. Instead, you will get beautiful terrazzo floors and bespoke wooden closets. All the better for photography.
Room prices start at $228.
The Cosmopolitan: Las Vegas, Nevada
Vegas is all about making sure you have a great time and fill your Instagram feed with plenty of proof of that good time. Nowhere is that more evident than at the very chic and overly hip Cosmopolitan.
The hotel offers an Instagram staging area around every single corner. Design and art combine with food and lifestyle to create one of the more Instagrammable experiences on the whole Strip. This is the place to be, snap a few shots for the feed, and then indulge in amazingly photographable food and rooms while surrounded by equally beautiful people.
Also — an we really shouldn't have to say this — if you don't go to at least one pool party, you're doing Vegas wrong.
Room prices start at $170
Giraffe Manor: Nairobi, Kenya
Some hotels are Instagram musts because they have epic art installations or décor schemes that wow the eye, but guests at Giraffe Manor whip out their phones and cameras primarily to snap pics of their large adult giraffe sons sticking their long necks through the windows of the 1932 manor house to snag treats and make friends.
Seriously, this roaming herd of Rothschild giraffes is feed gold. Nestled in 140-acres of indigenous forest, the house was built for Sir David Duncan, and it has retained the feel of the era. In addition to the wildlife interrupting brunch, there are also plenty of opportunities to take full advantage of the aesthetics of yesteryear. Photos taken among butterflies, in front of the grand fireplace, or next to the giraffe-themed artwork that punctuates the grounds also work for some glow up.
Room prices start at $1100.
Ayana Resort & Spa: Jimbaran, Bali
If you are the sort of person who is down with bathtub shots, Ayana Resort & Spa's rose petal-filled option makes for a gorgeous set-up. And if embracing your inner bathing beauty isn't #goals, consider snapping the magical sunsets at the Rock Bar, lounging in the 98-foot pool (one of 12) that sits on an oceanfront cliff, or putting one of the umbrella-adorned cocktails from the midcentury-style beach club (one of 19 restaurants and bars) in the forefront. Heck, with 222 first-class acres of tropical gardens surrounding this hotel, there is no running out of epic backgrounds for all your photo shoot needs — plus the size of the property means there isn't much need for shooing folks out of shots.
Once you step inside your room, the bath won't be the only thing begging you to snap pics. The elegantly adorned spaces are filled with carved wood furnishings and batik embellishments that scream "I am in Bali. Eat your heart out!" Add-in the marble bathrooms, ocean view terraces, and the flower printed kimonos provided to guests and the photo shoot options never stop. And if you don't get pictures of yourself enjoying a floating brunch, did you even take a vacation?
Room prices start at $233.
21c Museum Hotel: Louisville, Kentucky
The intersection of a contemporary art museum and a boutique hotel, the 21c Museum Hotel is made for people whose aesthetic is all about bright colors and whimsy. And with a rotating series of exhibits and a ton of installations filling public spaces, there is no end to your Instagram options. Honestly, picking a Louisville hotel might defy expectations for a list like this, but it is one of the most visually interesting properties around.
The repurposed series of 19th-century warehouses blends the historical bones of the area with a new contemporary vibe. From the double-sized gold replica of the famed David statue marking the hotel's position on 7th and Main Street to the exposed brick walls and midcentury furnishings in the rooms to the more than 9,000 square feet of exhibition space to the wildly decorated (and super fun) restaurant and bar Proof on Main, there is no end to the photographic options.
Room prices start at $199.