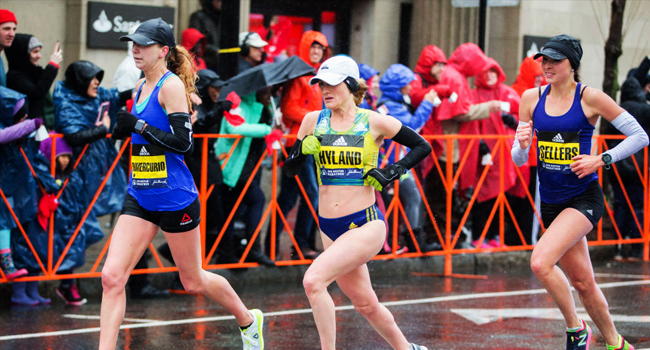 There aren't too many professional sports in which a total unknown can just jump into the playing field and vault straight to international fame. It's not like we can run onto the court during an NBA game and have the baskets we make count or run in from the sidelines at a Green Bay Packers game and score a touchdown to the cheers of adoring fans. To be clear, we're totally capable of those feats, just…not allowed.
What's crazy is that with the major running events it's an open playing field. Anyone who qualifies can end up in the big marathons. Sure, most of the time it's the elite names that take the top spots, but that's not always the case. And anyone who works hard might feasibly end up on the podium.
At the Boston Marathon this month, that person was 26-year-old Sarah Sellers. Sellers took second place for women. And no one had ever heard of her. Sellers is a full-time nurse in Tucson, Arizona, and this was only the second marathon she'd ever run. But she ran as hard as she could through rain and wind, winning $75 thousand dollars while qualifying for the Olympic trials.
Sellers is just one glowing example of how accessible the sport of running is. She was a great runner in college, but after an injury sidelined her, she pursued other career options. She went to nursing school, shied away from running, and became the occasional recreational jogger. Then, several years after leaving college, her brother convinced her to run the Boston Marathon with him and she decided to begin training. She decided, if she was going to run it, she at least had to beat his time! So even though Sellers worked 10-hour shifts on her feet, she would run at 4 am and 8 pm, before and after work. She was often exhausted and it felt impossible at times, but she still found the strength every day to lace up her shoes.
Working is a big excuse many of us use to delay changing our lives. Yeah, we would start running! If we just had time! But we're tired! Sarah Sellers is proof that a demanding full-time job isn't the roadblock that we convince ourselves it is. We can make it work if we really want to.
Yes, we all have excuses that stop us from giving it our all and starting our running journey — but after witnessing all the amazing people we've profiled this month, most of those excuses no longer hold water. Today, we'll break it down for you one last time: These are the excuses that can no longer stop you from getting out and running:
But the weather isn't great! It's kind of raining.
Look, I get it. When it rains I want to curl up in a ball of a thousand sweaters and read books while some sort of magical elf makes me hot chocolate. This is the most human and normal response to inclement weather. But, the reality is, a little rain isn't so bad. At least when you remember the 2018 Boston Marathon.