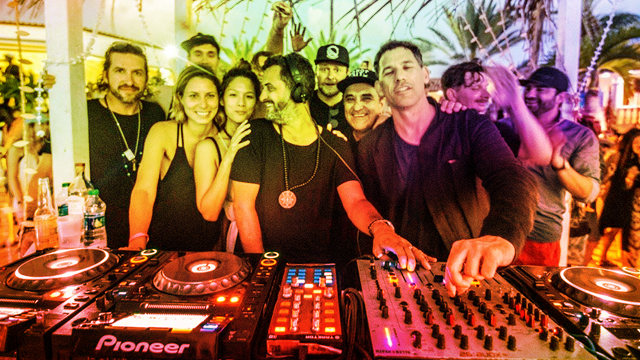 In 2017, Hurricane Irma hit the small Caribbean island of St. Martin incredibly hard, leaving the local communities devastated and with limited resources to aid recovery. They needed outside help — which is why SXM, an underground electronic music festival that had previously called the beaches of St. Martin their home, felt the responsibility to cancel their 2018 event in order to raise funds and rebuild the island.
But islands like St. Martin rely on global travel and tourism to bolster their economy, so SXM Festival is making a return this year. They're hoping that they can create a surge in travel that will further help St. Martin's recovery efforts. And as the festival prides itself on blending tech and music with the place they're in — exploring the nature, elevating local businesses, celebrating the Indigenous culture (in this case of the Taino), and employing hundreds of staff across various venues and hotels — the concept of a symbiotic relationship (where they do good for the local economy while also getting to be in a dope location) is truly in their wheelhouse.
Recently, we spoke to SXM founder (and DJ) Julian Prince about this year's event, and he shared with us his personal picks for the island's greatest offerings. Heading to St. Martin this year is a great way to combine traveling with some philanthropy. And if you schedule that trip March 13-17 for SXM, you'll get to see some of electronic music's finest take the stage.
Here are Prince's picks for the best places to eat, party, and soak in the sun while you're there.
Where to stay:
Belmond La Samanna
Belmond La Samanna is the perfect spot to catch the sunset. It's a beautiful five-star hotel with gorgeous views of the ocean and the island. They have a gorgeous restaurant where you can enjoy cocktails and amazing food all while soaking in the ocean views.

Where to eat:
Cynthia's Talk Of The Town
https://www.instagram.com/p/yP7tfYOKnd/
Cynthia's Talk Of The Town (Lolo) in Grand Case is an amazing local BBQ joint for cheap, delicious authentic Caribbean food. This is the type of place where you can get a world class view and meal all while not breaking the bank. You must try the local delicacy Johnny Cakes!
Bamboo
Bamboo is a sushi restaurant that's perfect to go to before heading out to the club. They also have a great sister bar that's known for their delicious cocktails. The restaurant has dim lighting which makes for a great atmosphere, perfect for a night out or a nice dinner date.
Mezza Luna
Mezza Luna is a restaurant situated right on the beach. They have the best pizza on the island as well as an amazing staff that makes you feel at home whether you're a newcomer or a regular. This is definitely a hot spot, so make sure to make a reservation before coming so you can enjoy the food and atmosphere without waiting.
Emilio's
Stop by Emilio's beside Rainforest Adventures to dine with history and enjoy a true culinary experience with the top chef on the island. It's named after Emilio Wilson who is a Saint Martin legend who founded the Emilio Wilson Historical and Cultural Foundation, which is dedicated to cultural education. Eat an amazing meal all while learning about what makes Saint Martin such an interesting and amazing place.
Where to adventure:
Loterie Farm
Loterie Farm is an amazing natural forest reserve where you can spend an entire day. They have tons of activities including zip lining, hikes, rope courses, yoga, and more. You can also relax in cabanas poolside in the middle of the jungle after grabbing a meal at the restaurant. There are also changing weekly events including DJs by the pool and movie screenings.
Pinel Island
https://www.instagram.com/p/BtcFUW4jaNc/
Take a three-minute ferry from Cul De Sac to get to Pinel Island. It's a small island with only two restaurants on it where you can enjoy great food and soak up the sun. Make sure to go to Karibuni where they sell fresh fish and lobsters right from cages in the water. It really is something special.
Where to relax:
Sunset Beach
Sunset Beach bar is located in Maho Beach at the end of the airport runway. It's a great place to grab a drink and watch planes land in the late afternoon. They also have a pool area as well as beach access, so you can soak in the Saint Martin sun while watching locals and tourists flying by.
Where to party:
Pineapple Pete's
Pineapple Pete's is the perfect vacation bar, complete with wild decor and island drinks. They play cheesy singalong songs throughout the bar that fills the restaurant with smiles and laughter. This is the type of place where you can't be in a bad mood even if you try. It really is just perfect.
Barranco
Barranco is a new restaurant in Grand Case that was built after the hurricane. Beautiful decor and exquisite food. Tuesdays are the best days to go here because they have a dance floor and you'll be able to see the Mardi de Grand Case carnival.