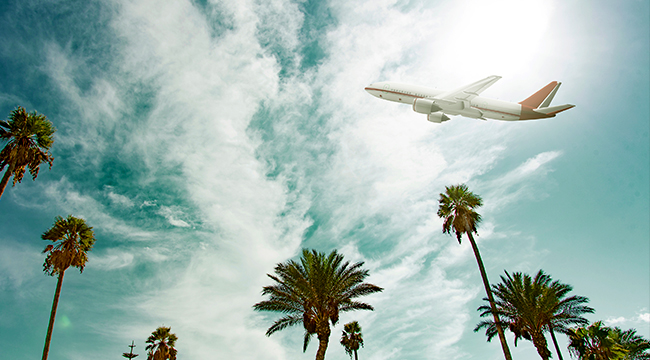 This week we're leading off with a trip that's so cheap it's feels too good to be true. Yet, here we are — there's a chance to book a trip to Kentucky bourbon country for only $23 tomorrow. All in all, it's a surprisingly strong week to book some cheap travel around the world. So, let's dive right in.
We've compiled some of the best deals right now below. These are the cheapest flights, sweetest hotel rates, and steepest travel package discounts online this week.
TOP THREE DEALS OF THE WEEK:
BUY A TRIP TO BOURBON COUNTRY FOR $23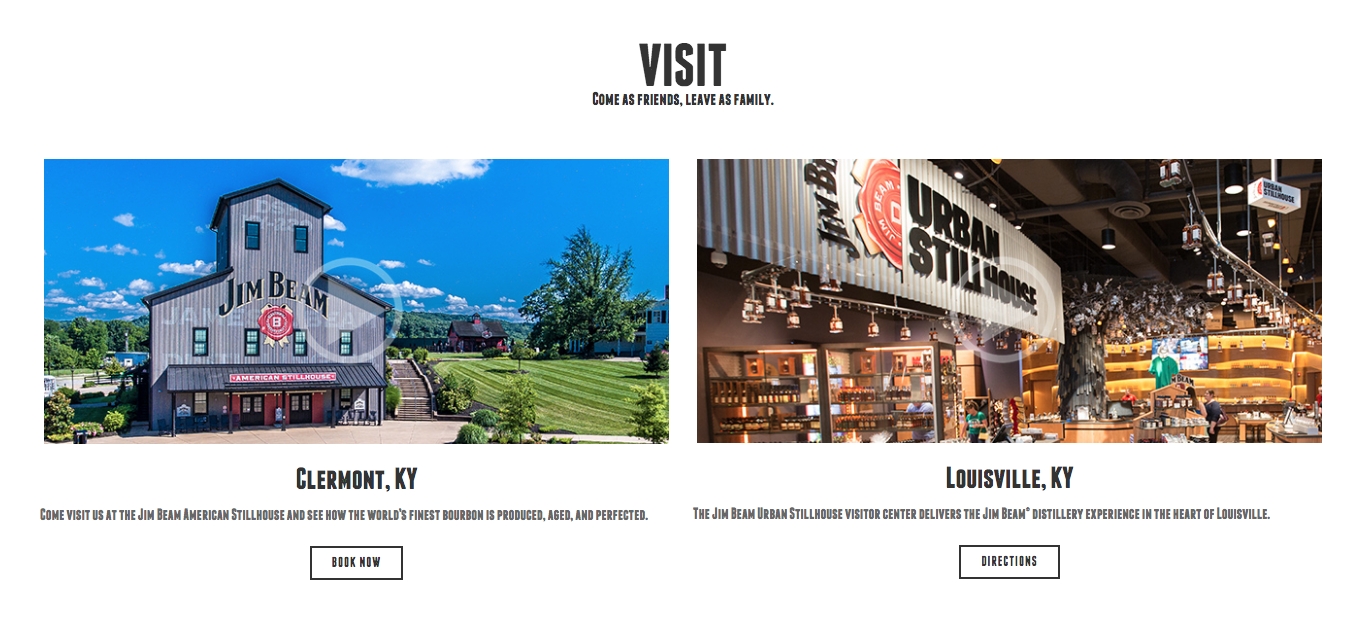 Starting tomorrow, you can buy a trip to Kentucky's bourbon country for $23. That includes roundtrip airfare for two people, two nights in a Louisville hotel, behind the scenes Jim Beam distillery tour, a round of golf, and an exclusive dinner for two. Plus, of course, you'll get some Jim Beam bourbon.
All told, this is a trip worth $3,000 that you can snag for less than a couple movie tickets. You'll need to watch Jim Beam's store tomorrow and grab a trip on a first come, first served basis. Be warned, these trips are going to sell out fast and the site may crash with the rush.
GET $100 OFF FLIGHTS TO EUROPE WITH AER LINGUS
Aer Lingus is offering a $100 discount on flights from all over the United States to destinations all over Europe. In some cases, that amounts to up to 30 percent off roundtrip fares.
That's an unbeatable discount on roundtrip flights that'll get you all the way to Europe this summer. You'll need to book by seven pm, eastern time, today, June 11th.
SAVE $500 ON U RIVER CRUISES THIS SUMMER
If you do snag a cheap flight to Europe today, consider spending your time there on one of the hippest river cruises in the world. U River Cruises is a floating boutique hotel with a killer club, bar, restaurant, and spa.
Currently, you can score a summer cruise through some of Europe's coolest cities with a $500 discount. That's a steep enough discount to cover roundtrip flights on budget airlines. That's a win all around.
BEST FLIGHTS OF THE WEEK:
FLY TO EUROPE FOR $100 WITH NORWEGIAN
You can currently book flights from the East Coast of the U.S. to Europe for as little as $109 each way on Norwegian. Granted, that's on a select few destinations in Europe. The prices tend to average out at $200 one-way. That'll get you a seat and carry-on. Meals and checked bags will cost up to another $100 each way.
FLY BUSINESS CLASS TO THE BAY AREA FOR $300 WITH ALASKA AIR

Alaska Air is consistently ranked among the best airlines in America and the world. Right now, they're running a sale on business class seats. For instance, you can fly in their big seats with all the drinks you want for as little as $300 roundtrip across America. That ticket also allows you lounge access at the airport, which is a huge stress reliever.
FLY FROM THE EAST COAST TO NORWAY FOR $290
If you really want to save serious cash on flights, you need to book ahead. Case in point, flights to Europe are very cheap this winter. You can buy a flight from the East Coast to spots like Norway for less than $300 roundtrip right now. That's on British Airways where you'll get meals, drinks, and checked bags included in the price. That's a great deal.
FLY TO COSTA RICA FOR $275 ROUNDTRIP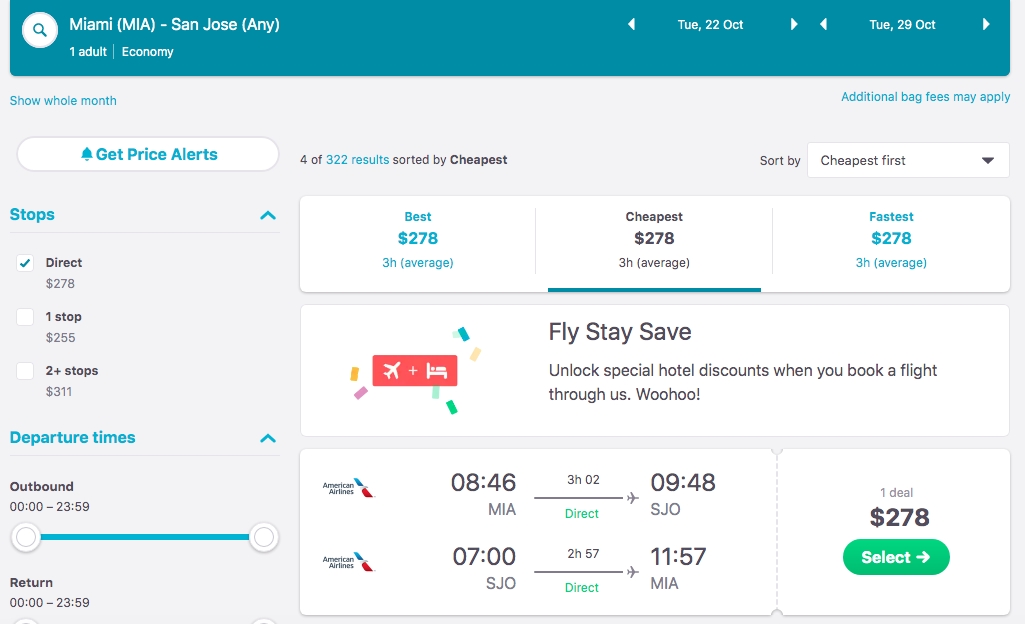 Fall travel is also very inexpensive if you can book now. Flights from the U.S. to places like sunny Costa Rica are running less than $300 roundtrip. That's probably the best price you'll find all year. Go live that Pura Vida life for a spell.
BEST TRAVEL PACKAGES OF THE WEEK:
SAVE UP TO 30% WITH G ADVENTURES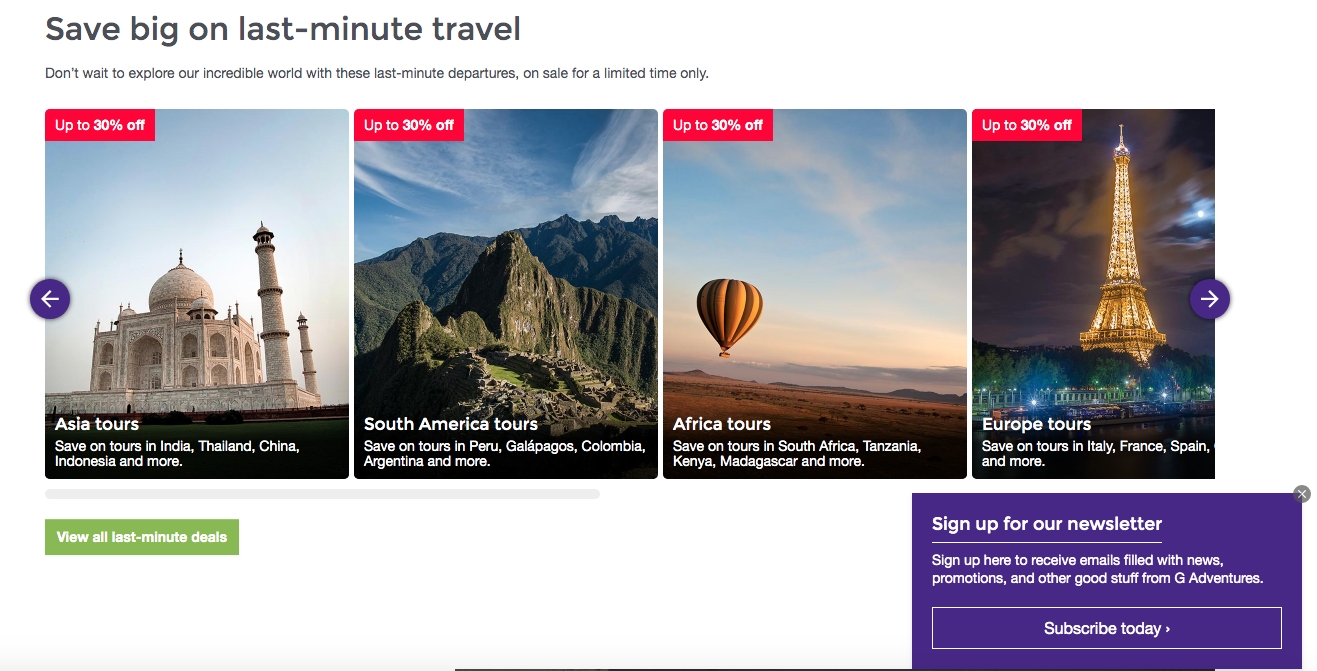 G Adventures runs some of the best tours out there. They focus in on local experiences that lean towards adventure, wellness, and deep dives into cultures with small groups.
Right now, you can score a serious discount on trips all over the world. 30 percent off trips is enough of a discount on packages to help cover your flights pretty much anywhere in the world. That's a big money-saving win.
VISIT HISTORIC DESTINATIONS IN AMERICA WITH TRAFALGAR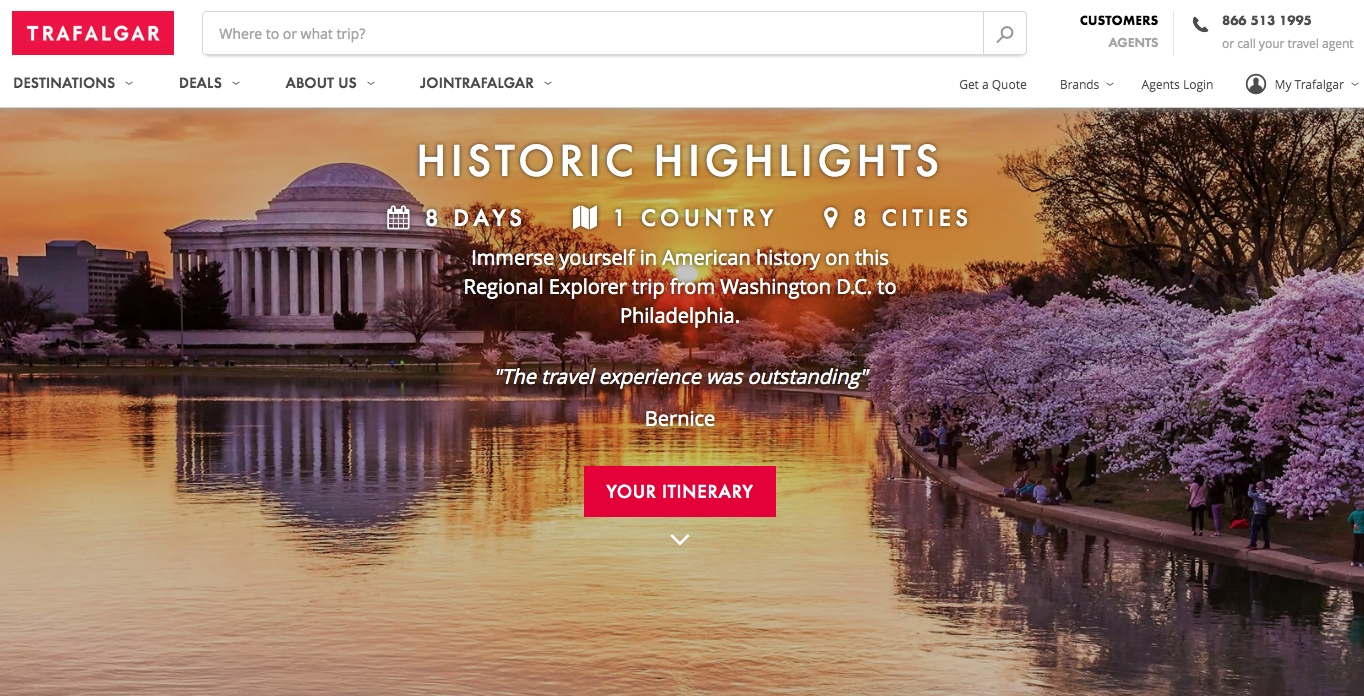 Trafalgar runs high-end trips around the world that cater to your every whim without breaking the bank. Their first-class trips are some of the best curated out there with stays at fine hotels, great dining options, and some of the best local guides in the biz.
You can grab a tour around historic American cities in the Mid-Atlantic for $2,000 with about a $300 discount. That's $300 in your pocket to spend on crab feasts around the Chesapeake Bay or baseball games in Baltimore or hitting DC's great bar scene.
SAVE CASH ON TOURS IN EUROPE WITH CITY WONDERS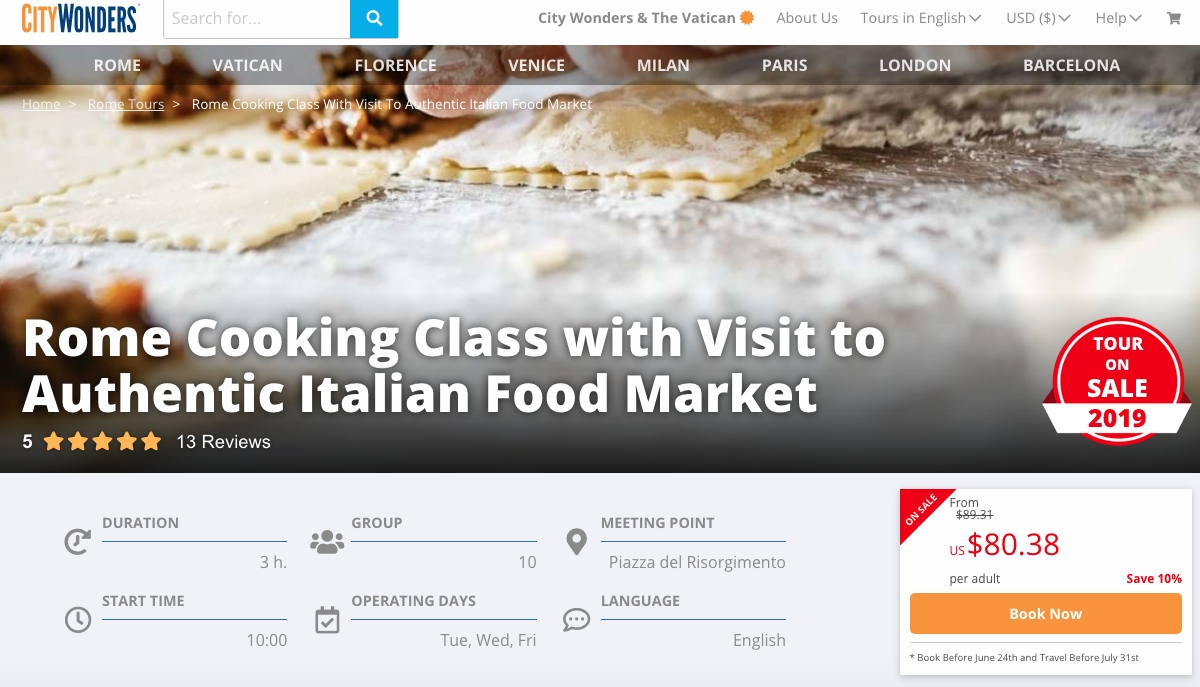 City Wonders offers the best guided tours of iconic European destinations full stop. Their guides are experts in their fields and will give you a local insight unparalleled in the city tour game.
Right now, they're running a sale on summer tours around European landmarks, museums, and entire regions. Discounts of ten percent are the norm at the moment. That'll save you anywhere from $10 to $30 on tours ranging from insider museum trips to all-day wine tours.
BEST HOTEL DEALS OF THE WEEK:
SAVE ON HOTELS WITH HOTWIRE FOR SOCCER SEASON

Hotwire is one of the best ways to save serious cash in hotels around the world. They're currently running a sale through tomorrow, June 12th, to celebrate soccer watching. Use code SCOREBIG when you book a hotel.
SAVE 30% AT TOPNOTCH RESORT IN STOWE, VERMONT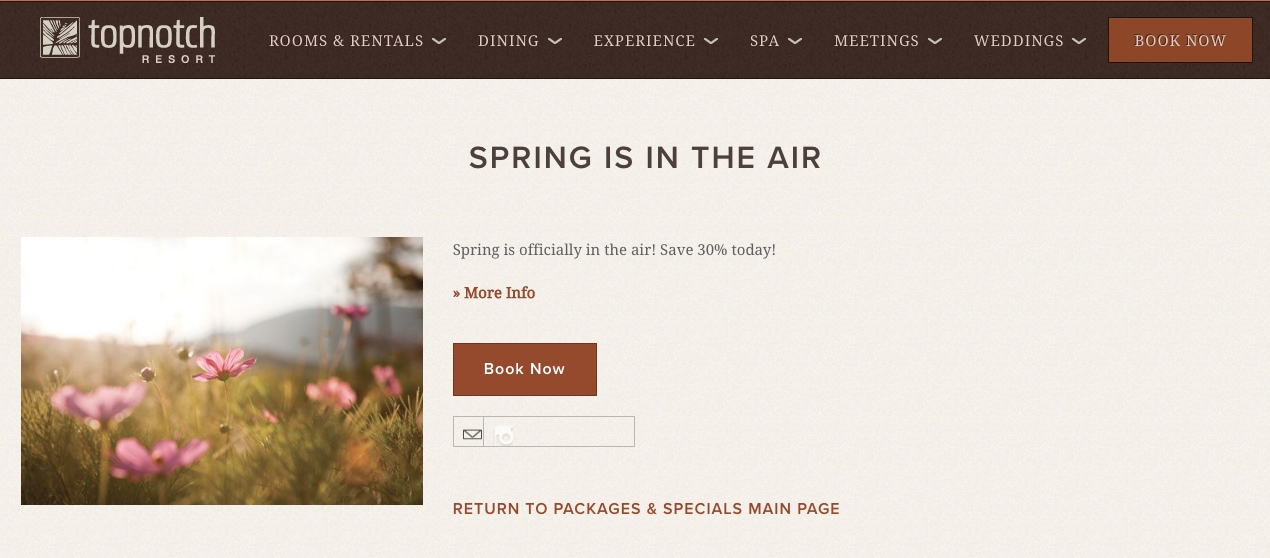 Topnotch Resort in Stowe, Vermont is the perfect summer escape. Craft beer, mountain hikes, lazy summer days on organic farms are all within striking distance of the property. If you can book before the end of the month, you can score a 30 percent discount on two-night, or longer, stays this summer.
BOOK A SUITE IN NEW ORLEANS THIS SUMMER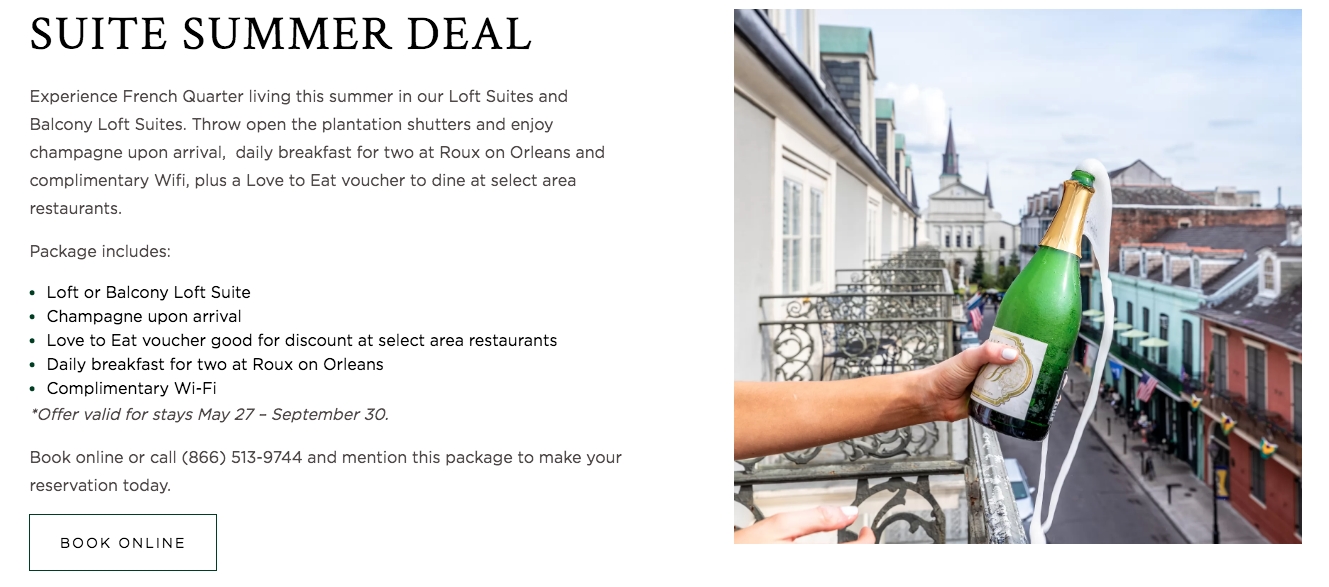 Bourbon Orleans is offering a great summer sale right now. You can book a loft suite over Bourbon Street for the price of a regular room. You'll also get a free bottle of champers, vouchers that get you discounts at a long list of restaurants, free breakfast for two, and free WiFi.
BEST WILD SPLURGE OF THE WEEK:
SEE THE WORLD WITH VIRGIN LIMITED EDITION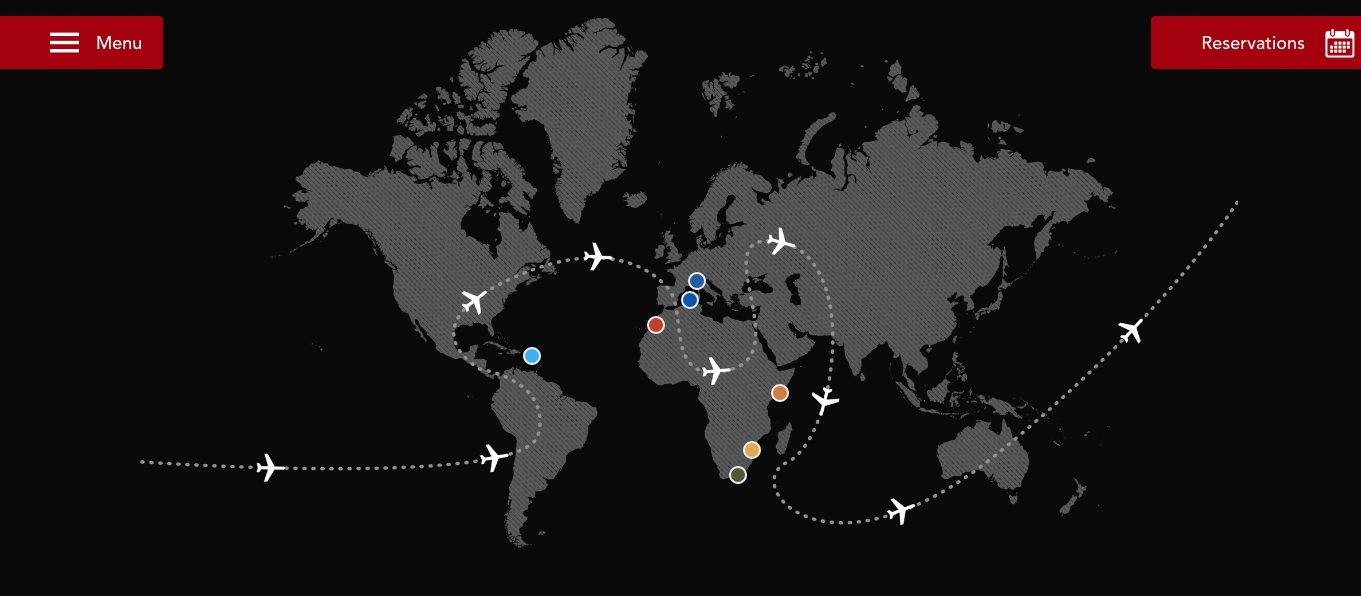 This week's wild splurge will let you live like billionaire Richard Branson for a spell. The Virgin magnate has offered up his favorite hotels, resorts, and destinations as a sort of round the world trip. You'll have the chance to stay in mega-plush resorts all around the world that Branson himself stays in.
Of course, this doesn't come cheap. An eco-lodge in Kenya, for instance, will set you back around $1,800 per night. Living like a billionaire is expensive, sure, but it will give you an experience of a lifetime.