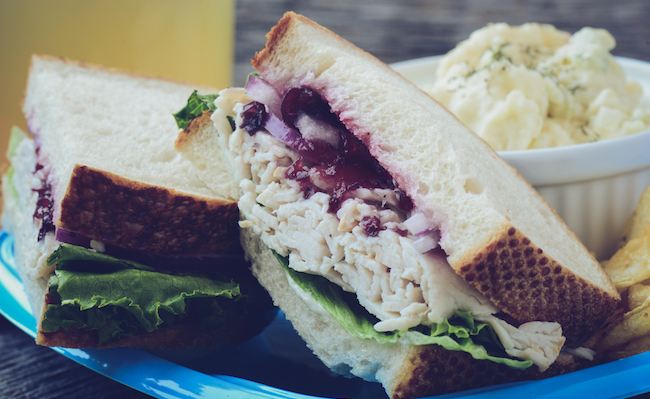 Turkey Day is upon us! Which means that Thanksgiving leftovers — possibly the best thing about the holiday TBH — are about to hit your fridge.
Sure, you could slap everything together into one giant Dagwood and call it lunch, but where's the creativity in that? (You could also create what my father calls "turkey dinners," which are made by stuffing every item on the Thanksgiving menu into an old cottage cheese container and freezing them into solid bricks of awful, but it's not something I'm inclined to recommend.)
A great idea: turning to the food professionals for leftover solutions. Check out the advice six chefs from around the country had to offer.

I like to toss my leftover wings with butter, cornstarch, flour, and vodka before double-frying them to make Thai Red Curry Turkey Wings. After frying, I toss the wings with toasted red curry paste and fresh southeast Asian herbs like Thai basil, mint, and cilantro to brighten everything up.

Another great trick is to make Turkey Steamed Buns by searing off pieces of the turkey leg until crispy and then stuffing the meat into steamed rice buns with sliced cucumber, hoisin, and Sriracha.

To put an Italian spin on things, I also like to smoke and shred my leftover turkey to make Smoked Turkey Orecchiette Pasta with cream, sweet corn, toasted garlic breadcrumbs, and grated parmesan.
Chef Michael Neflas, BOA Steakhouse (Santa Monica, CA)
For the turkey legs, I suggest making a Turkey Leg Chile Verde. First, you take the leftover turkey leg meat and simmer it in a tomatillo-based salsa. Then serve it with tortillas, rice, and beans.

Additionally, I usually chill my leftover mashed potatoes, stuff them with cheese, and then form the mixture into a patty shape. Then I freeze them and coat the patties with a standard breading of flour, egg, and bread crumbs before freezing them again. Afterwards, you can pan-fry the patties and serve them as a Potato Pancake Sandwich.

Every year, our family makes a corn casserole that's always perfect as the base of a Corn Chowder. Just simmer the corn casserole with your leftover turkey gravy and some heavy cream before thinning the broth with a little water. Enjoy with crispy bacon, jalapenos, and cheddar cheese as garnish.

As for my yams, I mash them for breakfast the next morning to make Sweet Potato Pancakes.

Lastly, for the cornbread, I break the loaf up into smaller pieces and let them dry out. Then, using a standard bread pudding recipe, I soak the cornbread bites overnight. The next day, I bake the mixture and garnish with my leftover cranberry and orange relish from the night before to make a Cranberry Cornbread Pudding.
Chef Jose "Junior" Melendez, BOA Steakhouse (West Hollywood, CA)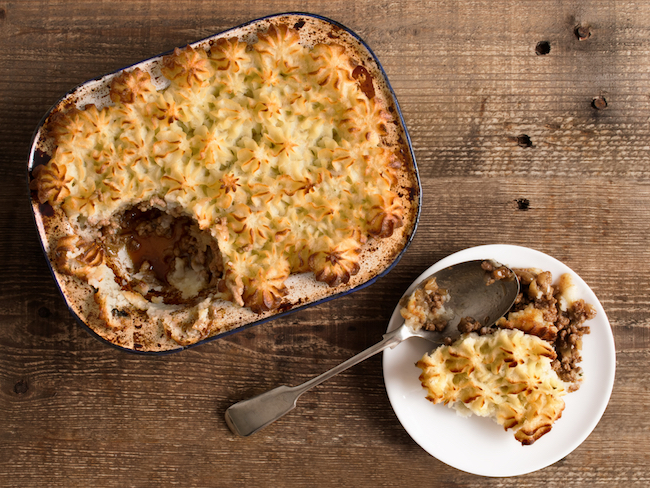 One fun thing is making a Turkey Shepherd's Pie with the leftover mashed potatoes and turkey meat with gravy. First, you heat up the turkey with the gravy (you can also add leftover mushrooms or Brussel sprouts if you like) and put that mixture in a casserole dish. Then place the mashed potatoes on top, sprinkle everything with parmesan cheese and chopped parsley, and bake until golden.
Head Teppan Chef Michael Monzon, ROKU (West Hollywood, CA)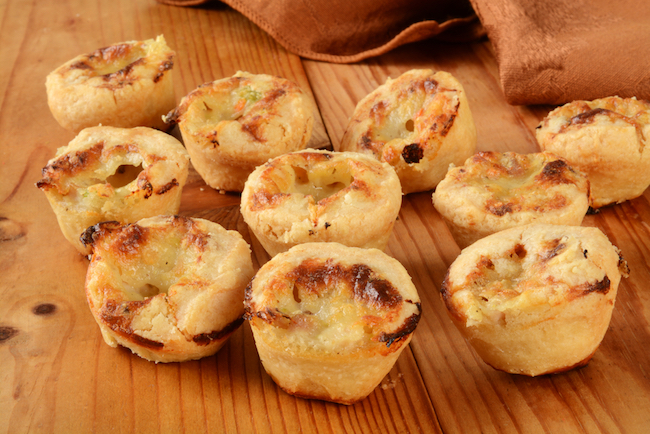 I like to put all of my Thanksgiving leftovers in a giant bowl and mix them together. I'm talking everything—vegetables, turkey, potatoes, gravy, and a little cranberry sauce. Afterwards, line a few ramekins with ready-made pie crust, brush some butter on the inside, and then fill them up with the leftover mixture. Layer some pie crust over the top of each cup, seal the mini-pies, and bake! Basically, you're making Thanksgiving Pot Pies. You can also wrap them up in wax paper and foil and put them in the freezer to save and enjoy the day after Thanksgiving through Christmas. It's one of my favorite memories as a kid!
At Plan Check, we like to add cultural twists to classic American comfort food, and you can apply the same philosophy to your Thanksgiving leftovers. My background is in Latin cuisine, so I like to repurpose my leftovers into Sweet Potato Taquitos, Turkey & Gravy Enchiladas, and Mashed Potato & Green Bean Tacos.
Chili is a staple here in Texas. I like to dice up leftover turkey and use that as the protein for my chili. To take it a step further, I turn the chili into a Turkey Chili Frito Pie and top it with sour cream, cheddar cheese, and chives.
Duly inspired? Great. Now go out, enjoy that meal, and get creative with whatever is left post-food coma!