There are two truths we hold self-evident when it comes to the subject of weed-infused edibles: 1) They can be incredibly unpredictable — one bite could do nothing, or it could send you into outer space with kittens for two hours when all you wanted was a nap, and 2) they don't always taste great.
That's all about to change thanks to James Beard Award-winning pastry chef Mindy Segal, who's the first world-renowned pastry chef to get into the dank goodies game. (That's a highly scientific term I just retrieved from 1998.)
Segal has been in the business of "making people feel good" for the past 30 years (just check out the reviews of her restaurant, Mindy's Hot Chocolate) and says she's not about to stop now. Yesterday morning, she announced that she's partnering with Cresco Labs on a signature line of marijuana edibles.
Speaking about the announcement over the phone, Segal explained that she's "at a fork in the road and taking the right path." In fact, while it may seem out of character for a world-renowned chef to get in bed with a cannabis cultivar, Segal explains that, for her, it's just an extension of what she already does six nights a week at her restaurant.
During our brief conversation, she made several things very clear: She's not a dealer, she's not selling to children, and she's got the approval of her husband and her parents. As for everyone else's stigmas? "I don't know if you've read anything about me, but I'm not a person who follows trends or really cares what people say about me."

The reactions so far have been overwhelmingly positive. And why shouldn't they be? She's not doing anything illegal or wrong; she's here to help people in pain feel better (or people not in pain decompress). When people see her edibles in dispensaries soon, all they're going to be thinking, Segal says, is "there's Mindy Segal doing her thing; doing what she believes in."
They'll also likely be thanking her for making an effort to help legitimize the use of marijuana not only as medicine, but as an actual art form. Segal's edibles aren't going to be just functionality focused — each one of her creations will be an experience.
While the chef isn't ready to reveal exactly what's going to be on the menu, she says that her idea to make gourmet pot pastries has been brewing for awhile. She was quick to figure out that "everything that was happening in Colorado" in respect to legalization would eventually "trickle down to Illinois," and then waited for someone to approach her about going into business together.
Ultimately, she chose Cresco Labs because she felt that the company's vision and quality goals matched her own. Now she's just excited to get into the whole process of coming up with great-tasting selections. She's dabbled in edibles before (of course people have asked her to make them), but this is the first time they'll be a major part of her production.
"I'm much more interested in the process because of all the technology that has happened through extracting oils and all the different strains," Segal told me. "It's just a huge open territory. I'm very excited to make a product that is professional, like my brand. Its a medical marijuana infusion that has a really great strain in it, that's dosed perfectly. That is per prescription. And it's made professionally."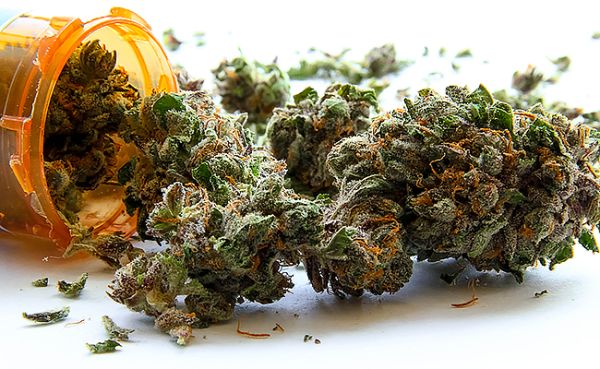 Segal says that one thing she wants to be sure of is getting the dosage in each bite down to a science. "People will be able to pick my product and know the dosage in each of the bites, or each package."
[A good idea because scientists are starting to worry about brain fiber damage in ultra-high weed dosages.]
"I'm working with a team in a controlled environment," she explains, "in a licensed facility, with equipment that is specifically designed for this. We're going to test it so that they're going to be in milligram dosages. Right now, we're really in ideation mode and branding mode. Cresco has a person that's specifically hired that does only extractions, so I'll be working very closely with that person."
Of course, Segal's also looking at this as a new opportunity from a cooking/baking standpoint. "I've only worked with butter," she says, "to be honest with you; I've never worked with anything else. I'm very excited to be working with oils. I'm interested to see the difference. I'm also really interested in getting into the whole mechanics of the whole thing. The sky's the limit for me, and I'm really super excited about changing the game here."
Surely, anyone who enjoys marijuana edibles — whether for entertainment or medicinal purposes — is equally excited.