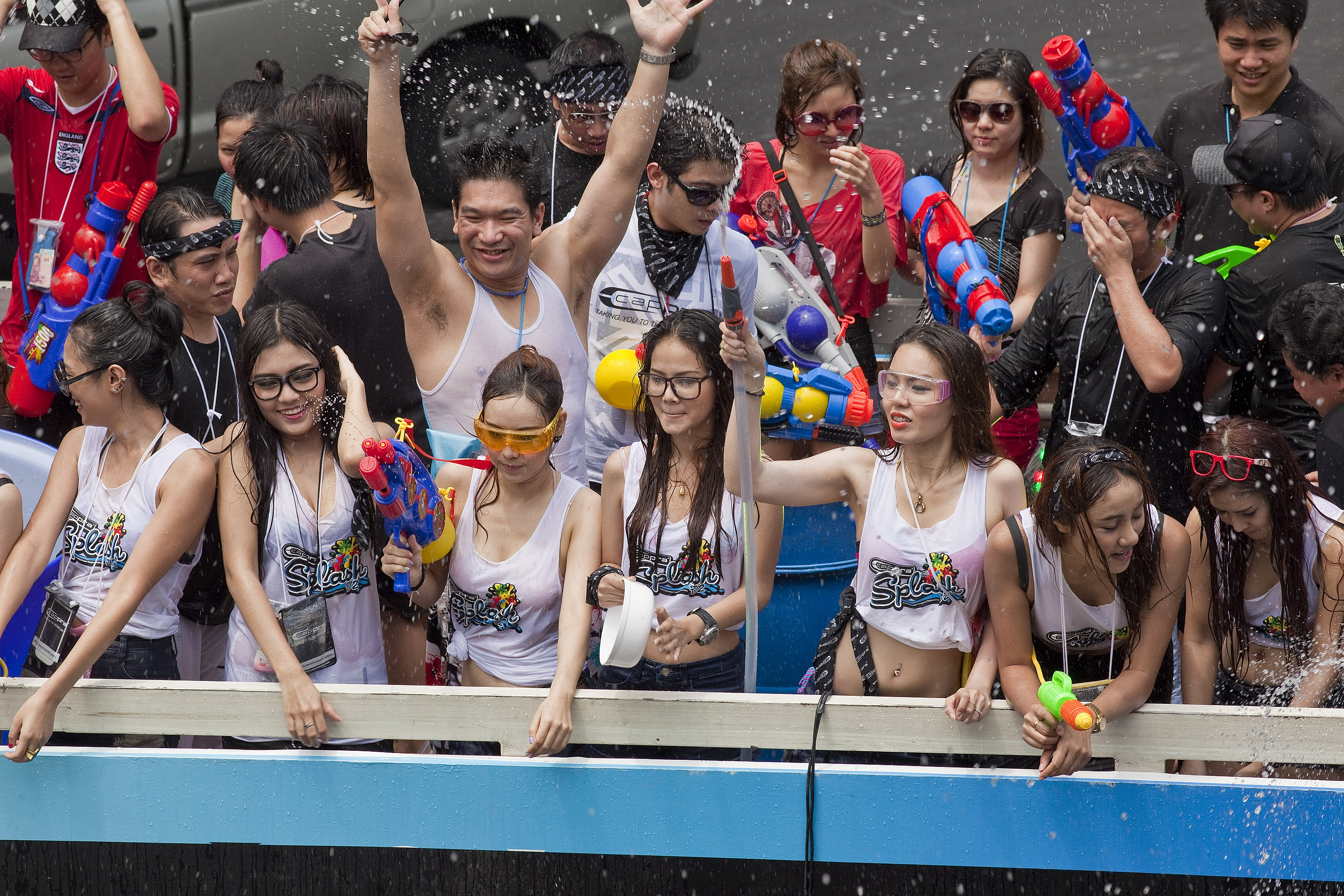 We're in the throes of spring! And with that come warmer temperatures, comfier clothes, and…massive city-wide water fights? At least that's the case for those lucky enough to attend Thailand's Songkran Festival, an annual celebration that ushers in the Thai New Year and kisses the dry-season goodbye with a festival so dope that you wonder why the only water fight extravaganza we get is that lame Waterworld War at Universal Studios.
Seriously, everyone is just hanging out with super soakers? What are we doing at home right now?
The Songkran Festival runs from April 13th-15th every year and is a celebration of new beginnings, goodwill, and love — all expressed through some friendly water war. This three-day New Year's celebration draws more and more tourists each year as people all around the world clamor to join in on the fun and super-soak their troubles away.
Despite clearly being one of the greatest celebrations in the world, this year's festival isn't without a small dose of controversy after some tone-deaf/ sexist remarks made by Suthipong Chulcharoen, Thailand's Director General of The Department of Local Administration. The official suggested women dress more conservatively in an effort to prevent sex-crimes during the annual water festival.
Considering the average April temperature in Thailand is almost 90 degrees, and its humid-as-f*ck, not to mention its a… you know… water fight, this resulted in loud criticism, notably from Cindy Sirinya Bishop, a Thai-American model whose words and story sparked the hashtags #DontTellMeHowToDress and #TellMenToRespect.
The hashtags brought the voices of many women together who shared their stories and words of encouragement to highlight the real problem — men who just can't keep their hands to themselves and show a decent level of respect. Bishop's comments have started a movement in Thailand akin to the #MeToo movement and created a much-needed dialogue.

Controversy aside, if you're ever lucky enough to go to Songkran, don't think you'll be able to simply spectate (why would you?) because everyone dry is a target in this joyous celebration of togetherness and rebirth. Which means it's also a chance for Chulcharoen to be born again, possibly with a whole new philosophy on this issue.
https://www.instagram.com/p/Bhim8Uuj-2H/?tagged=songkran2018
https://www.instagram.com/p/BheUa2Tg4f7/?hl=en&tagged=songkran2017