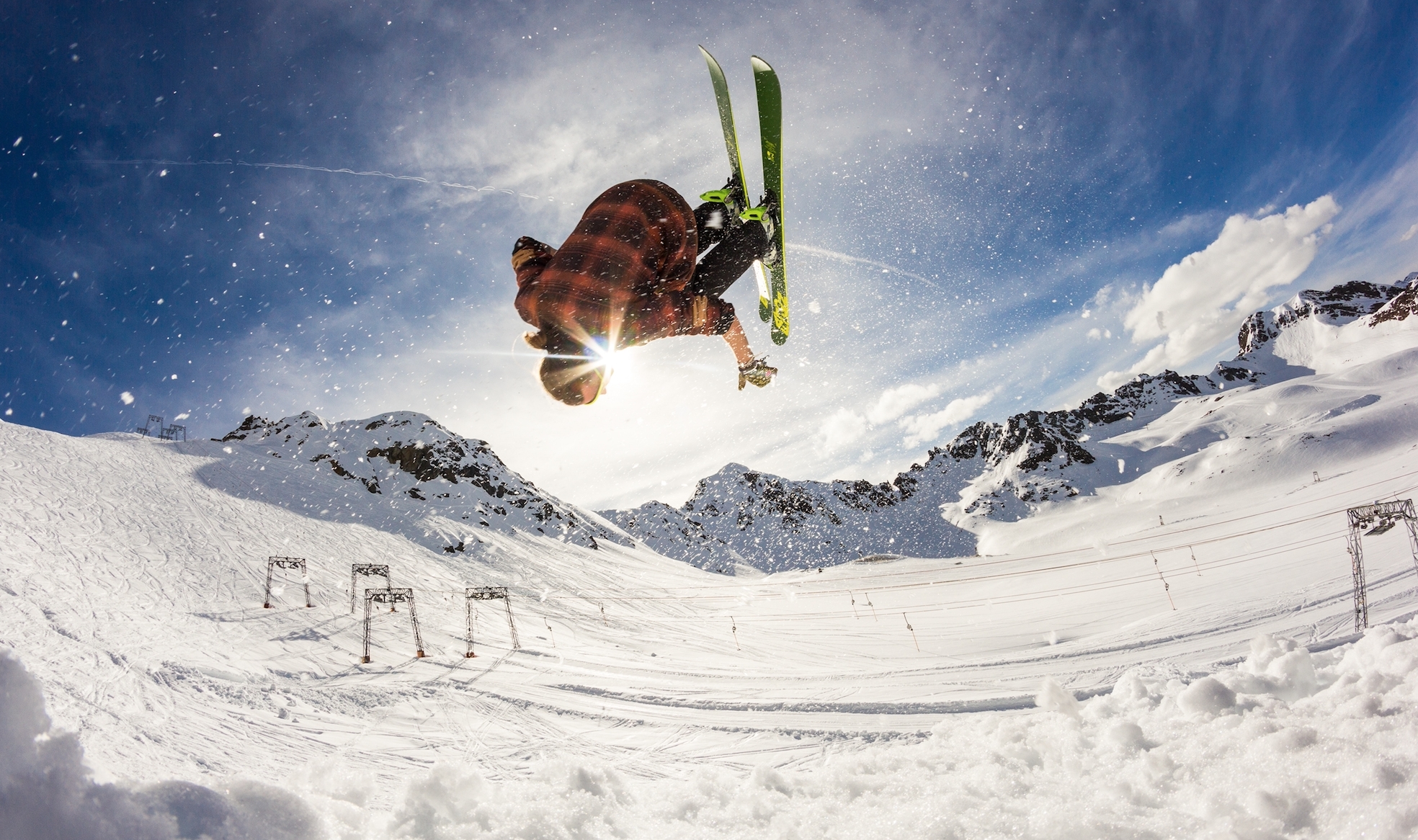 As the summer nights begin to fade into a sweet but distant memory of catching waves, stealing first kisses on top of a Ferris Wheel, and receiving cryptic notes that say, 'I know" and can only be referencing that pedestrian you and your friends ran over and then threw into the lake just before you went off to college, many of us start to fear the coming winter months. The falling leaves and omnipresent scent of pumpkin spice signal that heavy winter coats and mornings spent scraping ice off your car while swearing incessantly are soon to come.
Winter doesn't have to be the dismal end to a summer spent sunning and traveling, though. It can be the start of cozy dips in hot springs, whiskey cocktails in front of a roaring fire, and days spent hitting the slopes. It also means that wintery wonderlands all over the world are now looking for seasonal employees to drift into town and help with the influx of tourists searching for their own slice of chilly paradise. And the cool part of many of these jobs is that they usually include things like housing, food, and other perks (like enjoying expensive winter activities for free every week). Plus, they generally draw adventurous 20-somethings looking to have some fun for a few months.
So rather than trudging through the grey slush to a 9-5 this winter and then hiding inside to eat frozen meals and watch bad TV, why not make your winter be about snowboarding and partying in the alps? These are the dream jobs that you should apply for this fall to have the best winter ever.
Adventure Photography Guide
Lapland, the northernmost region of Finland, really wants you. Meaning they would really like people to come work there. And visit. And, presumably, send them sexually charged love letters filled with the explicit, dirty things you're going to do when you see their aurora borealis. And for this coming winter season, they, in conjunction with many local businesses have come up with dream winter jobs to entice any winter lover and expert traveler to Scandinavia.
These jobs include taking care of sled dogs and being one of Santa's elves, but our favorite is for a photographer to lead tours in the region. The company, Beyond Arctic, needs excellent adventure photographers — willing to lead groups through stunning landscapes in search of the northern lights. They're hiring three such photographers who will be responsible for interacting with groups, teaching basic, nature photography skills, and searching for polar bears sliding down hills to drink coca-cola.
The best part is that if you love photography, you're basically paid to take your own photographs in one of the most beautiful corners of the earth. You can apply for the dreamy job here.

Skiing Around the World… Person
If what you really want is to ski and snowboard all over the world (without having to spend most of that time teaching small children how to slide down a bunny hill), Ski.com has partnered with Epic Pass (Vail Resorts' all mountain pass) to give you the trip of a lifetime around the world. This job involves one lucky winter sport-lover hitting 65 slopes in seven countries and three continents over January and February of this year with all travel and lodging/food included. Plus, a ten thousand dollar bonus for your trouble, tons of sweet gear, and a top of the line GoPro.
Basically, this dream job's purpose is to highlight all the amazing properties the pass gets you into so, you'd be documenting your 'efforts' through social media and be the face of the pass for your journey. To apply, create a 60-second video about why you're the perfect person to hit the slopes in France, Japan, Switzerland, all over the U.S., Austria, Canada, and Italy for two months and drop it here.
Snowmobile Tour Guide
T-Lazy-7 Ranch in Aspen, Colorado is looking for a snowmobile tour guide to spend the winter cruising around the mountains in the most fun, extreme way. The seasonal dream job is filled with perks like free housing (utilities included), performance bonuses, and a complimentary ski pass for the season. The ranch's motto for their employees is to "work hard and then play hard", so it's the ideal job for someone looking to spend the day working their butts off in nature and then, with their free time, partying the winter away.
More info on applying can be found here.
Winter Caretaker
Okay, admittedly, the idea of spending the winter isolated in a remote resort as the 'caretaker' brings to mind twins at the end of hallways and blood pouring out of elevators. But this position at The Golden Horn Lodge in Western Alaska is a really sweet job for anyone looking to totally get away from the distractions of society and finally finish that novel you've been talking about but haven't started.
The lodge is looking for a person (or couple!) to stay in the hotel while it's inaccessible during the winter months. Obviously, housing is included but they also pay for all your food and supplies and give 1500-2400 dollars a month as a stipend. Responsibilties include keeping heavy snow accumulation off the roof, light upkeep and cleaning, and basically, just being there so it doesn't get vandalized. Also, ghost maintenence. But, hey, it's not like you're totally cut off from the world.
The lodge has internet, satellite tv, and a satellite phone for emergencies (in case your partner goes crazy and decides to murder you). You can even bring your dog with you!
To apply, go here.

Dog Musher
Chena Hot Springs is a little bit of paradise in Alaska and any job that puts you there for a whole season should you get you running and not walking to….an internet browser to apply. This particular job, perfect for animal lovers who want to snuggle with those ittle wittle sled dog buddies, involves you taking care of 75 dogs and leading guests in cart and trail rides. The position also gives you access to their many horses, facilities/activities (imagine soaking in the hot springs all winter!), and provides free housing and food.
If you want to chill in the hot springs for the next several months, follow up here.