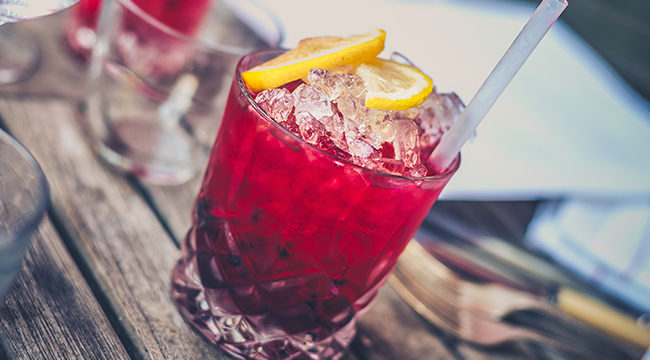 You might not think of whiskey as the ideal base for a summery drink. The aged spirit is more commonly associated with cold, winter nights spent bundled up in front of a roaring fire. But that image doesn't tell the whole story of this highly adaptable spirit. Whiskey, as our writers have learned while visiting distilleries around the world, can do pretty much anything.
This summer, as temps rise, be sure not to miss out on whiskey-driven summer cocktails. From the Highball to the Brown Derby to the Mint Julep, whiskey is the summer spirit you didn't even know you were missing. Check out our favorites below.
Whiskey Highball
A popular summer drink in Japan, the Highball is also one of the easiest summer cocktails to prepare. It's also one of the most refreshing. That's because, even though the base is whiskey, the rest of the cocktail is soda water (or seltzer or even ginger ale).
2 ounces of whiskey
Soda water
Old Pal
https://www.instagram.com/p/BLxBPwkAgu-/?tagged=oldpalcocktail
So, you think you'd enjoy the Negroni if it wasn't for that pesky gin. Well, the Old Pal is a Negroni variation for people who prefer whiskey to gin. It includes the other summer flavors of Campari and vermouth to create a truly delicious summer refresher.
1 ½ ounces of rye whiskey
¾ ounces of Campari
¾ ounces of vermouth
Whiskey Smash
https://www.instagram.com/p/BipMqQtHecx/?tagged=whiskeysmash
This cocktail is one of the more complicated summery whiskey drinks. But, it's also one of the most adaptable. The basic recipe is similar to a mint julep with the addition of muddled lemon. But, for non-citrus fans, berries, cherries, or even pineapples can easily be inserted in its place.
2 ounces of bourbon
6 fresh mint leaves
1 half lemon
1 tablespoon of simple syrup
Crushed ice
Blinker
https://www.instagram.com/p/BdgIJcVlRtI/?tagged=blinkercocktail
This classic cocktail can trace its roots to the 1930s, and it's just as perfect for summer imbibing now as it was back then. Similar to a Brown Derby, this citrusy drink starts with spicy rye whiskey. It's complemented by grapefruit juice and grenadine to create a zesty, fresh cocktail.
2 ounces of rye whiskey
½ ounce of fresh grapefruit juice
1 bar spoon Grenadine
Brown Derby
https://www.instagram.com/p/BegkV6snGqW/?tagged=brownderbycocktail
Named for the famous Brown Derby restaurant in Los Angeles, this cocktail is the perfect combination of sweet and sour. The sweet comes from the bourbon and honey and the sour comes from the grapefruit juice. Everything combines to create a classic, warm-weather cocktail you'll mix up all summer long.
1 1⁄2 ounces of bourbon
1 ounce of fresh grapefruit juice
1⁄2 ounces of Honey
Mint Julep
Probably the most famous summertime drink, the Mint Julep is a way of life in Kentucky. This bourbon-based cocktail is also synonymous with the Kentucky Derby and its iconic pewter drinking vessel. The combination of crushed ice, seltzer water, bourbon, mint, and sugar is as simple as it is delicious.
2 ½ ounces of bourbon
8 fresh mint leaves
1 1.2 teaspoons of sugar
Seltzer
Crushed ice
Whiskey Sour
https://www.instagram.com/p/BlVom-TgoxJ/?tagged=whiskeysour
The whiskey sour is a cocktail that has often times come with a bit of negative stigma. That's because many people have imbibed them with cloyingly sweet, sugary, premade sour mix as its base. When prepared with whiskey, simple syrup, and lemon juice, the drink is brought to a whole new level.
5 ounces of whiskey
1 ounce of simple syrup
1 ounce of lemon juice
Bourbon Rickey
https://www.instagram.com/p/BV9zgkklP5o/?tagged=bourbonrickey
Most cocktail fans are aware of the Gin Rickey. This gin-based, lime-centric cocktail is thirst-quenching and appealing on a hot day. But you can also jazz this cocktail up by adding bourbon instead of gin. In fact, the whiskey version was actually invented first.
This form of the highball drink that has been around since the late 1800s is made up of bourbon, lime juice, and club soda.
1 ½ ounces of bourbon
Juice from half a lime
Club soda