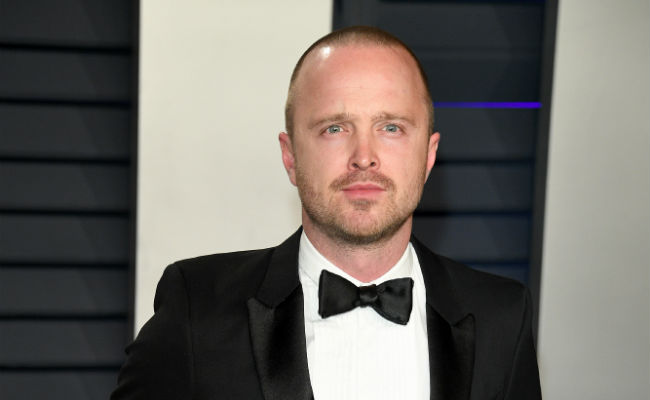 A Breaking Bad movie starring Aaron Paul is really coming to Netflix this fall, and it's a lot sooner than many thought. Fans of the AMC series may have been clamoring for more Breaking Bad content since the show wrapped up nearly six years ago, and for years Better Call Saul has sated the thirst of many. But a movie, well, that's a different story. We started hearing rumors about the film late last year when a New Mexico newspaper caught wind of a mysteriously named movie shooting in the desert, a location well-known to Breaking Bad fans.
But in an interview with the New York Times, Aaron Paul, who will star in that movie — El Camino: A Breaking Bad Movie — says that the film was in the can well before anyone cracked the code that something big was going down. Paul told Dave Itzkoff in an interview that was published on Saturday that El Camino was done months before anyone, not even Bob Odenkirk, had previously suggested.
"The movie had already happened and was in the can," Paul said, mentioning the Albuquerque Journal reporting about a movie codenamed "Greenbrier" last year. "It was done."

This is significant because only recently did most people realize the movie was even finished. The announcement that the movie would drop in October was already a considerable surprise, but Paul's claim is that the entire movie was made in secret, with no one realizing it even existed until filming had wrapped.
And how did Paul avoid attracting attention despite hanging around his old digs? Well, he simply said he was working on an indie in New Mexico.
If anyone asked him what he was up to during this time, Paul explained, "I just said I was doing this small little indie out in New Mexico and that was it. No one second-guessed it."

He added, "I definitely had people asking, 'Are you doing 'Better Call Saul'?' And I'd go, 'Hey, man, I wish I was. But they're on hiatus right now.'"
Paul has had to do some heavy secret-keeping over the last year or so, as he has also been quite mum on what will happen in Season 3 of Westworld, whose cast he recently joined. But while he won't say whether he reunites Jessie Pinkman with Walter White in some form when El Camino hits Netflix in October, there's a whole army of Breaking Bad fans ready to tune in no matter what goes down in the movie itself.