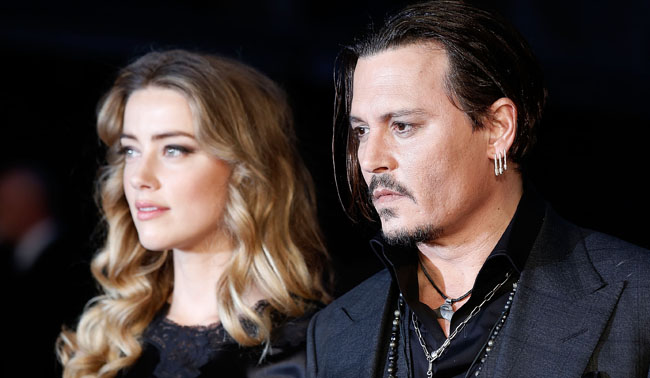 The back and forth between Amber Heard and Johnny Depp's surrogates in the media has already gotten pretty ugly since Heard filed for divorce last week. Rumors of abuse soon spread, followed by photographs, a restraining order, and a slew of defenders for Depp on social media. Doug Stanhope may have provided the most vocal defense for Depp in a guest column for The Wrap, but now Heard and her legal team seem to be striking back.
Heard has reportedly said that Depp's injury from 2015 — the one that delayed Pirates of The Caribbean 5 filming in Australia — was not from a go-carting accident as previously reported, instead resulting from a fight the couple had that ended with Depp punching a wall. The story comes from an ET exclusive and seems to support some of the claims she made during her sworn statement in court this past Friday:
"I live in fear that Johnny will return to (our house) unannounced to terrorize me, physically and emotionally," Heard wrote.

She detailed Depp's history of drug and alcohol abuse, saying that she feared for her safety, claiming the "Edward Scissorhands" star has a short fuse, an "exceptionally scary" temper and suffers from paranoia.

"I am extremely afraid of Johnny and for my safety," the actress said in her declaration for a restraining order. "Depending on his interaction with alcohol and drugs. Johnny has a long-held and widely-acknowledged public and private history of drug and alcohol abuse."
Heard's lawyers also released a statement to address the ongoing media speculation behind the public split, attempting to tell their side of the story against what they deem "vicious attacks":
"As the result of Amber's decision to decline giving an initial statement to the LAPD, her silence has been used against her by Johnny's team. Amber did not provide a statement to the LAPD in an attempt to protect her privacy and Johnny's career. Johnny's team has forced Amber to give a statement to the LAPD to set the record straight as to the true facts, as she cannot continue to leave herself open to the vicious false and malicious allegations that have infected the media. Amber has suffered through years of physical and psychological abuse at the hands of Johnny…

We took the high road. Unfortunately, Johnny's team immediately went to the press and began viciously attacking Amber's character. Amber is simply a victim of domestic violence, and none of her actions are motivated by money. Amber is a brave and financially independent woman who is showing the courage of her convictions by doing the right thing against Johnny's relentless army of lawyers and surrogates.

The Family Law Court is not going to be influenced by misinformation placed in the social media based on anonymous sources. Amber is the victim. Amber is a hero."
The claims are still the only ones that paint Depp as a violent individual, with most of his loved ones still standing behind him despite the evidence. At this point, it can't get much uglier in public save for another altercation.