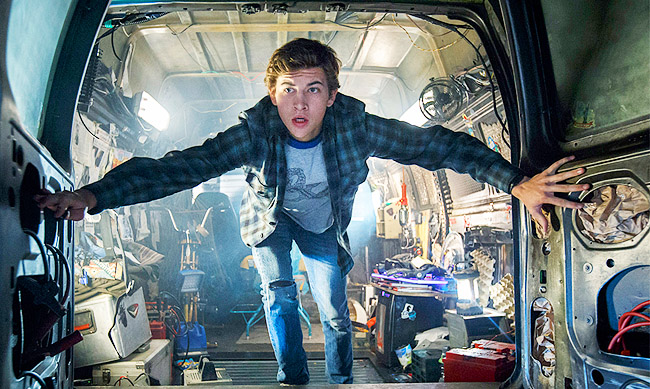 Seventy-one-year-old Steven Spielberg returned this weekend with his first true action-adventure pic since 2008's Indiana Jones and the Kingdom of the Crystal Skull, and the box-office receipts rewarded him. Spielberg's Ready Player One put up a solid $40 million over the three-day weekend and $52 million since it premiered on Thursday. Not only is the three-day $40 million opening Spielberg's best since Crystal Skull, it's the fifth best opening of his career, behind two Jurassic Park movies, Crystal Skull and 2005's War of the Worlds. Granted, $52 million is not lights-out for a movie that cost $175 million to make, but Spielberg action movies have historically played even better overseas, so it is like that Ready Player One will eventually see the black side of the ledger. In fact, through the first two days, Ready Player One earned more in China alone — and in the rest of the overseas markets — than it has in America. It's poised to be a successful global hit.
Spielberg's latest has been buoyed by solid reviews (76 percent on Rotten Tomatoes) and it received a leg up in the word-of-mouth department after debuting at SXSW in early March (I can attest to the raucous crowd, which maintained their enthusiasm even after the projector temporarily broke during the film's climactic scene). It's also benefiting hugely from an audience comprised of nearly 40 percent men over the age of 25, for whom most of the film's pop-culture references are directed. Nearly half of viewers are also turning out because they were readers of the popular Ernest Cline novel upon which the movie is based.
In either respect, it illustrates that Spielberg has still got it when it comes to action films, which bodes well as he ramps up for the next installment of the Indiana Jones franchise, which will pair him again with 75-year-old Harrison Ford.

Meanwhile, the Tyler Perry brand is still going strong. Tyler Perry's Acrimony, starring Taraji P. Henson, started well with a $16.9 million tally, which is about even with its expected budget in the mid-teens. The opening is off a bit from most Tyler Perry openings, but it's better than the $9.9 million Henson's Proud Mary opened with earlier this year.
The rest of the weekend's top ten were all holdovers. Black Panther is not going away quietly. Now in its 7th week of release, it's earned $650 million after adding another $11.5 million. It's the fifth biggest movie of all time, and with another $10 million, it will jump into third place all-time, domestic.
Meanwhile, the faith-based I Can Only Imagine has quietly taken the title of sleeper hit of the year, so far. The film, made for only $7 million, earned another $10.7 million this weekend to bring its overall total to $55.7 million. Before all is said and done, I Can Only Imagine is poised to be the biggest faith-based hit since 2014's Heaven is for Real. It's also the highest grossing film ever for Roadside Attractions, surpassing the $47 million earned by Manchester by the Sea.
I Can Only Imagine's success may have come at the expense of two other faith-based flicks. Paul, Apostle Of Christ could only muster $3.7 million on Easter Weekend to bring its overall total to $11 million after two weeks. Meanwhile, another new release this weekend, God's Not Dead 3, finished outside the top ten with only $3 million.

Pacific Rim: Uprising took a 66 percent tumble in its second weekend. With $9.5 million, it now sits at $46 million after two weeks. Not to worry, though; it's already earned $122 million overseas before this weekend's receipts have come in. Tomb Raider, in at number 7 this weekend, has also greatly benefited from the overseas box office. While it's only managed $51 million after 3 weeks stateside, it has earned another $169 million overseas, meaning that around 80 percent of its gross comes from international markets.
Sherlock Gnomes took sixth place this weekend, hanging on decently now that Peter Rabbit has fallen outside of the top 10. The animated flick has now earned $23 million on a $59 million budget. It's still rolling out worldwide.
The splendid Love, Simon quietly continues to perform well. With another $5.2 million, it's earned $32 million after three weeks, nearly double its $17 million budget. Finally, with $5 million, A Wrinkle In Time has now earned $83 million. Overseas, it's not performing particularly well, either, underperforming in both France and England, so far.
Next week sees the release of four new films. Blockers — the John Cena butt-chugging film and one of the funniest studio films I've seen in years — will be competing against John Krasinki's A Quiet Place, one of the best horror thrillers I have seen in a long time. They will be taking on two films opening in half the number of theaters, Chappaquiddick and another faith-based film, The Miracle Season.
(Via Deadline, Box Office Mojo)