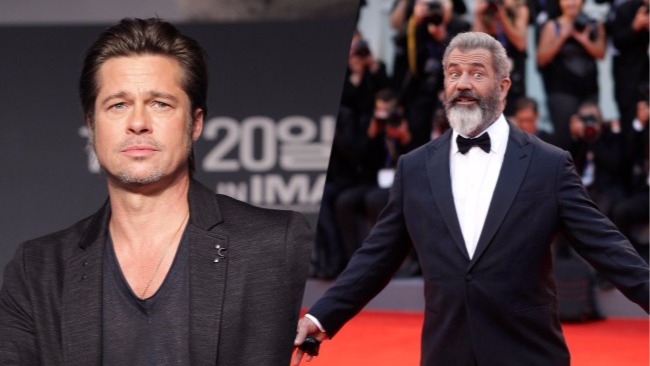 In case you were wondering, Brad Pitt is not a fan of Mel Gibson's violent religious drama, The Passion of the Christ.
The actor sat down with Man Booker award-winning author Marlon James to talk about his upcoming projects — a military satire and a spy thriller, both based on true events — and to muse about nothings for a few hours with a complete stranger. There's much to be learned from the New York Times article. Apparently, Pitt is an unfeeling plant murderer, a fan of fedoras and one of the friendliest celebrities on the planet (what other A-lister would wait curbside with a reporter until their Uber arrived?).
But it's the actor's thoughts on a couple of controversial men, one in Hollywood and one now in politics, that prove to be the most interesting.
Pitt, who owns his own production company, shared that he'd be interested in making a movie about Pontius Pilate that focused less on Jesus and more on the amusing struggle of a Roman official "stuck in the middle of nowhere with difficult people he doesn't like." Put that way, it sounds more like a comedy than a religious epic.
Pitt goes on to say that the film definitely wouldn't be for the "Passion crowd" which prompts James to quip that Gibson's controversial film is what ultimately drove him out of the church. It sounds like Pitt wasn't a fan either.
"I felt like I was just watching an L. Ron Hubbard propaganda film," the actor tells James.
Fair enough. Gibson's career-defining film divided audiences when it was released, not just because of the gratuitous amounts of violence and torture but also thanks to allegations of antisemitism — allegations the director's behavior away from the camera helped fuel.
Though Pitt didn't enjoy Gibson's Jesus film, that doesn't mean he isn't a fan of the actor turned director's work. Apparently, Gibson's 2006 drama Apocalypto really does it for him.
Before talk of Gibson though, Pitt and James chatted about, what else, Donald Trump. Safe to say, Pitt won't be voting for the reality star come November.
"Coming from Oklahoma, southern Missouri, which leans more toward a Trump voice, I try to understand it," Pitt says about the racist, sexist, alt-right movement that has rallied behind the presidential candidate. "A Trump supporter is fighting against just about everything. What does he even mean, take our country back? Would someone please explain that to me? Where'd it go?"
Brad Pitt, just a normal guy with insanely good looks, a movie star wife and millions of dollars, here to say what we're all thinking.
(Via Indiewire)