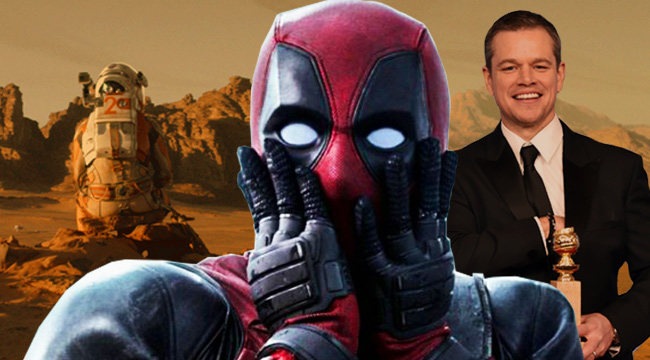 Neither Deadpool nor star Ryan Reynolds are likely to take home the trophy for their respective Golden Globe nominations on Sunday. Yet the fact that the second highest-grossing R-rated movie of all time, let alone a comic book adaptation, scored two nominations says a lot about the Hollywood Foreign Press Association's current take on comedy. After all, the Best Motion Picture — Musical or Comedy and Best Performance by an Actor in a Motion Picture — Musical or Comedy categories are the same ones that last year awarded top honors to The Martian and its lead, Matt Damon. As Spy and Ghostbusters director Paul Feig argued at the time, "A comedy's a film whose #1 goal is to make people laugh. If that wasn't the filmmakers' top goal, it's not a comedy."
Both The Martian and Damon's performance in it are quite good, but it hardly fits that definition. It's a dramatic, science fiction film with elements of adventure, suspense, and humor. But unlike fellow nominees Trainwreck, Spy and The Big Short, The Martian isn't primarily designed to prompt laughs. Hence why the HFPA amended its categorical definition for comedy with an added sentence to distinguish it from drama: "Thus, for example, dramas with comedic overtones should be entered as dramas."
Judging by the current Best Motion Picture — Musical or Comedy nominees, it seems the HFPA has put its own rule changes into practice. La La Land and Sing Street scratch the dual category's musical itch, but 20th Century Women, Florence Foster Jenkins and Deadpool all fit the bill for not being "dramas with comedic overtones," for the most part. While Deadpool's occasional dramatic touches pale in comparison to its comedic quips and action beats, Women and Jenkins balance moments of comedy and drama evenly, which is far more of a balance that what The Martian did before them.
Even so, Jenkins and Women are films whose approach to comedy is closer to The Big Short. Their serious subject matter practically oozes drama, but the filmmakers opted for a more humorous approach. The Big Short addressed the housing market collapse of 2008, which isn't really a funny topic at all. Yet Adam McKay decided to write and direct a movie about it that included Ryan Gosling's occasional fourth wall breaks and The Wolf of Wall Street's Margot Robbie explaining advanced economics while sitting in a bubble bath, drinking champagne.
20th Century Women director Mike Mills adopts a comedic leaning approach for a film inspired by his own memories of growing up in '70s California and the women who shaped his life. Deadpool, on the other hand, follows the murderous exploits of its titular comic book anti-hero while he seeks revenge and saves the girl. Like Spy and Trainwreck before it, Deadpool contains decidedly less drama than comedy. After all, readers familiar with the Deadpool comics (and the character's appearances in other story lines) know all too well just how serious Wade Wilson is not.
Which is why Deadpool fans and comedy buffs hopeful for one or two possible Golden Globe wins shouldn't bet any money on it. For starters, the musical La La Land is far more likely to take home the trophy — both because of critics' high praise, and the somewhat unfair advantage it possesses over comedy. (Despite the HFPA's updated eligibility requirements, musicals can brandish more drama than humor and drama traditionally does better when it comes to awards.) Even if the category nixed "Musical" from its title, Women and Jenkins employ more of the emotional heart-tugging that awarding bodies tend to favor. Popular comedies like The Hangover have won before, but when it comes to the Golden Globes, films like Almost Famous and Mrs. Doubtfire are far more likely to succeed.