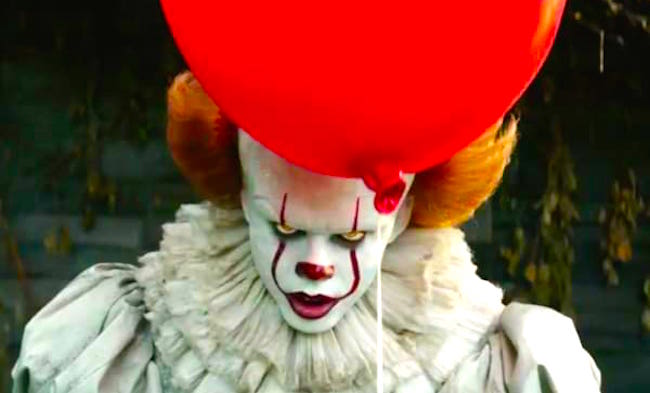 2017's It became the highest domestic grossing horror movie of all time, out-earning even The Exorcist in the U.S. and setting high expectations for the second half of the story, It: Chapter Two. Those expectations were perhaps raised even further by the news that the sequel will attempt to recreate an especially strange scene from the book, and another scene reportedly has more fake blood in it than any horror movie ever.
We won't have to wait much longer to get a sense for just how creepy the sequel will be. (As creepy as Bill Skarsgård was on set between takes?) Pennywise will be giving us the ol' razzle dazzle this Thursday at noon, presumably Eastern Standard Time, according to Stephen King:
King says he's seen the movie, "and it's terrific," which jibes with the early reactions that dubbed it "scary as hell" and "creepier than ever."
And King wasn't the only one promoting the trailer. The adult members of the Losers Club are being haunted by foreboding red balloons on their own social media accounts. Here are some of the photos posted by the cast, starting with the obvious choice to play Beverly Marsh as an adult, Jessica Chastain:
James McAvoy (Bill Denbrough)
Isaiah Mustafa (Mike Hanlon)
Andy Bean (Stan Uris)
James Ransone (Eddie Kaspbrak)
Jay Ryan (Ben Hanscom)
We're all #NoFilter down here.
(Via SyFy)