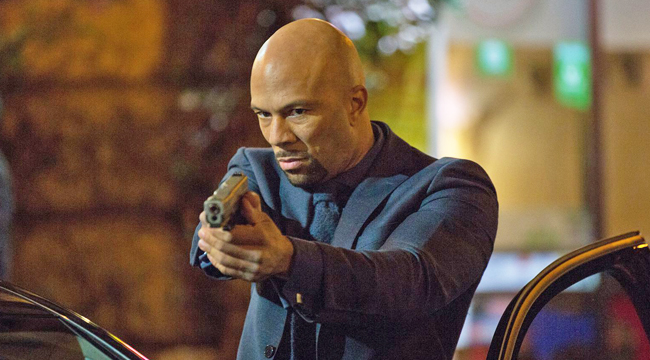 Despite the fact that production for John Wick 3: Parabellum has revealed Keanu Reeves charging through Manhattan on a horse, intrigue still swirls around where the threequel will take the antihero. We know that the story picks up immediately after the second film's ending, which involved Wick and his new doggie on the run after an "Excommunicado" order was issued. And Lionsgate has also revealed that much of the animal kingdom will somehow be involved while Wick attempts to evade an entire city seemingly full of assassins. Halle Berry will be on hand, also, but one character from the second film won't be returning, and that's a surprise, considering that he was a formidable foe.
Cassian, the bodyguard played by Common, won't be on board this time. The character was one of the only antagonists to come face-to-face with Wick in the second installment (which, let's face it, could have been called John Wick: Spring Break At The Vatican, but that opportunity was lost) and maybe survive the bloodbath, so the omission is a curious one. Still, the Grammy-award-winning rapper broke the bad news to ComingSoon when the outlet inquired about rumors of his return:
"I'm not in the third part, but I could say that I really loved being a part of John Wick 2 and it was an amazing experience. Working with Keanu and Chad [Stahelski, director], they're just phenomenal. Challenged and really passionate about the stuff, and I can say that three is going to be incredible, though, I'll tell you that much … I know it's going to be great."
Previously, Common admitted that the fight scenes between himself and Reeves were rough stuff, especially the subway encounter. "He kept blocking my hits with those really strong forearms," he revealed to USA Today. "I felt the pain, but I had to keep doing it." Common also revealed that Reeves would endure entire days full of shooting fight scenes, and he just kept going. So there you have it, folks. We must cope with the reality that Common won't be in John Wick 3, but we now know that Reeves is a cyborg. That would explain the non-aging thing, right? Spread the word.
(Via Coming Soon & USA Today)