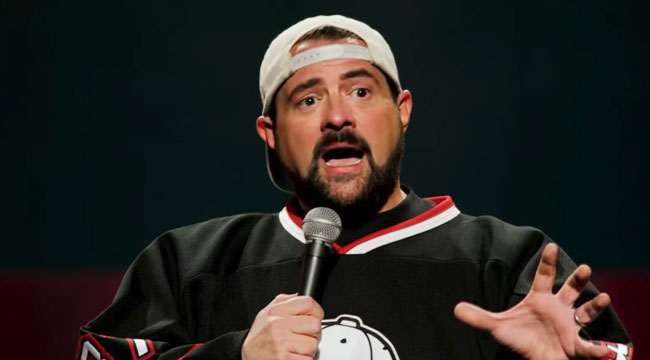 Earlier this year, director Kevin Smith suffered a "massive heart attack" that nearly killed him. "The Doctor who saved my life told me I had 100% blockage of my LAD artery (aka 'the Widow-Maker')," he tweeted at the time. "If I hadn't canceled show 2 to go to the hospital, I would've died tonight. But for now, I'm still above ground!" (He later added that his two biggest fears in life are dying and "people seeing my dick.") Smith has since recovered (thanks to a well-timed joint) and he's back at work, teasing "the biggest budgeted anything I've ever done." But he also took some time to reflect on his dramatic weight loss.
"Wide World of Jorts, Then and Now. Years ago, a paparazzo snapped the infamous shot on the left of me wearing my giant jorts at my all-time heaviest," Smith wrote on Instagram. "The photo on the right was taken at the same gas station today. I'm very near the goal weight I was told to shoot for after the heart attack." He then thanked Weight Watchers and Penn Jillette, who went through his own weight-loss transformation. Smith was inspired by the magician's book, Presto!: How I Made Over 100 Pounds Disappear, to help shed the weight.
(You can see the before-and-after photo here.)
Smith's old jorts are presumably in the lobby of a Planet Hollywood somewhere, or maybe being used as a tarp during baseball rain delays.
(Via Instagram)