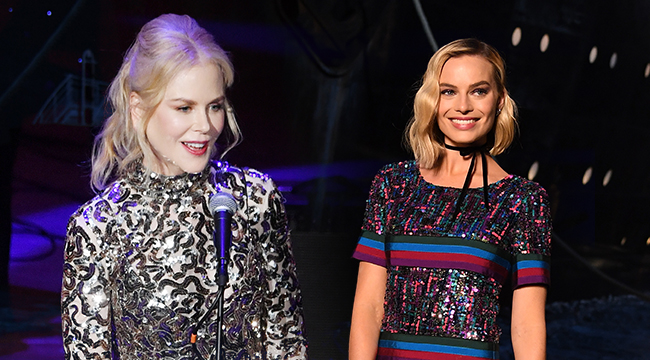 The late Roger Ailes, the infamous founder of Fox News, where he served as chairman and CEO until the many sexual harassment scandals against him ultimately forced his resignation, is quite the popular subject these days. Actor Russell Crowe will play the media mogul in an upcoming Showtime series, while Charlize Theron is poised to play his former pupil, Megyn Kelly, in a separate movie. If that weren't enough, two more significant additions were made to the latter project on Wednesday.
According to Variety, Nicole Kidman is in talks to play Gretchen Carlson, the ex-Fox News host who was one of the first women to publicly fight back against Ailes and the significant machinery that protected him and his mostly male allies. Meanwhile, fellow Australian actress Margot Robbie is in talks to play an unspecified associate producer at the conservative media outlet, according to The Hollywood Reporter. Per Variety's write-up:
The film will tell the story of the ensemble of women who took on the toxic male culture of Fox News and helped depose its chief architect. Carlson played a key role in this story as she was the first female to file a sexual harassment against Ailes after she was fired.
Jay Roach (Trumbo, The Campaign) is directing the Annapurna Pictures production, which was written by Charles Randolph (The Big Short). Meanwhile, the studio is also currently hard at work on its upcoming Dick Cheney biopic, which stars Christian Bale and Sam Rockwell as Cheney and President George W. Bush, respectively, and is being directed by Adam McKay and produced by Will Ferrell. So yeah, things are getting pretty surreal in Hollywood.
(Via Variety and The Hollywood Reporter)