Before we touch upon the individual movies this week, we should note at the halfway point of 2018 — as Deadline does — that the business of Hollywood is making movies, and business is good. Though box-office grosses increasingly seem to center around a smaller number of titles (usually of the Disney variety), those titles have propelled the 2017 box office to $2.5 billion since the April 27th release of Avengers: Infinity War, 30 percent over the same period last year. Year-to-date, thanks also to Black Panther's massive success, the box-office is up by at least 10 percent over every other year in the last five years. In fact, it's 17 percent over 2014 and 16 percent over 2013. Granted, over 36 percent of this year's box-office comes from 8 Disney titles, including 3 holdovers from 2018. Unlike previous years, there haven't been a lot of box-office bombs in the early summer, either. Solo is the closest thing to that, and it has earned $207 million, which is well below expectations but a tidy gross in the grand sum of things, nonetheless.
Universal is fourth on that list of top studios in 2018, with nearly 10 percent of the year's grosses, and much of that comes from one film, Jurassic World: Fallen Kingdom, the weekend's top film. It dropped nearly 60 percent but it's still on track to earn $60 million over the three day period and $265 million over its first 10 days. That's well off the pace of Jurassic World, but Universal has nothing to cry about, as Fallen Kingdom should cross the $1 billion mark worldwide this weekend, even if it ultimately taps out at $375 million or so stateside.
The news is even better for Incredibles 2, which earned $45 million in its third weekend, ending the weekend with nearly $440 million. That places it as the second highest grossing animated film ever after only 17 days, and it should have no problem sailing past Finding Dory ($486 million) for the number one spot on that list. (In fact, Incredibles 2 will likely end its run with around $550 million.) Incredibles 2 is now the third biggest movie of the year, making the top three all Disney titles.

Among newcomers, Sicario: Day of the Soldado debuted at number three with around $19.4 million. Even without the first film's star, Emily Blunt, Soldado is overperforming, besting the $12 million opening of the original as the year of Josh Brolin continues. If there's bad news for Soldado, however, it's that the reviews haven't been as kind from either critics (64 percent on Rotten Tomatoes compared to the 93 percent of the original) or audiences (it received a middling B Cinemascore, down from the A of the original). That does not bode well for word of mouth, and with the cost of Soldado up over the original, the break-even point will be harder to come by.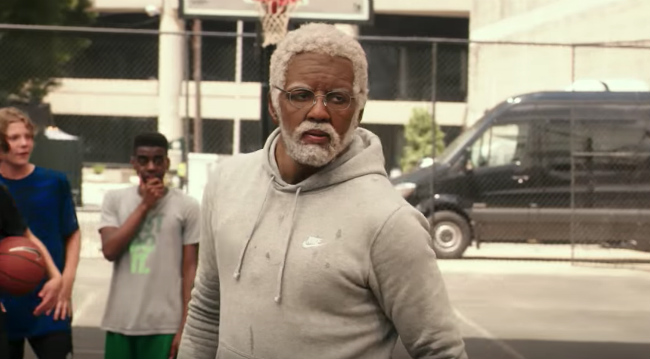 Uncle Drew, in at number four, is also overperforming this weekend with $15.5 million. The film — which stars Kyrie Irving, Lil Rel Howery, Shaquille O'Neal, Chris Webber, Reggie Miller, Nate Robinson, Lisa Leslie, Erica Ash, Tiffany Haddish and Nick Kroll — scored fairly well with Rotten Tomatoes (66 percent) and received a solid A from Cinemascore. Drew, released through the Summit Entertainment and with a budget in the teens, is well on its way toward eking out a profit.
There was one more new entry in the top ten this week. The Bollywood flick Sanju entered at number nine with $2.48 million, after opening in nearly 350 theaters, the widest opening ever for a Bollywood film. The film is about Indian actor Sanjay Dutt, who fell on hard times and served a prison sentence over speculation that he was tied to the Mumbai bombings.

Everything else this weekend fell into the holdover category. Ocean's 8 has now earned $114 million after putting up $8.1 million in its fourth weekend. With that, it's nearly matched the $117 million gross of Ocean Thirteen and should best the $125 million gross of Ocean's 12 (the $183 million of Ocean's 11 is out of reach). With $5.1 million, Tag crossed the $40 million mark. Like a lot of comedies this year, Tag didn't open big but it's managed to quietly play well as an alternative to the tentpoles.
In its seventh week, Deadpool 2 is up to $310 million (good for fourth highest grossing movie of the year) after a $3.1 million weekend. With $2.55 million, Solo has now earned $207 million, which is still less than the $220 million The Last Jedi earned in its opening weekend.
Won't You Be My Neighbor? and Hereditary grab places 10 and 11 with $2.2 million and $2.1 million, respectively, as well as $7.4 million and $39 million, overall. Won't You Be My Neighbor inches ever closer to the $11.52 million of RBG . To put that in context, Super Size Me — a giant hit, as far as documentaries are concerned — earned $11.5 million.
Next weekend should bring Jurassic World and Incredibles 2 some competition with Ant Man and the Wasp, which is expected to take over the top spot with around $75 million. The First Purge, a prequel to The Purge series, opens on Wednesday and should fetch $30-$35 million over 5 days.
Source: Deadline, Box Office Mojo