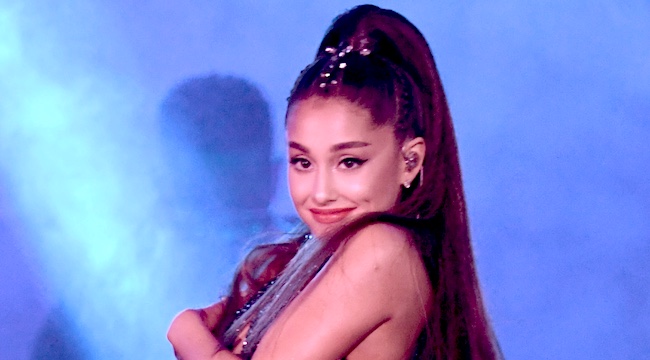 Ariana Grande is in the midst of the most successful stretch of her career that began with the monster hit "Thank U, Next." Now the full Thank U, Next album is out, and the recent single from it, "7 Rings," is also tearing up the charts: It's currently in the top spot of the Billboard Hot 100. Believe it or not, that has actually become an issue for her fans, and now they're doing something about it with the #Boycott7Rings movement.
This isn't what it might seem like, though. The problem that Grande's fans face is this: Grande just released the new single "Break Up With Your Boyfriend, I'm Bored," and they want to see it make its chart debut in the No. 1 spot. However, it can't do that if "7 Rings" is still up there, so now fans are determined to get people to stop listening to "7 Rings" and reallocate those streams to "Break Up With Your Boyfriend, I'm Bored."
Grande caught wind of the movement, and she seems amused by it. She wrote in one tweet, "y'all are so insane and funny and i love u. nothings funnier than 'boycott seven rings'….. i can't lmao. whatever's meant to be will be, babies. i ain't goin nowhere." She added in another, "this is a wild time for us lmao. do ur thing but also like how is this our problem rn …… what the f*ck." When one fan asked her to tweet out the hashtag herself, she responded, "r u ok."
"7 Rings" has faced some genuine criticism, however, as the song and its video have been accused of cultural appropriation.
Check out Grande's tweets about #Boycott7Rings below.