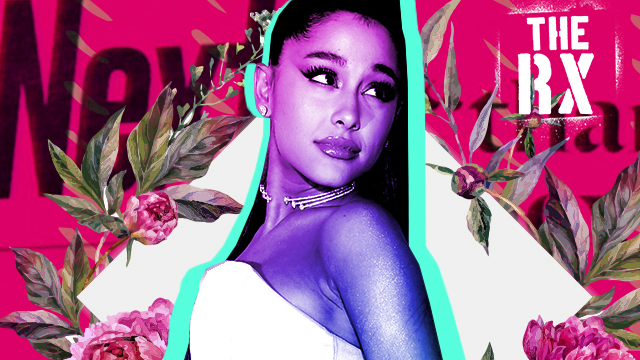 The RX is Uproxx Music's stamp of approval for the best albums, songs, and music stories throughout the year. Inclusion in this category is the highest distinction we can bestow, and signals the most important music being released throughout the year. The RX is the music you need, right now..
If I'm hurt, I ain't gon' lie about it / Arms crossed with the attitude, lips pouted — Ariana Grande, "Fake Smile"
Have you tried listening to "No Tears Left To Cry" recently? Though it only came out about a year ago, the song sounds like it could be decades old, especially in comparison with the new music that Ariana has been releasing since she dropped her glossy, satisfied fourth album, Sweetener, this summer, the album's happiness itself standing in defiance to the terror attack she and her fans endured in Manchester in 2017. Even Grande humorously commented on the song's place in her discography on Twitter last fall: "remember when i was like hey i have no tears left to cry and the universe was like HAAAAAAAAA bitch u thought."
By the time that tweet surfaced, Grande had just confirmed that a whole new album would be following up her late 2018 smash single, "Thank U, Next," a tempest-teacup pop song reacting to the dissolution of her engagement with Pete Davidson, and the tragic death of her longtime ex-boyfriend, Mac Miller. Instead of pain or pettiness, the song resounded with self-love, and, compassion — an element that's been all but nonexistent in popular music, or elsewhere, in American culture of late.
Mixed in with her graciousness toward others was a fixation on helping and healing herself that stood out plainly, by making herself the center — instead of the men involved — Ari was sparking a quiet revolution. Pop music is one of the few places where women are able to express themselves freely, on their own terms and in their own language, and Grande has taken that element of naked, selfish, preening self-expression to its magnificent peak on the subsequent album, Thank U, Next, out last Friday.
Though Thank U, Next and Sweetener are roughly the same length (41 and 47 minutes respectively), Grande fit several years worth of emotions succinctly on three tracks less than her 2018 album did. Though Thank U, Next and Sweetener are roughly the same length (41 and 47 minutes respectively), Grande succinctly fit several years worth of emotion into three tracks less than her 2018 album contained.
According to outlets like Rolling Stone and NPR, who spoke personally with Grande's collaborators, the emphasis on female cohorts for this latest album is both groundbreaking and historic. "Nine of the album's 12 songs have two or more female writers, which is a first on a Grande project," notes RS, and singer-songwriter (and Mac Miller signee) Njomza describes to NPR a short and passionately creative process that was "a lot of really amazing, boss, female energy."
This feels apparent both in the album's blunt, fizzy unconventional song structures and the framing of the subject matter; a perfect boyfriend orders the sleepy drunk girl Thai food on "Imagine," an excellent sexual partner without the chops to fulfill needs in an actual relationship isn't joining the family tree on "Bloodline," and "Fake Smile" remakes just about every girl you've seen soldier through heartache with her hair up and nails did into a superhero. "If I'm mad, I ain't gon' lie about it / Neck roll with the attitude," Grande half-raps toward the end of the track, breaking the fourth wall of womanhood — aka one small step for womankind.
These aren't just feminine songs written by a superstar team of female collaborators, they're reflective of the experience of a young woman in a way that is all but unparalleled — not just in this decade, but, arguably in the context of pop music as a genre. Even Ari's own emphasis on female collaborators was a new element for this record, and the specter of the male pop svengali looms over plenty (if not most) female popstars. And while that doesn't make them the best songs of Ariana's career, or even of the genre, it certainly makes the most interesting, visceral, and accessible in a way that's immediately arresting — and that feels brand new.
"Though I wish that he was here instead, don't want that living in your head," she sings on "Ghostin'," putting words to an impossibly complicated, all-too-familiar relationship scenario that further illustrates how raw and vulnerable Grande allows herself to get on this album. She's fearless, even knowing her fans and the media will draw lines between these gut-wrenching lyrics and her real-life experience.
Even sharper and busted is the searing "In My Head," one of the few songs here that trends toward bitter, as Grande delivers the most stunning vocal performance of her life to lament how her perfect love story was a personal invention. Especially in contrast to the real-life details of a different fairytale on "Imagine," the disparity between these two songs, in particular, allows fans to experience the scope of Grande's pain.
[protected-iframe id="40cbaf2f0f3b83f2beae93651aa2a396-60970621-76566046″ info="https://open.spotify.com/embed/track/4T652DlATVHe0jdLKaN3Bw" width="650″ height="380″ frameborder="0″]
Whether the scenarios were real or imagined, these songs will direct a whole generation of young women as they navigate their own invented happy endings and concrete losses. Songs aside, the knowledge that Ariana has been through this, and lived to create some of the most compelling music of her career to date, is a rebuff to the depression and worthlessness that failed relationships (often with men) have a habit of instilling in young women. For the lead single to erupt in carefree, blissful commentary on the end of a relationship reframes the power dynamic in a way that, for teenage girls especially, is still revolutionary; it isn't his attention that gives you value, it's yours… toward yourself. (Let me walk back that teenage descriptor above, plenty of grown women in their 30s, 40s, and 50s need to pay attention to that sentiment, too.)
More than anything, Thank U, Next is a monument to the self-sufficient, self-satisfied woman — the independent baller who drops millions (for the rest of us, this can be emotional equivalent) on the friends who hold her up like on "7 Rings," the "Needy" bitch who twists this former judgment into a strength, acknowledging she knows how to make a partner feel wanted, valued, and cherished. The ethos of this album is built on real-life relationship skills, like requesting space when you need it ("NASA"), and knowing it won't change a thing about the love shared between two people if you fight and f*ck your way through it ("Make Up"). And even if tracks like "Bad Idea" and "Break Up With Your Girlfriend, I'm Bored" indulge in less mature aspects of love, sex, and the whole damn thing, well hell, to love is human, it's forgiveness that's divine. Here, God isn't just a woman — she's a single one. All bets are off.
Thank U, Next is out now via Republic Records. Get it here.