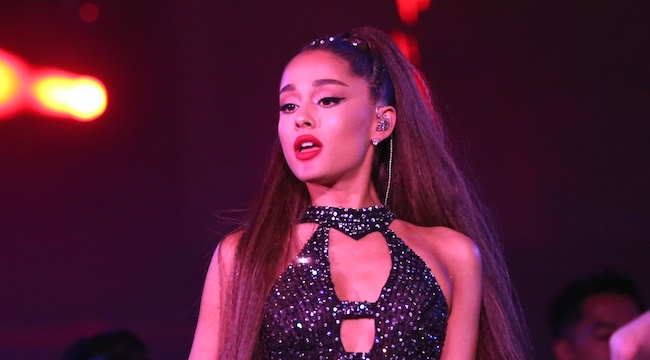 Over the weekend, Kanye West decided to once again deactivate his social media accounts. Maybe it was because he wants to focus on work as he finishes up his delayed Yandhi album, or maybe because, in light of his string of hot takes from over the past few months and the resulting backlash, the internet isn't the most positive place to be if you're Kanye. A lot of fellow musicians and celebrities have distanced themselves from Kanye, and now Ariana Grande has taken a jab at him as well.
On this weekend's episode of Saturday Night Live, Grande's boyfriend quickly turned fiancé, Pete Davidson took some time to talk about Kanye, and mocked him by wearing a "Make America Great Again"-style red hat that instead read, "Make Kanye 2006 Again." Grande also chimed in over the weekend with a subtle and sly response, posting a Boomerang video on her Instagram story of Davidson on SNL, and captioning it, "I love you like Kanye loves Kanye," of course a reference to West's The Life Of Pablo track "I Love Kanye."
This shade comes shortly after Kanye hosted the SNL season premiere just a couple weeks ago, which included a poorly received pro-Trump speech.