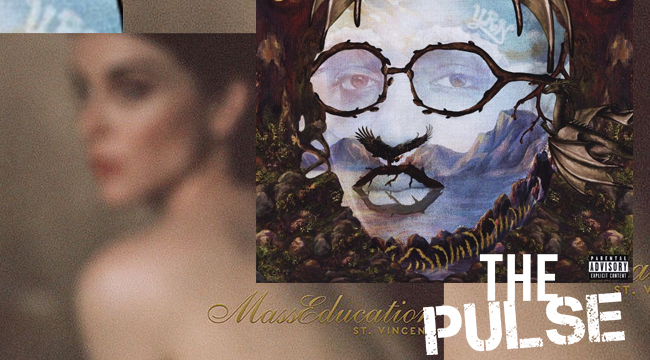 The Pulse is the Uproxx Music guide to the best new albums, mixtapes, and other music releases that matter this week. Find our complete list of the records coming out in October here.
Kurt Vile and Courtney Barnett's Lotta Sea Lice was fantastic in its own right, but it also distracted from the fact that neither artist had put out a proper solo album in a minute. This year, Barnett previously put out her first solo album since 2015, and now Vile is doing the same thing with Bottle It In, his follow-up to 2015's B'lieve I'm Goin Down…. Inversely, St. Vincent is back with her second album in the last twelve months, thanks to MassEducation, an alternate redux version of Masseduction.
Meanwhile, there are also a bunch of up-and-comers trying to prove themselves with enticing records, including Ella Mai, Young Jesus, Anna St. Louis, and Yowler. Quavo could sort of be counted among that group as well: Even though he's already a superstar with Migos, he's going out on his own this week with his first solo record.
Kurt Vile — Bottle It In
Vile put out a collaborative album with Courtney Barnett last year, but it's been three years since a proper solo album from him. It's led by some impressive tracks, like the chill near-ten-minute "Backasswards" and the classic midtempo Vile of "One Trick Ponies."
Read our interview with Vile here.
St. Vincent — MassEducation
St. Vincent's Masseduction was filled with a variety of different sounds, but she stripped them all down to their core elements on this new version of the record. It features lovely piano renditions of the songs you know, like the delightfully minimal and evocative "Savior."
Quavo — Quavo Huncho
Quavo himself has appeared on a handful of big-time singles, proving that he's more than capable of stepping outside of Migos and thriving. That's just what he's doing on Quavo Huncho, his debut solo album.
Elvis Costello & The Impostors — Look Now
Costello had to cancel an upcoming tour due to health issues, but the good news is that he's doing alright now, and he has a new album out. It's also his first new record since his 2013 collaboration with The Roots, Wise Up Ghost, and his first album with The Imposters since 2008's Momofuku.
Ella Mai — Ella Mai
Mai's "Boo'd Up" was a sleeper hit, and now the singer is out to prove that she's more than a one-hit wonder. Aside from a handful of guest spots from John Legend and others, she's doing it on her own too, as the album isn't flooded with features (although there is a lot of production from label boss DJ Mustard).
Young Jesus — The Whole Thing Is Just There
Earlier this year, their debut album got the re-release treatment, and now they're back with their first new album for Saddle Creek. It's led by tracks like the grungy post-punk "Deterritory" and the dynamic "Saganism Vs. Buddhism," both of which are longer than your average song and prove that Young Jesus can find a groove and live in it.
Read our interview with Young Jesus here.
Anna St. Louis — If Only There Was A River
St. Louis boasts a warm vintage country sound that many attempt and few do well, which she demonstrates on the patient and soothing "Desert." If you need further endorsement, the album features production from Kevin Morby and King Tuff's Kyle Thomas.
Yowler — Black Dog In My Path
Yowler is a truly diverse and talented artist, which she demonstrated in the singles leading up to her new album. The record is led by a variety of sounds, including the post-rock-like "Where Is My Light," the grungy bass-driven WTFK, and the more folk-friendly "Angel."