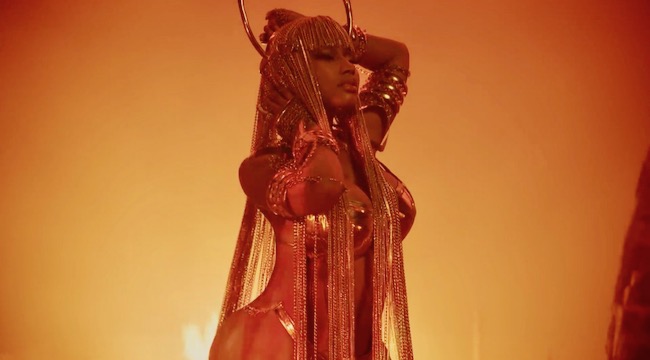 Sometimes the music is only half the story. Would Michael Jackson's immortal pop ballad "Thriller" have been the runaway success it was at the dawn of MTV if not for the extended video filled with zombies, werewolves, and Vincent Price? Probably not. Though MTV's clout has diminished significantly in subsequent decades, artists are still releasing videos at a stunning clip, sharing them on Youtube, Vevo, and pretty much every streaming service out there.
Videos not only offer another side of the person making the music, but also of the music itself, adding in context clues and visual cues that enrich the sonic material. They can also be fun, funny, weird, and shocking. Collected below are some of the most interesting and compelling videos released over the last week.
Nicki Minaj — "Ganja Burn"
The award for the most visually-arresting video this week goes to Nicki Minaj's "Ganja Burn." Directed by Mert Alas and Marcus Piggott, the clip opens with a title card detailing a tale of revenge, before segueing into a scene of Minaj dressed like an Egyptian queen, dancing in a red-hued desert. Not much really happens from a narrative point of view, but that's doesn't really matter. "Ganja Burn" is a vibe.
21 Pilots — "Levitate"
Love them or not, 21 Pilots are one of the biggest new rock groups in the world today. As befitting that status, the band has been rolling out a steady stream of big-budget videos lately in advance of their upcoming album. The latest is for the song "Levitate," and it's the third installment of what they're calling their Trench trilogy. It's all part of a very complicated narrative, which you don't really need to fully understand to enjoy this video, that finds Tyler Joseph and Josh Dun prepping for some kind of old-school war.
Tyler, The Creator — "See You Again"
Though Tyler, The Creator's most recent album Flower Boy came out over a year ago, he apparently isn't done rolling out new videos for songs from that record. His latest is a clip for "See You Again" that finds the Odd Future member in a new role as a crew member on an aircraft carrier out at sea, before transitioning near the end to a new scene where he dons a sheet to look like a ghost. It's all kind of weird, but such is the world of Tyler, The Creator.
Luke Combs — "She Got The Best Of Me"
Sometimes the most simple projects are the most effective. Luke Combs' video for "She Got The Best Of Me" doesn't take place in a wind-swept desert landscape or on an aircraft carrier. Instead, Combs gives viewers a look at his insane year, as he's risen from a hot up and comer to a real force in country music. It's filled with mundane shots of him eating cereal mixed with clips of him conquering massive crowds while onstage.
DRAM — "Best Hugs"
There are few people in this world who can match the sheer positivity of DRAM. If you need any proof, I'd offer his video for "Best Hugs" as exhibit A. Over the course of three-and-a-half minutes, DRAM crashes, what appears to be a swingers party set up in somewhere in suburbs populated by a gaggle of scantily clad middle-aged folks. Despite the inherent weirdness of it all, DRAM remains all smiles, giving out hugs to some of the party-goers.