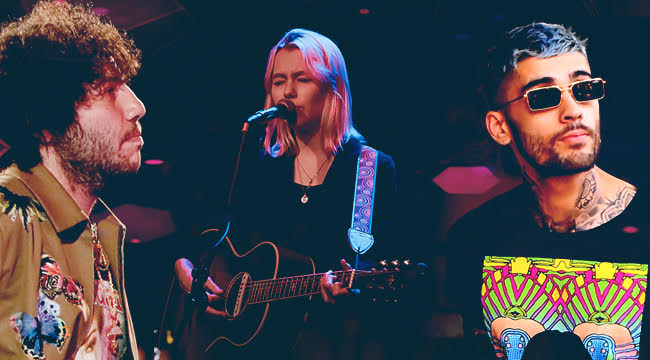 2018 is drawing to a close, but we've got some great new pop music to shake up your best of lists. Benny Blanco, the producer/songwriter/multi-instrumentalist behind some of the biggest pop songs this year, dropped an excellent first album. Zayn has a record coming next week, and released one last promo single, a heartbreaker of a ballad, to celebrate. Indie funk group Vulfpeck are back with another album of low volume grooves. But despite these big names, this week really belonged to indie up-and-comers. Some of the most exciting new artists in the genre released new tunes this week, building hype for albums that are sure to shake up 2019.
In the meantime, though, we've got all these singles to keep us warm. Every Monday, Uproxx will round out the very best pop releases from the week. Listen to Benny Blanco's "Eastside" again, and check out these emerging pop stars before they're everywhere next spring.
Astrid S, "Closer"
Norwegian singer-songwriter Astrid S has one of the sweetest voices in pop. Every word she sings is gentle and vulnerable, and "Closer" uses her voice to masterful effect. Astrid sings about infidelity and two people who can't stay away from each other, despite how wrong they are for each other. She's the other woman, but the song makes you empathize. The lyrics nail the thorny terrain of passion. You can't help who you fall for: "When every part of me is reaching for you / With no apology? / I know everybody hurts / But this space, it makes it worse."
"Closer" pairs a groovy, warm acoustic melody with danceable synths. You might not guess those sounds would mix well, but Astrid S makes brilliant music from dissonance.
Emmy Wildwood, "Everything Hurts"
Singer-songwriter Emmy Wildwood isn't afraid to let you know how much she's hurting. Wildwood sounds like a millennial Kate Bush — over some '80s synths and jangly guitar, Wildwood sings like a hurricane, like she could knock the walls down with her voice alone. "Everything Hurts" gives a voice to the (often silenced) struggle of feminine pain. It's a song that embraces brokenness — we find strength when others try and take it from us. "Broken hearts are so redeeming," Wildwood sings, as a chorus of chanting "ooh-aah"s join her in the background, wincing but fighting through the pain to make something beautiful.
Zayn, "Good Years"
"I close my eyes and see a crowd of a thousand tears," Zayn sings on "Good Years," breaking a million hearts. The pop singer, formerly one-fifth of One Direction, is rarely this raw in his music, so "Good Years" feels like a punch in the gut. It's a song about a fractured relationship — not a romantic one, necessarily, but with someone who understood you and saw you. Zayn sings about two people who let a fight get out of hand, who are suffering on their own but too stubborn to admit they're sorry. Zayn's solo music is often confident, sleek, and assured. "Good Years" is all of that musically, but lyrically it's a vulnerable peek behind the curtain, at a guy who's a little heartbroken but trying his best, just like the rest of us.
Benny Blanco, Feat. Ryan Beatty, "Break My Heart"
Before 2018, Benny Blanco was mostly known as a songwriter and producer. Though he wasn't a household name yet, Blanco was behind some of the biggest songs of the last decade, from "TiK ToK" and "Teenage Dream" to indie cuts from Lana Del Rey and Miguel. The songwriter-producer released a handful of singles with his own name attached this year. "Eastside," featuring Halsey and Khalid, is a radio smash, and "I Found You" pairs Blanco with another producer icon, Calvin Harris. Blanco's first album, Friends Keep Secrets, only has seven songs, half of which were released as singles prior to the record dropping. But "Break My Heart" is an excellent new track. Beatty, an openly gay R&B-pop singer who has worked with Brockhampton and Tyler, The Creator, provides gorgeous vocals for the track. Beatty's voice sounds equally lovely presented naturally in the first verse and autotuned in the second. It's a romantic, evocative song — a perfect ending note for the album, suggesting exciting things to come for both Blanco and Beatty.
Phoebe Bridgers, "Friday I'm In Love"
Phoebe Bridgers isn't really pop, at least in the way I usually define it for this column, but "Friday I'm In Love" is one of the greatest pop songs ever written. The Cure aren't really a pop band, either, but for one song they traded their morose new wave for a sunny melody about a love that breaks through all those clouds. Bridgers finds the gloom again for her Spotify Singles rendition of the song, stripping out all the cheery synths for a haunting piano. I can't decide whether her version of the song is depressive, or if it's as hopeful as it can be — if Bridgers is drowning in the weight of the bummer Wednesdays and Thursdays or pulling herself out in time for Friday and love. It's a gorgeous song either way, beguiling and lovely. I must have listened to it about a hundred times since it came out last Wednesday.
Ella Vos, "Ocean"
"Ocean" is beautifully contemplative. Singer-songwriter Ella Vos takes inspiration from the water, finding everything from solace to echoed pain within its depths. Vos sings that she is "gasping for air" as she is being pulled under the waves, and she could "drown in the silence" of this darkness. Vos' voice is gentle, soft even as she's singing about enduring great pain. Vos' new EP, coming early in 2019, was written in a time of massive upheaval for the young singer. In this apocalyptic political climate, Vos gave birth to a child and was diagnosed with cancer. You can hear Vos' personal catharsis in the breaking waves of the chorus — but you can also just let the song wash over you, and hear yourself within it.
Kelsy Karter, "Catch Me If You Can"
Kelsy Karter's punchy pop-rock sounds unlike anything — maybe a little Sky Ferreira, but with an Amy Winehouse edge, maybe a little Lana Del Rey languid but with Jagger swagger. Karter's voice is a powerhouse, and "Catch Me If You Can" is an infectious ride of a song. The New Zealand singer-songwriter reportedly wrote a song with Zayn for his upcoming album, and dreams of working with Harry Styles. Her soul and rock-tinged sound stretches the boundaries of pop into intriguing new places, channeling Bowie and Mercury as she nods to Lorde and Lana. Listen to "Catch Me If You Can" — and even though it didn't come out this week, check out the bombastic ballad "God Knows I've Tried" as well.
Vulfpeck, "Disco Ulysses (Instrumental)"
Joe Dart might be the greatest bass player I've ever heard. The man is an absolute beast live. As expected from a funk band made up of trained jazz musicians, Vulfpeck love to play and improvise. In their shows, the rest of the band will often step back to let Dart just rock it out. He goes so hard he soaks through his shirt and sweat drips onto the stage, and the other musicians will just step out and let him play by himself and keep time to the audience's clapping.
It's near impossible to capture that kind of magic on a recording, but Vulf found a way to do it on "Disco Ulysses." It's a showcase for Dart, and for Stratocaster wizard Cory Wong. The two sound like they're battling it out and Woody Goss is cheering them on from behind the keys. The energy is incredible, pure joy and catharsis like you usually can't catch from a pair of earbuds. I've been a Vulf fan for half a decade, and even though this song has only been out a weekend, I can confidently call it their biggest achievement as a band so far.