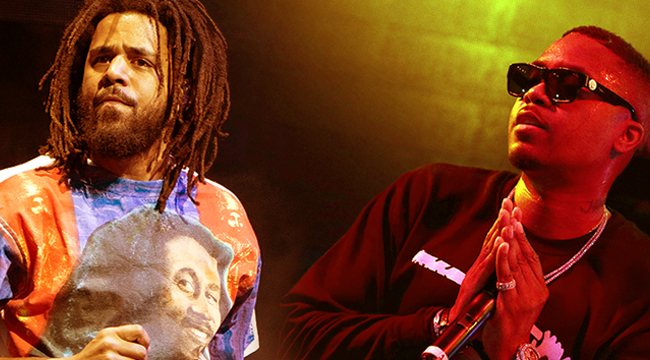 There were a wide variety of albums released in July. From highly-anticipated projects from box office names like Chance The Rapper, Nas, and Dreamville to compelling debuts from upstarts YBN Cordae, Rich Brian, and Maxo Kream, July surely delivered. Here are ten of the best albums released last month:
Chance The Rapper — The Big Day
Chance the Rapper's Big Day was a long time coming. The Chicago MC had his devoted fanbase eagerly anticipating the follow up to 2016's Coloring Book. While some of his fans aren't thrilled about the The Big Day, it's still a solid work that shows Chance exactly where one would expect him to be in 2019: In a positive space, longing to give thanks and have fun. Those looking for the despondence of Acid Rap won't find it here, as his gloom is replaced by joy that he extols on songs like "Found A Good One" and "Town On The Hill." He does get introspective on tracks like "Sun Come Down," where he tells his fans "please make my death about my life." That heavy request comes amid a slew of bangers with acts like Gucci Mane on "Big Fish," DaBaby and MadeinTYO on "Hot Shower" and Megan Thee Stallion on "Handsome." The hefty tracklist includes a little bit of everything, but it may have been an even stronger album if it was more streamlined.
Nas — The Lost Tapes 2
With his Lost Tapes series, which has more entries coming, Nas may inspire fellow veterans to stop releasing new music in favor of opening the vaults. Hopefully, though, their B-sides sound as good as Nas'. The 16-track project features songs that are over a decade old, which provides a compelling look at how the legendary lyricist has shifted his sonic approach through time. Though the classic gripes about Nas' beat selection apply to this album as well, it's just good to hear one of the best rappers of all time getting busy. Album standouts include "Tanasia," "No Bad Energy," and the long-overdue "Queensbridge Politics," in which Nas explores the constant drama in his native housing projects between foes who just happen to be hip-hop legends.
Dreamville — Revenge Of The Dreamers III
J. Cole and Dreamville finally dropped the results of their star-studded Revenge Of The Dreamers III sessions last month, and the project is every bit as dope as fans anticipated when they saw a who's who of rap descend upon Atlanta. The project runs the gamut of emotions and tons, from the rambunctious "Wells Fargo" featuring J.I.D and Earthgang to the delicate, pensive "Self Love" with Ari Lennox, Bas, and Baby Rose. J.Cole and J.I.D are arguably the stars of the album, appearing on seven and four tracks respectively. Dreamville has a reputation for jazzy, soulful music, but they clearly had fun creating the 18-track album, which boasts a bevy of trap production. The strong reception to Revenge Of The Dreamers III bodes well for future incarnations of the collaboration factory format that Dreamville cultivated.
Big KRIT — K.R.I.T. Iz Here
Big KRIT is ten years in the rap game and working at peak power. He decided to evoke his breakout project and affirm his with K.R.I.T. Is Here, his second independent album. He sets the tone for the album on the glorious "Take It Easy," where he surmises "sometimes when you standout ain't nowhere to belong." It's a grand mission statement for the newly independent artist, who radiates his dichotomous essence on K.R.I.T. Iz Here. The project is a cogent mesh of soulful tracks like "Prove It" with J. Cole and "Everytime," along with the speaker candy KRIT is known for such as "I Made It" with Yella Beezy and "Learned From Texas," where he pays homage to the Houston scene that helped birth him. But now the young OG is influencing the next generation with strong work like K.R.I.T. Iz Here.
YBN Cordae — The Lost Boy
There's rich irony in YBN Cordae — the moral compass of the Young Boss N—-s clique — calling his debut album The Lost Boy when it's one of the most focused, cohesive releases of the year. The Suitland, Maryland rhymer delivered a full-frontal expose of his promise over the course of the 15-track album. He got introspective on "Family Matters" and the rousing "We Gon Make It" with Meek Mill. He showcased his storytelling ability with Pusha T on "Nightmares Are Real." "RNP" is a flowfest with Anderson .Paak that proves he can make a fun, palatable single. It seems like only a matter of time before Cordae joins the conversation with artists like Kendrick Lamar and J. Cole, who are go-to examples of high-level lyricism in mainstream rap. The Lost Boy is a strong step in that direction.
Maxo Kream — Brandon Banks
Maxo Kream has steadily built his name as a new school answer to UGK and Scarface's brand of gritty, introspective rhymes from the heart of Texas. Last month, he delivered his opus with Brandon Banks, a deeply personal glimpse at a father-son relationship complicated by the streets, jail, and the chase for money. The album is named after his father Emekwanem Ogugua Biosah Sr's street name. Emekwanem Sr. is a heavy presence on the intense, ever-thumping project. His voice is heard admonishing Maxo for following his path to the streets, but then he's supporting Maxo's aspiration to break the cycle through rap. It sounds like Maxo made the right choice on Brandon Banks.
Westside Gunn — Fly God Is An Awesome God
Buffalo's Westside Gunn dropped his latest batch of luxurious drug raps on Fly God Is An Awesome God, an ode to the excess of the fast life. While Westside's Griselda partners Benny The Butcher and Conway make on hustling and goonery the respective bulk of their thematics, Westside is riding high with aspirational rhymes like, "I want me and my n—-s to have back-to-back yachts" on "Lunchin." The 12-track project is another strong offering from a Griselda crew that's been on fire this year.
Rich Brian — The Sailor
Rich Brian burst onto the scene as Rich Chigga, with a viral "Dat Stick" video that had him doomed to slip into the deluge of racially offensive meme minutia. But to his credit, he's shown that he has deeper layers to his artistry as a charter member of the 88Rising collective. At just 19, Brian is dropping thoughtful, lyrically dense rhymes that can be found throughout his The Sailor sophomore album. The "sailor" metaphor is fitting for Brian, as he treads away from his previous identity with every track like "Kids," "Yellow," and "Rapapapa" with RZA.
38 Spesh — A Bullet For Every Heathen
This year, 38 Spesh has dropped a whopping four projects, and a verse of the year contender on "Sunday School" from Benny The Butcher's The Plugs I Met project. He continues his banner year with a 10-pack of piff hilariously called A Bullet For Every Heathen. 38 Spesh collaborated with Big Ghost Ltd., who laced him with a strong suite of beats for his merciless, wordplay-packed bars.
Mr. Muthaf*ckin eXquire — Mr. Muthaf*ckin eXquire
Brooklyn's Mr. Muthaf*ckin eXquite is a true original in a rap game full of carbon copies claiming to be. It's fitting that his latest ambitious project is self-titled. One listen to the caustic "A Definite Maybe" (featuring Ratking's Wiki) or "Nosediive" should demonstrate that he's simply in a lane of his own. eXquire's character shines through on the 12-track project which features him twisting his considerable lyricism on romance, nihilistic nights, and hilarious imagery like "aim the draco eatin' tacos / take your breathe like tight clothes" on "Pink Champagne."
Some artists covered here are Warner Music artists. Uproxx is an independent subsidiary of Warner Music Group.