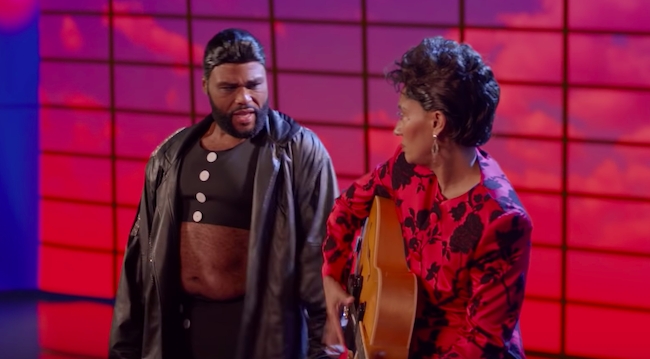 You wouldn't necessarily expect a Lil Uzi Vert reference to pop up in a sitcom episode honoring one of music's most prolific and inventive pioneers, but that's why Black-ish is just so good. Following a multi-generational Black family as they navigate suburban life and the way older Black folks relate to their kids, the show is great at recognizing those generational gaps and filling them in, often by juxtaposing the cultural knowledge of parents Dre and Rainbow Johnson with their younger kids, twins Jack and Diane.
That's how the 100th episode of Black-ish, which aired last night and featured licensed music from Prince's extensive catalogue — performed in part by the show's principal cast in costumes from The Purple One's videos and films — kicks off. The elder Johnsons, dancing in the kitchen to "Let's Go Crazy," are flabbergasted to find out that the twins have no knowledge or interest in the works of Prince. They sit them down on the couch and relate their specific instances of learning about and falling in love with the Minnesotan singer's progressive politics and brash confidence, which helped Dre and 'Bow fall in love, got Junior through his first sexual experience, inspired Zoey to stand up for herself, and more.
Zoey especially tries to help the twins see how Prince relates to the music they're already familiar with; without Prince there would be no Lil Uzi Vert. Prince challenged gender stereotypes and was unabashed in his pursuit of a fashion aesthetic that flew in the face of traditional masculinity, just as Uzi does today. The twins are still unimpressed, preferring to bump Lil Pump's "Gucci Gang" in their headphones, until each has their own experience with relating to the masterful multi-instrumentalist. In the end, the group sits down for a rendition of Sinead O'Connor's "Nothing Compares 2U," written by, of course, Prince.
Check out the musical performances from the episode below and watch the full episode on Hulu.