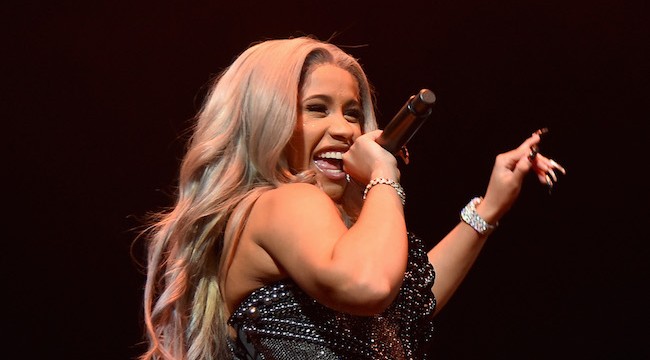 Earlier this week, an Internet hero unearthed footage of Cardi B covering Lady Gaga's "Bad Romance" during a high school talent show. And it's as amazing as you would think.
The teenage Cardi, dressed in a red blouse/slacks ensemble, performs the 2009 hit in its entirety, complete with choreography and a team of backup dancers.
As if that two-minute and 20-second clip isn't glorious enough on its own, Momma Monster herself replied to her Little Monster in the best way possible. "I LIVE!" she tweeted.
This is not the first time the pop stars have publicly shared love for each other. Gaga praised Cardi's debut album, Invasion of Privacy, echoing lyrics from "Get Up 10" in a recent tweet: "Fall down 9 times but I get up 10! @iamcardib SPEAK WOMAN."
The emcee also admitted she'd love to collaborate with the Joanne singer, if given the chance, during an interview with Billboard. "If I could ever collaborate with somebody I would love collaborating with one of my idols. Definitely gotta be Lady Gaga," she said. "I wanna let you know that I love you, bitch!"
During that interview, she also detailed her love of theater and talent show performances. "I went to high school for musical theater and technology. I used to do talent shows," she explained. "In my freshman year, I performed Madonna's 'Material Girl.' Junior year I did 'Love Game' and then senior year I did 'Bad Romance.'"
When's that collab happening, ladies?!