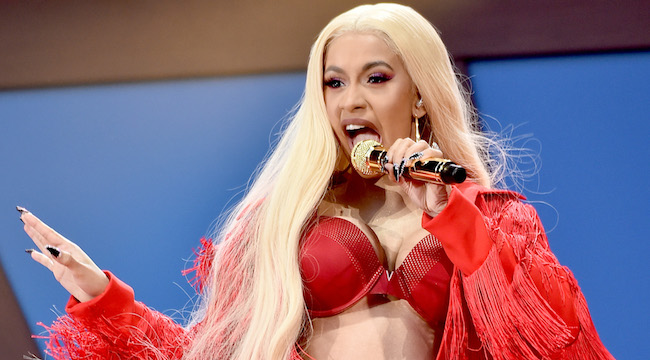 Cardi B may have exploded into the spotlight due to her rumble-ready trap rap tunes, but before that, she was well known for her fiery temper and altercations on popular reality series Love & Hip-Hop New York. It seems that old habits die hard because according to TMZ, the "I Like It" rapper turned herself in to the NYPD after allegedly ordering a spontaneous attack on two bartenders at Angels Strip Club in Queens, New York.
Apparently, Cardi has a longstanding feud with one of the two bartenders, Jade, stemming from the belief that Jade was stepping in on Cardi's marriage with Migos rapper Offset. As Migos were at the club performing, a source told TMZ that someone threw a drink, spurring Cardi to unleash her crew on Jade and sister Baddie Gi, which they allegedly did with bottles, chairs and a hookah. The bartenders suffered minor injuries but refused medical assistance.
Cardi will likely be charged with two misdemeanors for reckless endangerment and disorderly conduct, but will not be arrested. Instead, she will be issued a summons to appear. Of course, this isn't the first time the temperamental artist has let her feelings get the best of her; last month, she made headlines for attacking Nicki Minaj at a Fashion Week event, throwing her shoe at the rival rapper for allegedly using her industry clout to negatively affect Cardi's career.
Cardi B is a Warner Music artist. Uproxx is an independent subsidiary of Warner Music.