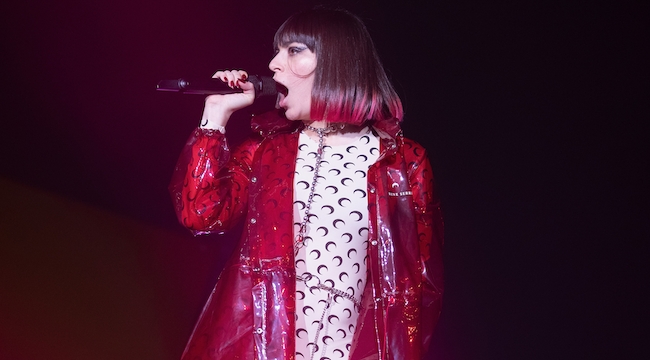 When her newly-announced third official album, Charli, comes out this fall, Charli XCX will have been making music for almost a decade. At just 26, the British pop visionary has been shadowboxing fame for nearly half her life. First, there was the Icona Pop hit "I Love It" in 2013, a lip-smacking, sweetly high-octane tune that any writer would be a fool to give away, but Charli did it anyway, appearing as a guest on the track instead of as the primary artist. Was it a fluke? Bad luck? It could happen to anyone, I suppose — except then it happened again on "Fancy" when she wrote a hook so huge and swaggering that it helped make Iggy Azalea famous back in 2014. And, in 2015, she did it once more, giving away "Same Old Love" to Selena Gomez, who rode its success to a No. 5 hit on the Billboard charts as an anchor for her own second album, Revival.
Meanwhile, the songs Charli kept for herself, on 2013's synthy True Romance and 2014's punk-pop, '90s-leaning Sucker never became hits, with the exception of "Boom Clap," her first top ten Billboard smash, which was buoyed by its inclusion in that summer's teen romance flick, The Fault In Our Stars. Now with two full-length albums and one minor hit of her own to show for it Charli's status as a pop star was in a strange place. Clearly, she could write a hit, and clearly, she had a devoted fanbase, but these factors weren't translating into successful albums. Was it self-sabotage? Insecurity? Just bad luck? In 2016 she released a short EP, Vroom Vroom, that barely piqued any interest, another mixtape made with PC Music collective members Sophie and A. G. Cook in early 2017, Number 1 Angel, didn't receive the attention it deserved.
Then, at the tail end of 2017, just after all the year-end lists, recaps and final words on the year in music had finished rolling out, Charli XCX did the unexpected — she dropped another mixtape. Released on December 15 — and recorded in a flurry just a few months before with producer and collaborator A.G. Cook of PC Music — this mixtape managed to skip the normal hype and release cycles of an album drop, and totally reset Charli's career. Pop 2 had staying power, beyond the release she'd shared earlier in the year, Number 1 Angel, beyond her earlier two official album releases, and far beyond 2017's year-end lists, still picking up acclaim from critics a whole year after it dropped.
The songs were linear and almost unfinished, drawing in a host of collaborators but keeping Charli at the center, as the primary artist, not as a feature on her own songs. Forward-thinking and out-of-nowhere, this was off-kilter, cupcake-sweet pop that was also sharp as a razor, and drew from the corners of pop that other stars might've ignored: Caroline Polachek, Carly Rae Jepsen, Tove Lo and Kim Petras all appeared, along with other more regular Charli collaborators like Brooke Candy and MØ. the release confirmed what long-time fans suspected Charli had always had in her. Still, the tape was critically acclaimed but not necessarily a mainstream success — it was passed around like a secret, and never got the full attention that a label-sanctioned official album (that wasn't released a few days before Christmas) would receive.
Pop 2 did change Charli's perspective on her own career though. It helped her earn a spot opening up Taylor Swift's massive Reputation stadium tour, and forced her to rethink the strategy of a pop star in the late 2010s: "…with the album, I don't really know when I'm gonna put it out. Or even if I'm gonna put out an album," she told Vulture the day the mixtape dropped. "I'll tell fans the week before the release, and I'll tell the label two months before." True to form, a string of one-off singles followed Pop 2, including a near-hit with Troye Sivan, "1999," and collabs with Diplo, BTS, Rita Ora (the fatefully criticized though extremely catchy "Girls") and more.
And while I can't vouch for when the label found out about Charli, they're letting fans have a bit longer than a week to anticipate the official return of XCX; we'll have closer to that two month window to anticipate Charli's next move before the record comes out later this fall, on September 13. "My album is beautiful and soft and aggressive and emotional and clubby and tender all at once," Charli wrote in an Instagram post the week before the announcement. Last week she called it "the best album on the planet." And just yesterday, she shared that her own album brought her to tears: "Omg I just listened to my album in the car and cried. It's so good. I'm so talented. Even just the tracklist written down is a piece of art."
With this kind of confidence, it seems likely that on Charli, the British songwriter is finally ready to keep her own best songs for herself. A rework of one of Pop 2's standout tracks — the then unfinished "Track 10" — has taken on new life, officially titled "I Blame It On Your Love" and now featuring self-empowerment icon and one of this year's biggest stars on her own, Lizzo. This rework leads off a tracklist that reads like a who's who in 2019 indie pop: Troye Sivan (twice, "1999" and a follow-up to the cult favorite, "2099"), Kim Petras, Sky Ferreira, Christine and the Queens, and many more round out a fifteen-track release that looks and feels to have the same carefree, futuristic spirit of Pop 2.
As a millennial pop star, Charli came up during a time when the music industry was undergoing a massive shift. While the major label system began to collapse, and streaming and social media rose in her prominence, it's easy to see why her view on the traditional album release was shifting as well. But, given the historical significance of a full-length release as a barometer for an artist's success, it's exciting for fans to see her finally pursuing this milestone with her whole heart. A great album is the difference between being one of the most influential forces behind-the-scenes in pop, and being a true pop star in her own right. Finally, it feels like Charli is ready to be a star. Of course, we just had to wait until she was ready to come to it on her own terms.
Charli XCX is a Warner Music artist. Uproxx is an independent subsidiary of Warner Music Group.