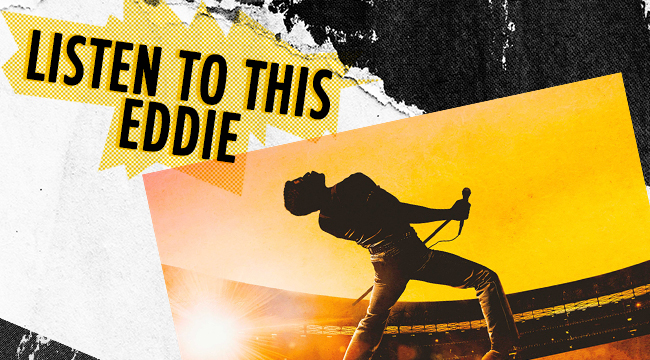 Listen To This Eddie is a weekly column that examines the important people and events in the classic rock canon and how they continue to impact the world of popular music.
On October 24, following a prolonged, pre-production process that stretched out for years and years and years, the story of Freddie Mercury and his iconic band Queen will finally hit the big screen. I have no idea at this point whether the film, which is titled Bohemian Rhapsody, will be any good. As a matter of fact, the long history of dramatized rock star excess is riddled with some of the biggest stinkers in cinema history. That being said, just take one look at the trailer that was recently released and tell me it didn't get your heart pounding?
The beats are perfect, beginning right from the top with the so-called "Note Heard Round the World" that Mercury belted out at Wembley Stadium during the Live Aid concert in 1985, and continuing with a montage of dramatized scenes from his life. There he is coaching Brian May through his guitar parts on the song "Bohemian Rhapsody. There's Mercury dunking on the sexual abilities of some drab record executive. There he is in a glittering onesie, an elegant fur, and the tightest, whitest pair of jeans any man has ever been grafted into it. All the while, snippets of Queen's most recognized and beloved tracks play along in a masterful mash-up. It's supremely well-done.
In recent years, it seems that many people have actually figured out the right way to properly execute the musical biopic. Major shoutout to the satire Walk Hard: The Dewey Cox Story for forever ruining some of the cheesier tropes that have bedeviled many such projects over the years. The 2014 film Love & Mercy was a masterful re-telling of the life of head Beach Boy Brian Wilson and his struggles with mental illness. Chadwick Bozeman all but disappeared into the role of James Brown in the film Get On Up. And of course, Straight Outta Compton might have actually been one of the most compelling dramas of all of 2015.
With all of that in mind, here below are 10 bands and artists way overdue for the proper musical biopic treatment, excepting cases like the Beatles, Bob Dylan, Jimi Hendrix, and The Doors where it's pretty much been done.