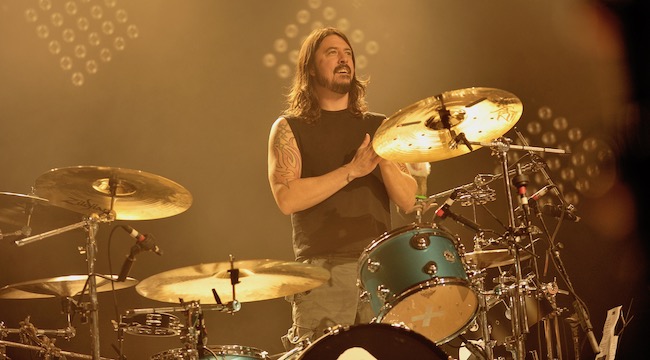 Dave Grohl has just about done it all. From fronting Foo Fighters, playing drums in Nirvana, forming the supergroup Them Crooked Vultures with John Paul Jones of Led Zeppelin and Queens Of The Stone Age's Josh Homme, to jamming with Paul McCartney and backing up Tenacious D, the man's musical history reads like a literal who's who of rock and roll over the past five decades. And yet, there's still one band out there that Grohl would seriously love to perform with given the chance.
Speaking recently to Forbes, Grohl revealed his rock and roll white whale as it were. The one band he's yet to play drums with, but would certainly love to if given the opportunity. "AC/DC," he said. "That's my last one." Even though the legendary Aussie rockers introducedAxl Rose as their fill-in frontman in recent years following Brian Johnson's hiatus from the band to recover from hearing loss, Grohl knows that his chances these days of manning the kit behind Angus Young is slim.
"Phil Rudd is back though," he admitted, referencing the AC/DC's longtime drummer who was kicked out several years ago thanks to some ongoing legal trouble. Though Rudd is blocking his chance to hammer down on "Back In Black," Grohl can't bring himself to hate on the guy. "If you dive back into their back catalog, that early sh*t, there was a little bit more dynamic, then they settled into the groove. That's the thing. And it's because of Phil Rudd. It's AC/DC, but that guy holds the key."
Here's hoping he gets the call-up next time AC/DC hits the road.