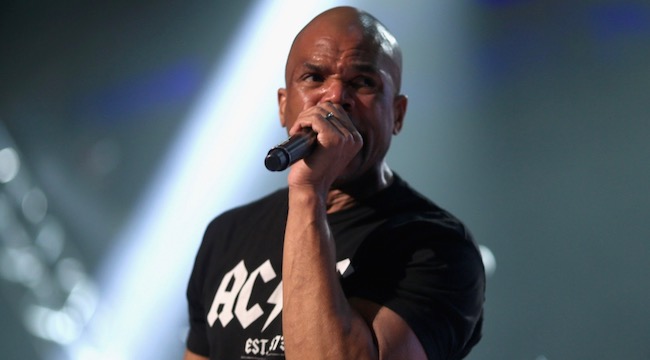 DMC is beaming. "Yo, that sh*t is hard!" he turns and yells up to Questlove on the drum riser. "Billy Squier as a mother*cker in here!"
It's just after 2pm and we're inside a building that looks like a dressed-up airplane hanger on the second-to-last day of South By Southwest in Austin, Texas. Daryl McDaniels, the "Devastating Mic Controller," has spent the last 20 minutes pouring everything he's got into his classic hit with Run-DMC, "Here We Go (Live From The Funhouse)." As the special, surprise guest for the evening, he's been going back and forth with Black Thought while the legendary Roots crew prepare for their third annual Bud Light Jam showcase.
You'd never know that this was a soundcheck. The amount of intensity, lyrical precision, and showmanship that DMC brings while performing "Walk This Way" and "Peter Piper" for an audience of basically just me is kind of inspiring. This is a guy who still lives to entertain people and gets off on the burning down the stage, even if the venue he's in is empty. After the second time running through "It's Tricky," he makes the band run back the song's outro, coaching Captain Kirk, the Roots' guitarist, to throw in some tasty licks while Questo and the gang bring the song to an end. Due to a bomb threat that someone emailed to the venue — the suspect was apprehended the next day — no one else would get to enter this space and enjoy the products of their labor, so you'll have to take my word for it that it was amazing. As DMC comes off stage, Ludacris breaks from a game of foosball to wrap him in a big hug, playfully asking if he'd just turned in a whole set. Indeed he had.
DMC is an artist who straddles the worlds of rock and rap better than almost anyone. Throughout the 1980s, when he was pioneering hip-hop in Run-DMC, he, Run, and Jam Master Jay regularly sampled breakbeats from prominent rock bands, sometimes going so far as to collaborate with them directly like they did with Aerosmith on their iconic rendition of "Walk This Way." There was a reason they were the only hip-hop group invited to perform at the heavily rock-curated Live Aid festival in 1985.
With hip-hop firmly affixed as the most culturally dominant and commercially viable genre in America today, and with rock receding into the background, I thought I'd ask the man who been there for it all what he thinks about the way the two forms contrast and compliment one another.

I heard you mention the name Billy Squier up onstage a little bit ago. That's not a name you hear a lot anymore, especially in the rock realm. He actually seems to be more well known by hip-hop fans.
Right! He had one of the top-five breakbeats of all-time. Usually, it's George Clinton or James Brown, but a lot of rock tracks are instrumental in building the foundation of hip-hop. Me and Run had to do the "Here We Go" routine over "The Big Beat" because there was just something about rock sound that was dynamic. It made it easier for Run-DMC to get noticed because everybody was rapping over disco, R&B or funk. Rock is so loud that when we dropped "The Big Beat" record and "Rock Box" and "King Of Rock," people went "what the hell is that over there?"
You can't ignore it.
Exactly, you can't ignore it. Shoutout to Billy Squier. He's a Godfather of hip-hop. You can't say George Clinton or James Brown without putting Billy Squier in there. That's the diversity of music.
How do you feel about your own role as one of the godfathers of hip-hop and preserving the legacy of its Golden Age and what came before?
For every generation, it's all about what's hot and popular right now. Which is good. But even hip-hop, at its highest peaks, everybody who was dominating always knew what was before. Every artist in hip-hop is able to give you a history lesson, but over the last few years, you can't really say that. But that's not the young kid's fault. You know, I heard one kid say that "Tupac is boring," or that the O.G. stuff is not what we're doing now, which is true, but you can't be down in any genre in music and not even know. You don't even have to praise me, you just gotta know. Hip-hop has always been about "me," but that "me" means that everyone else around you is part of it. But we come from a different era. All those early DJs that were sampling James Brown or Billy Squier or Sharone, or Queen's "We Will Rock You," they had it a little different, because we had the album covers. We could read liner notes. It took you into that world.
Doing your homework.
Right exactly. I'm really intrigued about the time before "Rapper's Delight" was made. So when Caz is around, when Melle is around, or when Busy Bee is around, I shut up and become a student. I can learn from what they were doing in the '70s and apply it now. It's my responsibility to represent that. It was so cool at the soundcheck just now, I started doing the Cold Crush routine with The Roots and they jumped right in!
Yes, that was amazing!
Even The Roots know Cold Crush is one of the greatest hip-hop groups of all-time.
You mentioned The Roots, how long have you known them and what's it like to perform with them?
I've known the Roots since they came out, but didn't start performing with them until about 10 years ago. I was always intrigued by it, like, "Yeah, the Roots will bring Ludacris out," or "The Roots will bring Lauryn Hill," or Nas. I never got to do that and I had done everything in hip-hop, so about 10 years ago, I did the Super Bowl with them. There's something different about the live music thing, too. We still had the DJs, but when it's live, it's alive.
Right, like when you were coaching Captain Kirk to take a solo during "It's Tricky"
Yeah! I don't want people standing around re-creating the record like I recorded it. When I perform, especially with The Roots, I want what we do to be better than Run-DMC. We gotta bust Run-DMC's ass. The Roots make that shit possible. I'm a fan of music so, if there's an opportunity, if you play guitar, murder that shit!

When you were coming up, you were breaking new ground with hip-hop while rock was the dominant form. How does it feel now to see hip-hop at the forefront of culture and rock has kind of receded?
It's reversed right now. Rock is underground now, and that's a good thing. It's a good thing for rock. Rock had gotten to the point where it was so celebrity and Hollywood driven, to the point where you say Mick Jagger or you say Paul McCartney, you think, "Man, those are some rich rock stars," because of what they accomplished. But it's like what I said in my speech before "It's Tricky," we started in the streets. Then we went to the block parties, then the discos, then we went the clubs, the theaters, then Madison Square Gardens and LA Forums of the world. Now we're playing stadiums. Jay-Z is in stadiums. Hip-Hop is at that rock transition. If you do the math, you had rock in the '50s, '60s and '70s, there was Zeppelin and then in the '80s Guns 'N' Roses selling out stadiums. Hip-hop is there now. Rock is in its re-invention phase. It's about to explode with a vengeance. Zeppelin had a plane! Hip-hop is doing what those guys were doing now.
What are you up to these day?
I'm working with Sammy Hagar, Joan Jett, Tim Armstrong from Rancid on a new record. And actually, when we sit there, we talk about each other. Tim said, "You know, punk bands, The Ramones, The Transplants, Green Day, Blink-182," I recently ran into Derek from Sum-41, they say, "We were kids when we heard 'King Of Rock' – not 'Walk This Way' – and when we heard that, we wanted to start a rock band." So now, rock did that, hip-hop is up here, and rock is going down, but imagine what's gonna happen when it all musically comes back together?
I know you recently did that SNL sketch with Chance The Rapper. What are some modern MCs you think have some chops?
Chance is one of my favorites. There's a new guy that I met through Adidas, Curtis Roach, I think he's from Detroit. He's like 17-years old and he's fantastic! Kendrick Lamar is another one, but I'm funny though. I don't listen to a lot of hip-hop.

Really?
All I listen to every day is classic rock and alternative. Rage Against The Machine, Alice In Chains, Jane's Addiction, and Pearl Jam.
Would you ever do a Prophets of Rage-type band like Chuck D has done?
He's killing it right now! I would definitely do that, hell yeah! Right now, I got a vinyl EP out, it's a four-song EP called Back From The Dead. I got one song on there called "Flames" that was produced by John Moyer from the band Disturbed. I also did a duet with Myles Kennedy.
From Slash's band? He's a helluva singer!
One of the best voices ever. I also got a song with Rome from Sublime and another song "Rhino" produced by this band from Montreal, Canada called Slaves On Dope that's me and Chuck D. My upcoming album has Tim Armstrong, Sebastian Bach, Mick Mars from Motley Crue, Sammy Hagar, and Joan Jett. I'm working with a variety of punk, alternative, and classic rock artists.