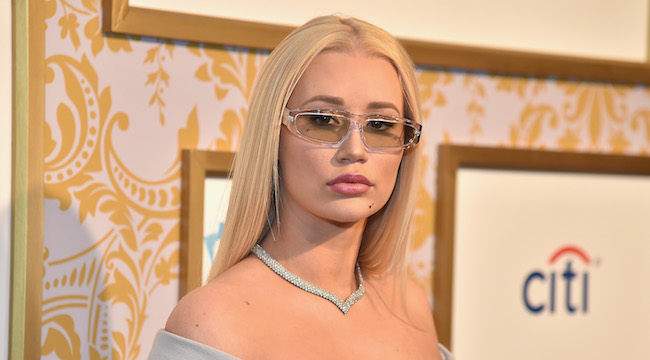 On Friday, Iggy Azalea premiered the music video for her new song "Sally Walker." It's the first single ahead of what will be the Australian artist's first, full-length album since her 2014 debut The New Classic.
It was a big return moment for the 28-year-old, following the relatively quiet performance of her 2017 EP Survive the Summer and, as one could imagine, she wanted to make a statement. The video itself featured a cameo from the Drag Race star Shea Couleé, a mock funeral, and Azalea twerking on the hood of a hearse. Despite all these fireworks, the aspect of the release many fans were talking about wasn't its video.

A few clever fans online noticed a striking resemblance to between Azaelea's new record and Cardi B's recent smash hit "Money."
"I love @IGGYAZALEA and I've been a fan for years but Sally Walker sounds almost exactly like @iamcardib's Money ? I'm still glad she's back ??‍♂️," one fan wrote.
The resemblance of the two songs turns out to not be a complete coincidence. They were both made by the same producer. JWhiteDidIt is the man behind "Money" and also helmed a number of tracks on Cardi's Grammy-winning Invasion of Privacy, including her breakout hit "Bodak Yellow." With "Sally Walker," it seemed lnthe producer was trying to sprinkle a little bit of that Cardi magic onto Azalea's latest offering. And, could you blame him?
Still, Azalea — a native of Mullumbimby, New South Wales, Australia — has fought accusations of cultural appropriation her entire career. Many have taken exception to what they believe is her shameless adoption of the style, sound, and aesthetic of American black women. This latest coincidence certainly won't help her case.