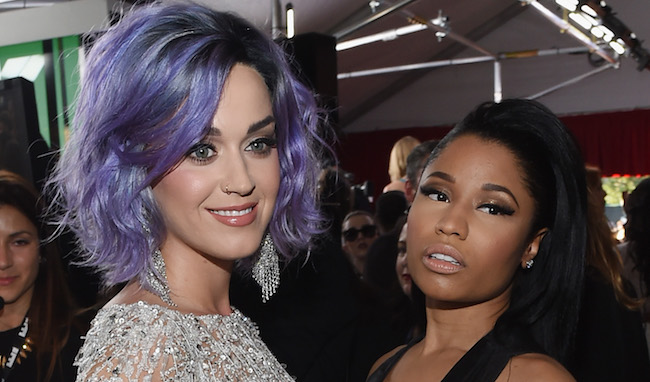 Katy Perry and Miley Cyrus may be forever intrinsically linked because of a kiss that spawned a hit record, but they differ in one major way: Katy doesn't appear to be giving up on hip-hop anytime soon. Nope, unlike Miley — who very publicly announced she was done with the genre over what she deemed some unsavory content — Katy appears to be fully entrenched in hip-hop for the moment, first adding Migos to her single "Bon Appétit" and now by adding Nicki Minaj to her followup release "Swish Swish."
With her new album Witness on the way in just a few short weeks, Katy is kicking things into overdrive, getting a major assist from a star with just as much stature and chart-topping ability as her in The Generous Queen Nicki. The track might even be a Taylor Swift diss if viewed through the right lens, so clearly Katy is going all out.
Nicki appears to have something on the horizon as well, as she's ratcheted up her presence online and on the charts as of late with the release of three new singles, a slew of guest appearances and a few attention grabbing moves including paying tuition and school fees for a ton of her fans at random.
Check out "Swish Swish" featuring Nicki Minaj below and preorder Witness before it hits retailers on June 9th here.