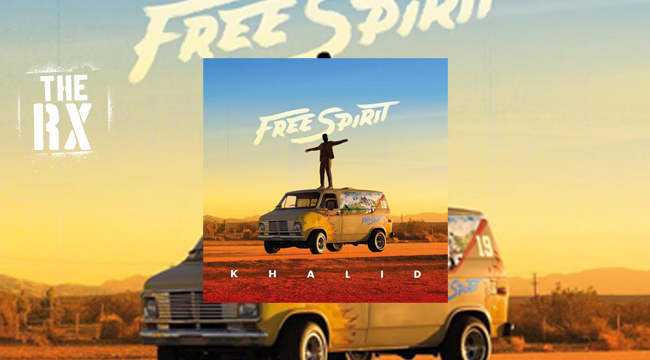 The RX is Uproxx Music's stamp of approval for the best albums, songs, and music stories throughout the year. Inclusion in this category is the highest distinction we can bestow, and signals the most important music being released throughout the year. The RX is the music you need, right now.
There's been a lot of talk recently about how we categorize music by genre. Fans and industry professionals alike have wondered about why and how artists and their work are funneled into genres like country, pop, rap and others — many have begun to dispute the validity of these kinds of groupings as musicians begin to diversify their sounds and their influences in the anything-goes, all-access age of social media and streaming. Khalid's new album, Free Spirit, is likely going to intensify the debate — and that's a good thing, as it's a high-quality microcosm of the versatility of the modern approach to music, how almost nothing is ever just one thing anymore. Free Spirit could reasonably fit into any of a number of genres — and has all the makings of a hit in each.
Khalid is no stranger to genre-bending himself. His debut album, American Teen, casually blended elements of honeyed soul and lighthearted pop, borrowing as much from the traditions of early-1990s R&B like Ghost Town DJs' "My Boo" as modern dance pop on tracks like "8Teen" and "Hopeless." Meanwhile, the album's lead single and Khalid's slow-burning, viral introduction to mainstream audiences, "Location," was all raindrop soaked, moody R&B. There were hints of country and blues, mainly in Khalid's smoky, husky tenor that sounds 100 years old — in a good way — laid atop instrumentation that could make listeners swoon and sway.
The young singer has done some growing up since then. He's no longer a teen; he crossed the drinking age threshold just a couple of months ago. In that time, his craft has also undergone a metaphorical coming-of-age. He told Beats 1 Radio host Zane Lowe recently that despite its upbeat title — and first single, "Better" — Free Spirit would be a "darker" album than its predecessor, reflecting the emotional aches, pains, bumps, and bruises that come from being an adult out in the real world for the first time, which is apparently not that different when you've been famous since you were 18-years-old, judging from the relatable content his songwriting still consistently delivers.
Of course, that growth and consistency also shines through the production as well. If American Teen could immaculately soundtrack optimistic pep rallies and proms, Free Spirit is the perfect music for moody young adults crying in the club. Life kicks you in the ass sometimes — what better way to reflect that than with "Bad Luck," a laugh-to-keep-from-crying anthem if ever there was one? Khalid leans even further into his pop inclinations on "Talk," with English electronic duo Disclosure providing a colorful backdrop for his bluesy rumination on a relationship that's been progressing a little too quickly for his taste. After all, he is still something like a kid with his whole life ahead of him.
Nowhere is that sentiment more in evidence than on the title track, which slides smoothly into the sort of uplifting pop-rock played at high school graduations. That it's followed immediately by the contrasting "Twenty One" only highlights Khalid's evolution as a songwriter and artist. "Twenty One" is not a bright song, despite its uptempo bop; it's a moody reflection on anxiety, depression, and the existential ennui of facing life and all of its endless possibilities — both the good and the bad. Everything might go according to plan, but then again, it might not. 21 is a dizzying age and Khalid finds a way to encompass that duality through the contrasting tones of his lyrics and music, both salty and sweet. The pairing is perfect.
Free Spirit is by turns apprehensive, defiant, optimistic, and wounded, just like anyone would be at the age of 21. Khalid turns out to be adept and a number of styles and genres by sliding into the spaces between them and never quite committing all the way to one or the other. In less sure hands, this refusal to commit could come across wishy-washy. Khalid makes it sound like the natural experimentation that comes along with his age, like switching majors sophomore year, or trying out different classes to find out which comes most naturally. It just so happens Khalid is naturally good at everything. Some kids really do get all the luck.
Free Spirit is out now via RCA Records. Get it here.