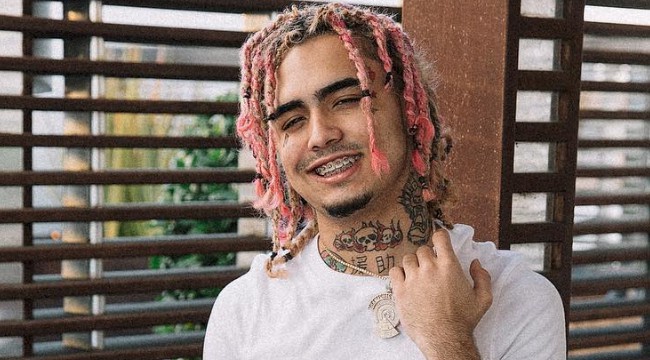 Lil Pump was arrested Wednesday night for shooting a gun in his home, but sources are saying that he was attempting to protect himself from a potential threat. TMZ reported that Pump's manager told law enforcement that three men were attempting to break into his San Fernando Valley home by shooting through the door–a message that he was relaying from information given to him by the rapper.
Upon investigation, police say they found the 17-year-old rapper home alone, with no suspects in sight. What they did find was a bullet hole in the door and evidence that he was smoking marijuana. His story about intruders also had several fallacies, because upon a search of the premises the police realized that the bullet hole had come from inside of the house. More perplexing is that they found an unloaded handgun in the bushes but the ammo for it inside of the house, leading them to come to the conclusion that Pump was the culprit.
Lil Pump is currently in custody at a juvenile detention center, and his parents are potentially in even more hot water because the police also found marijuana in the apartment as well. He's sticking to his story, and hoping to clear his name by using the surveillance cameras that will show the alleged intruders.